Energetic beat of creativity
Share - WeChat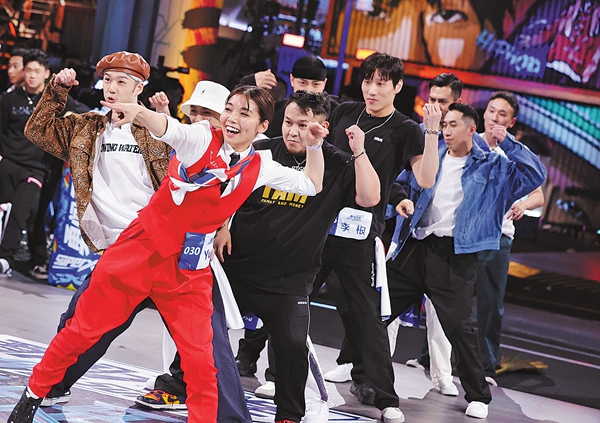 Latest season of Street Dance of China displays a unique vitality, Yang Yang reports.
In a classic cyberpunk metropolis, high rises stand in the background. In the front, young people are abandoning themselves to passionate dance in the streets. Their youthful power breaks through the limit of time and space, directly into the future.
A new season of Street Dance of China, a popular variety show, has injected a wave of vitality into the sweltering summer since it premiered on Aug 13. Streamed on the online platform Youku every Saturday, the show will run through October.
First produced and launched in 2018, Street Dance of China, a dance competition, has become one of the most popular variety shows not only in China but also in some Southeast Asian countries.
Since the third season in 2020, it has been broadcast with translated subtitles in more than 10 countries and regions online or on TV channels. Apart from Chinese, audiences can watch the latest show with subtitles in English, Thai, Indonesian, Vietnamese and Spanish on the international version of Youku's app and YouTube.
By Thursday, the first two episodes of the new season had been watched 6 million times on You-Tube. Subtitles in Russian, Portuguese, Persian, Korean, Turkish, Burmese and Italian will soon be released.
After themes like "battle for love "and "battle for peace" in the previous years, the fifth season will see street dancers from China and six other countries in Africa, Asia and Europe "battle for hope", including dancers Zhou Yuxiang from China, Kyoka from Japan and Jordan Likiyo from France.
In total, the new show has 20 foreign dancers-12 from Japan, Laos and other Asian countries, five from France, and one each from Zimbabwe, Belgium and the Netherlands. Having arrived in China in April, the foreign participants will stay for the show until October.
This year, to better inspire participants, the show has changed its rules. Over three months since August, dancers can compete in one round after another to finally form an international youth team.
Compared with the past years, the new season will present mainly contestants under 30 years old, with more than 90 percent born after 1995 and 50 percent after 2000.
Inspired by a line of a poem by Li Bai from the Tang Dynasty (618-907), "Keeping an ambition in mind, young people will have their time to shine", the director of the show Lu Wei says the production team wants the audience to see "young dancers carry forward the popular street dance culture in China".
"With vibrant young dancers, the core of the show is to cheer people up amid economic pressure, so that they can be optimistic about the future," Lu says.
Most Popular