US atrocities still haunt Afghans trying to rebuild
Share - WeChat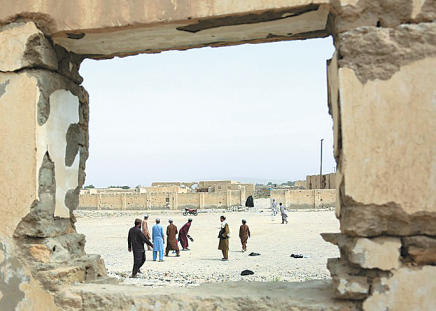 SANGIN, Afghanistan-Bomb craters and rubble from blasted houses in the Sangin district of southern Afghanistan's Helmand Province are a testament to years of brutal military strikes by US-led coalition forces and the atrocities committed by occupying troops.
A year after US forces fled Afghanistan, local Abdul Wajid recalled the US airstrikes that destroyed the entire village 11 years ago.
"The Americans bombarded our market. I lost four members of my family-two brothers, my mother and my uncle. The tragedy will haunt me forever," said the 34-year-old man.
When asked if anyone had lost family members in the airstrikes, every resident present nodded yes, accusing the coalition forces of indiscriminate killing of innocent civilians.
Haji Mohammad Ayub, 70, stood in front of a local market still pockmarked with craters and recounted how the US forces killed his son. "I still live in the ruins since I have no money to rebuild my home. They wrecked my house, made us poor and ruined my life!" he said.
Following the 9/11 attacks on New York and Washington, DC, the United States accused Afghanistan of harboring al-Qaida leader Osama bin Laden, and invaded the country in October 2001.
"The US brought death and blood to Afghans in its 20-year presence," Najibullah Jami, a professor from Kabul University, said. "People thought they were delivering chocolate to Afghan children, but they dropped bombs on us."
During the 20 years of conflict in Afghanistan, more than 30,000 civilians lost their lives and some 11 million people were made refugees.
"The US bombardment of our village only 18 months ago killed several people, including my two sons," resident Ahmad Yaqub said. His room is barely furnished except for shabby carpets. The roof has been blasted off.
"If it hadn't been for the US, we wouldn't be living like this now," Yaqub said. "My children used to go to school since I wanted them to go to college, but the Americans killed them."
Xinhua