While the world faces hunger, the US is having a feast
Share - WeChat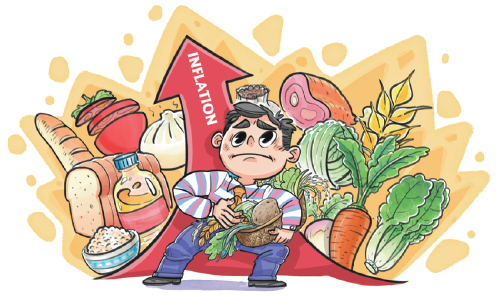 The world is in a weird contrast. While the latest global food crisis has thrust 345 million people into acute food insecurity, American food giants dominating global transactions have reportedly reaped record profits in the first half of 2022. It is only natural for people to question: Is the United States in a position to frame itself as a guardian of global food security?
The crisis is a wake-up call. It is time to take a careful look at how global agriculture has been manipulated by a very few, and what has led to rounds of tragic grain crises in modern history.
Here is a little-known fact: from Africa to Latin America, from eastern Europe to South and Southeast Asia, what farmers grow and how they grow them, and what consumers eat and at what prices, are largely decided by a couple of corporations mostly from one country: the United States.
The US has long understood the value of food in defending its global hegemony. As former US Secretary of Agriculture John Block stated in 1980, food can be used as "the greatest weapon" in international relations. Since the 1970s, agricultural subsidies have been at the core of US farm boom policies. Between 1995 and 2003, the top 10 percent US agricultural giants consolidated their monopoly by receiving 72 percent of governmental aid.
Benefiting from dollar devaluation following the collapse of the Bretton Woods System, American agricultural giants, including three of the "ABCD" grain processors (i.e. ADM, Bunge, Cargill and Dreyfuss), in collaboration with chemical and seed corporations such as DowDuPont and Monsanto, established global dominance by signing contracts with farmers in the developing world, providing them with seeds and fertilizers, and acquiring grains at contract price. They thus secured the lion's share of profits by dictating grain production, processing and trade.
Besides, several so-called "revolutions" initiated by the US easily tightened the noose on vulnerable victims. For instance, the "Green Revolution" exported to developing countries hybrid seeds with low multiplication rates and unaffordable chemical fertilizers. The "Gene Revolution" forced farmers to pay a large amount each year to purchase from US companies un-replantable transgene seeds.
The monopoly enabled the US to comfortably rake in huge gains from each food crisis. Back in 1973, global prices of agricultural commodities spiked to record highs. While extreme weather, reduction of farmland and an oil crisis weighed down grain supply, a more prominent reason was the oil-for-grain deal between the US and the former Soviet Union. At the time, 95 percent of the world's grain storage was under the control of six agriculture multinationals, all headquartered in the US. By exploiting its dominance of global grain supply and selling to the Soviet 30 million tons of grains, or 14 percent of global storage, the US got both low-price oil and tremendous grain export revenue, leaving the rest of the world paying for the food crisis.
Since the onset of the 21st century, the oversupply of the US dollar has financialized the grain market to absorb excess liquidity. Consequently, food prices have fluctuated dramatically from time to time. With the US government's acquiescence, international capital has worked with agricultural giants to engage in speculation during panic buying of grains. The marriage of US food and monetary hegemony has successfully helped export domestic inflation and shift dollar crises onto developing countries which rely heavily on grain imports.
Like before, the current round of food price increase started in early 2020 when the US Federal Reserve resorted to an expansionary monetary policy to stimulate domestic growth. While Western politicians are eager to blame the conflict in Ukraine for the recent wheat price rise, analysts have argued that unregulated financial speculation plays a role too: "Anywhere from 10 percent to 25 percent of the price, at least, is dictated by deregulated speculative activity."
The abuse of sanctions targeting food trade surely does not help. On July 28, 2022, when asked about the grain deal signed by Ukraine, Russia, Türkiye and the UN, US State Department Spokesperson Ned Price urged Russia to implement the deal and lift the blockade against Ukraine quickly. What he did not mention, however, was the disruptive effect of US-led sanctions on Russian grain exports. In mid-May, the US warned 14 countries, mostly in drought-stricken Africa and some facing possible famine, not to buy wheat from Russia. The House's Countering Malign Russian Activities in Africa Act even threatened them with secondary sanctions. Development experts have pointed out that US humanitarian commitments are not being met, and that backlash over the sanctions is percolating in Africa.
If history is any guide, no matter how the situation in Ukraine may evolve, more shocks are almost certain to loom without reform to the fundamental way food is produced and prices are set. The world is expecting "Captain America" to take earnest measures to help alleviate the food crisis, rather than being an accomplice of it.
(The author is a commentator on international affairs, writing regularly for Xinhua News Agency, Global Times, CGTN, China Daily etc. He can be reached at xinping604@gmail.com.)
The opinions expressed here are those of the writer and do not necessarily represent the views of China Daily and China Daily website.
If you have a specific expertise, or would like to share your thought about our stories, then send us your writings at opinion@chinadaily.com.cn, and comment@chinadaily.com.cn.
Most Viewed in 24 Hours
China Views