Financing incentives put carbon goals within reach
Share - WeChat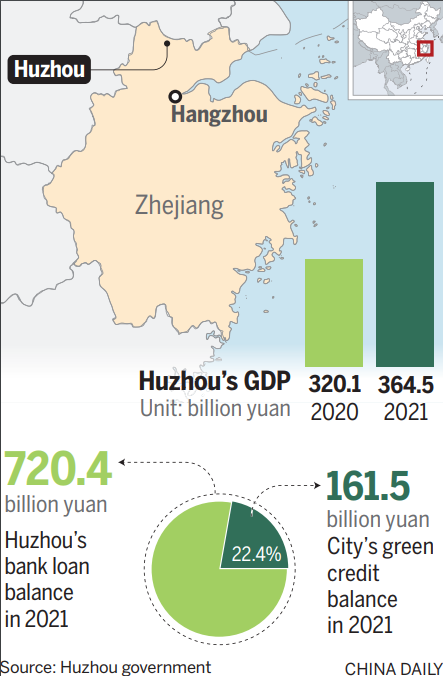 The city's model for green financial mechanisms follows the rollout by the State Council, China's Cabinet, of similar reform and innovation pilot zones in Zhejiang, Jiangxi, Guangdong, Guizhou and Gansu provinces, as well as the Xinjiang Uygur autonomous region.
Huzhou's total bank loan balance to individuals and businesses stood at 720.4 billion yuan at the end of 2021, a year-on-year increase of 21.3 percent, and the growth rate has remained in the top three for the province for 72 consecutive months, according to the local government.
The balance nearly quadrupled from the end of 2015, said Guo Zhengjiang, vice-president of the city's central sub-branch of the People's Bank of China.
The city's green credit balance was 161.5 billion yuan by the end of last year, an increase of 22.4 percent year-on-year. The bank's rate of nonperforming loans was 0.38 percent, with its credit asset quality ranking second in the province.
Yu Yinghong, vice-president of Industrial and Commercial Bank of China's Huzhou branch, said, "Green finance actually covers three aspects-environmental protection, climate change improvement and the comprehensive utilization of resources."
Huzhou's comprehensive system is one of the major factors behind the smooth development of the city's green finance sector, Yu said.
"The concept of green financing is rooted in every department, including the local Bureau of Ecology and Environment and the Bureau of Agriculture and Rural Affairs. It is not one person who strives to promote this. The whole government, the system and the people are promoting it together," Yu added.
China has seen a boom in green financing, backed by policies and regulations, as the country accelerates its green transition and economic restructuring to achieve high-quality and sustainable development. The nation aims to peak its carbon dioxide emissions by 2030 and realize carbon neutrality by 2060, part of a national green transition drive amid the growing global focus on the environment.
Huzhou is riding the green trend by launching a regional environmental, social and governmental financing evaluation model-the first of its kind in China.
The digital system, which is supported by 17 government departments and more than 10 data centers, gathers data online and processes the information. So far, more than 13,000 companies have been evaluated through the system-resulting in 1,069 of the enterprises being designated as green companies and 148 green financing projects being launched.
Last year, Huzhou also established the country's first industrial platform for carbon evaluation and tracking. The platform automatically tracks and updates enterprises' carbon emissions and links 39 types of data, including resource and energy efficiency and added value of products.
In addition, the low-carbon transformation of key enterprises and the green development of regional industries can also be calculated.
The platform has promoted the establishment of carbon accounts by more than 3,700 industrial enterprises above a designated size-those with an annual income of more than 20 million yuan-in 381 industrial fields.
It provides energy-saving diagnostic services for high-carbon enterprises and carbon reduction plans covering green technology transformation projects. Last year, Huzhou completed 73 such projects, which saved an estimated 32,000 metric tons of standard coal, according to an official of the Huzhou Economic and Information Bureau.
Effective carbon management is the key for local governments to achieve carbon neutrality, according to Mao Tao, head of the international cooperation division of the Ministry of Industry and Information Technology's international economic and technological cooperation center.
This includes the control of total energy consumption and intensity, and promotion of the green and low-carbon transformation and development of the manufacturing industry, Mao said, adding that Huzhou's program is a good case of reform and innovation.
The city has formulated a long-term plan for its banks to help enterprises, through green financing, to achieve its peak carbon dioxide emissions by 2028 and carbon neutrality by 2058.
Huzhou has established 43 specialized green financial institutions and launched 141 innovative green financing products.
At the end of 2020, the green credit balance among banks in Huzhou was 104.96 billion yuan, which accounted for a reduction of 1.904 million tons of carbon emissions and saved 9.959 million tons of water.
Huzhou's innovations include an insurance program that encourages drivers to reduce carbon emissions. Under the program, drivers pledge to reduce their cars' annual mileage by a certain amount, resulting in lower insurance premiums.
The city also issued green building bonds for the development and construction of the South Taihu Green Finance Center in its downtown area. The project is expected to reduce carbon dioxide emissions by 2,800 tons a year.
Huzhou is rolling out measures to encourage licensed financial companies and green financial institutions to set up divisions in urban centers, with six banking institutions including the Bank of Ningbo already establishing operations, and three State-owned banks including ICBC obtaining approval for their headquarters.
More than 10 financial institutions and new financial business enterprises, such as the CFA Examination Center and the Zheshang Property Insurance Yangtze River Delta Insurance Laboratory, have expressed similar interest.
Green financing will also benefit local farmers, since agricultural production facilities such as greenhouses can be used as collateral for loans.
The focus on green finance is the main reason that Huzhou has managed to balance development of its financial sector and the economy with environmental and ecological protection in recent years, according to Guo, vice-president of the PBOC's Huzhou central sub-branch.
Statistics show that Huzhou's gross domestic product increased from 222.3 billion yuan in 2015 to 320.1 billion yuan in 2020, with an average annual growth of 7.1 percent.
In 2021, Huzhou's GDP reached 364.5 billion yuan, an annual increase of 9.5 percent-a growth rate that ranked second in the province.
Over the same period, Huzhou's green development index remained in the top three in the province, and its average concentration in urban areas of PM2.5-inhalable particles that are 2.5 micrometers in diameter or smaller and are harmful to health-dropped from 57 micrograms per cubic meter of air to 26. In addition, the proportion of days with good air quality rose from 59 percent in 2015 to 84 percent in 2021.
Fang Xiaoying in Hangzhou contributed to this story.