Back to basics
Share - WeChat China needs to take action against the risks of rising commodity prices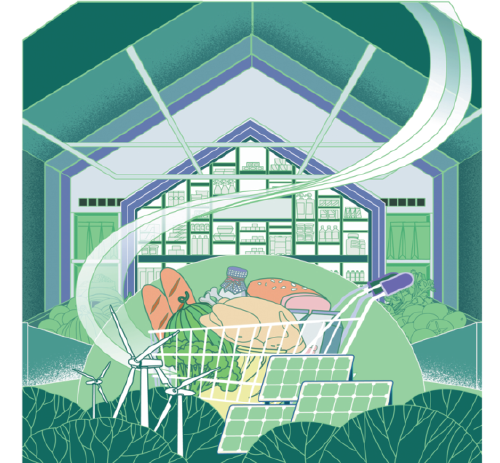 The world has witnessed dramatic fluctuations in commodity prices, which hit record highs in the first half of 2022, particularly those of energy and grain. The current price surges are a result of multiple factors, including the US Federal Reserve's aggressive interest rate hikes and the Russia-Ukraine conflict. In June, the Fed raised its benchmark interest rate by 75 basis points to a range of 1.5 percent to 1.75 percent, the biggest hike since 1994. On July 27, the Fed enacted its second consecutive 75 basis points interest rate increase, taking its benchmark rate to a range of 2.25 percent to 2.5 percent. This has manifested the urgency of US monetary tightening. The Fed rate hikes will result in a massive influx of capital into the United States, a stronger US dollar and a drop in dollar-denominated assets such as commodities, precious metals and the forex markets.
The first factor is the expansionary monetary policy rolled out by central banks of the world's major economies to combat pandemic shocks. The policy to stimulate growth has resulted in a flood of liquidity in global markets, reducing the real value of money. Since commodities are denominated by the US dollar and commodity prices have a negative correlation with the US dollar, the Fed's strong stimulus policies have pushed up commodity prices.
Second, supply from the world's major resource-exporting nations has been constrained as economic recovery from the pandemic is uneven. Affected by factors such as different healthcare systems and levels of vaccination, countries have performed differently on pandemic control and production resumption. The suppliers of commodities mostly come from emerging countries, where the novel coronavirus remains a threat. Therefore, some of them have to stop production and shut down businesses to curb the transmission of the virus, dealing a blow to the global supply of commodities.
Third, the economic rebounds of some countries have led to an increase in demand. Commodities have apparent pro-cyclical features-a global economic downturn or recession depresses commodity prices, while economic recovery drives up prices. A faster recovery in the global economy has driven up demand on both production and consumption sides, further widening the gap between supply and demand in commodities markets, which pushes up commodity prices.
Fourth, the pandemic has put pressure on global logistics. The pandemic has impeded the transportation of resources, elevating the transportation costs for commodities. Many logistics and transportation companies have reduced their transport capacity during the pandemic, resulting in difficulties in getting commodities shipped from resource-exporting nations to resource-importing ones, and thus less supply and higher prices in the global commodities markets.
Fifth, the Russia-Ukraine conflict has further pushed up commodity prices. The conflict has negatively affected the exploitation of Russian oil and natural gas, and Western sanctions against Russia have prompted Russia to reduce its oil and gas exports, resulting in tight oil and gas supplies and rising of international oil and gas prices. The Russia-Ukraine conflict has also impacted the global food supply. Russia and Ukraine together account for over 25 percent of all wheat exports, nearly 20 percent of all corn exports and around 80 percent of all sunflower seed oil exports globally. A decline in the supply of global energy materials and commodities has widened the demand and supply gap, causing a drastic increase in relevant commodity prices.
Wild swings in commodity prices are bound to have a significant impact on the Chinese economy. Despite a relatively low inflation rate, the surge in commodity prices will inevitably drive up the domestic producer price index in China, which measures the cost of goods when they leave the factory, adding to the upward pressure on prices at the downstream industrial chain and on the consumption side, putting small and medium-sized enterprises in greater operational difficulties.
China should take the following measures to better cope with rising commodity prices.
First, China should unwaveringly adhere to a prudent monetary policy, and make a stable Chinese yuan exchange rate the primary goal and prerequisite of its monetary policy operations, so as to keep its liquidity at a reasonable and ample level. The market-based interest rate reform should be accelerated, and the renminbi exchange rate regime should be further improved. The use of the renminbi in cross-border trade and investment should be expanded and the offshore renminbi market should be further developed amid efforts to advance the internationalization of the renminbi.
Second, China should take the initiative to ensure grain production and grain security. China should strengthen its agricultural production capacity, guarantee the agricultural acreage, increase the resource utilization rate, and strictly screen seed quality. China should lower the import dependency ratio of such farm produce as soybeans and oil to ensure people have access to ample food supplies. The incentives for farmers should be increased by improving relevant subsidy policies. The nation's food storage system should be optimized by reasonably increasing reserves of subsidiary agricultural products, improving the real-time regulation over the inventory, strengthening storage safety supervision, and improving the emergency response systems. Furthermore, China should further increase public awareness of food waste by enhancing food security education.
Third, the green transformation should be accelerated. China is highly dependent on fossil fuel imports. In 2021, China imported 513 million metric tons of crude oil, and had an oil import dependency ratio of 72 percent, making it the world's largest oil importer. Russia is China's largest energy supplier. The recent surge in global oil and coal prices caused by the Russia-Ukraine conflict has provided a historical opportunity for the development and utilization of renewable energy resources. In addition to preferential policies, the Chinese government can take the lead in implementing major energy conservation and emissions reduction projects and renewable energy projects to accelerate the upgrading of green technologies, help achieve the carbon peaking and neutrality goals, and realize sustainable growth of industries and the economy at large.
Fourth, the Chinese authorities should go all out to help micro, small and medium-sized enterprises and self-employed households to pull through. Therefore, the country should work to ensure the prompt implementation of supportive measures such as tax refunds and reductions and fee cuts, rewards and subsidies to lessen the burden on businesses. Special funds for stabilizing employment and tailored support for smaller businesses should be set up to ensure their production. Innovations should be made in monetary policy instruments to incentivize financial institutions to increase lending to key areas and weak links of the broader economy and to lower the borrowing costs for smaller companies.
Last, China should strengthen its influence in pricing global commodities. It should make the most of the enormous domestic demand for commodities, strengthen its strategic reserves of key commodities, and enhance its self-sufficiency in commodities and market regulation capability. It should set up a monitoring and alarm system for global commodity prices, and encourage large State-owned enterprises to vigorously take part in global resource competition to strive for whole-industry-chain operation. China should speed up the development of futures derivatives trading markets and continuously promote the internationalization of domestic futures markets. It should also beef up investment in infrastructure construction projects in relevant areas, increase support of science and technology, and enhance its say in pricing commodities.
The author is an associate professor of the Institute of Finance and Banking at the Chinese Academy of Social Sciences. The author contributed this article to China Watch, a think tank powered by China Daily. The views do not necessarily reflect those of China Daily.
Contact the editor at editor@chinawatch.cn.
Most Viewed in 24 Hours
China Views