Action taken to reduce conflict with elephants
Share - WeChat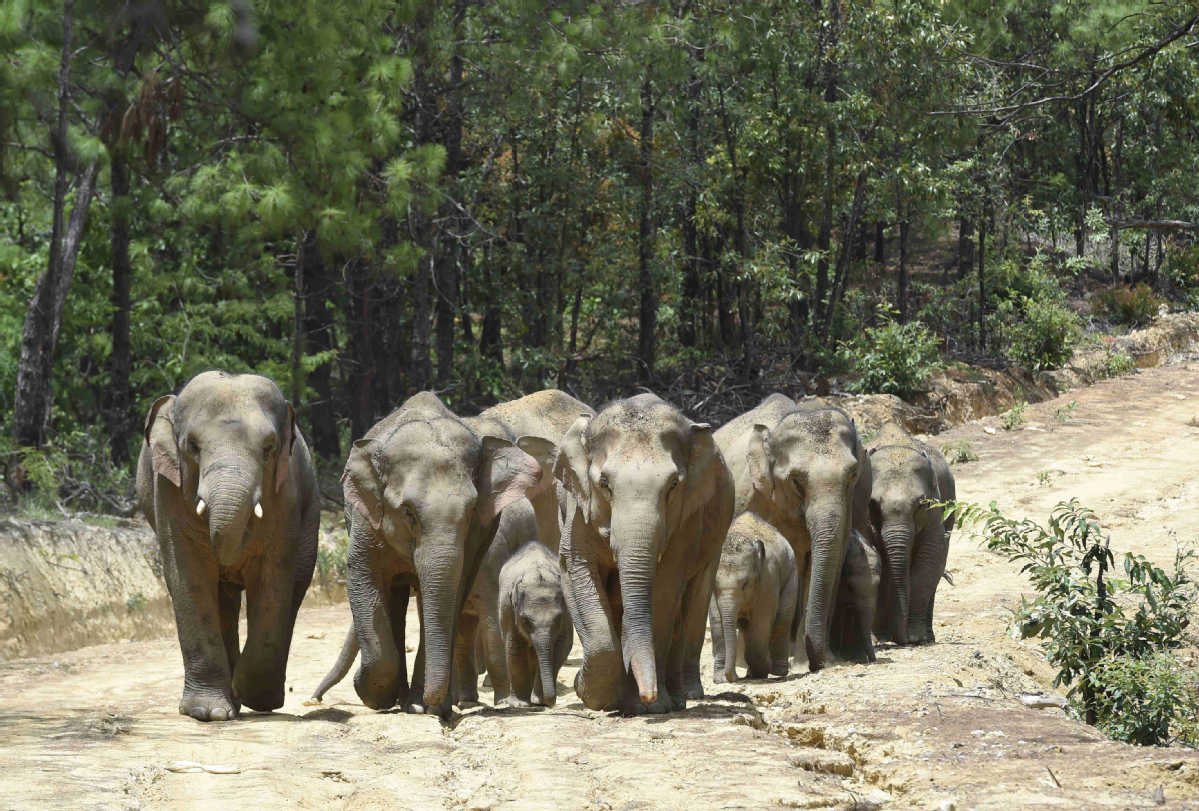 Safety precautions
Last year, the authorities in Pu'er spent 1.15 million yuan ($170,000) on 18 drones and also installed solar energy street lamps, safety warning boards and protection barriers to ensure residents' safety.
Diao said that in an ideal scenario, humans and elephants would live together harmoniously. "The hope is that the animals and humankind can develop a better relationship," he added.
However, the monitoring and alert system still does not offer adequate protection for villagers' property. The elephants favor 400 types of food, compared with about 100 varieties in the 1980s. They are especially fond of corn, rice and sugarcane, according to Guo Xianming, director of the reserve's scientific institute.
In Bajiaoqing village, Yuxi, Yunnan, after a large quantity of corn grown by villager Qin Zhihui was damaged by elephants, insurance worker Chen Bin was called in to assess the losses.
Chen Bin said GPS was used to estimate the area of farmland damaged by the animals, and Qin received compensation of 1,932 yuan for his 0.19 hectares of corn. The claim was settled within a week.
In 2014, such insurance cover was extended throughout Yunnan. Over the past decade, compensation totaling 173 million yuan has been paid in cases involving elephants.
Dao Fachang, 40, a resident of Dadugang village, Xishuangbanna, said elephants entered the village in July and August each year to eat corn, rice and fruit. Although his family received compensation from an insurance company for damage caused by the animals, he said it did not cover the losses.
Yan Yonghan, who is responsible for wild animals accident public liability insurance at the Xishuangbanna branch of China Pacific Insurance (Group) Co, said that since 2010, the local government has offered insurance for residents, who don't have to pay the premium.
Premiums and compensation have risen over the years. However, claims are now settled in a week, rather than six months previously, enabling farmers to quickly receive reimbursement and use it in daily life, Yan said.
This year in Pu'er, crops favored by elephants have been planted on 466 hectares of wasteland to meet the animals' demand for food and reduce the chances of them entering villages. Ownership of the land has not changed.
Chen, from the National Forestry and Grassland Administration, said a national park for elephants is being established as part of the measures taken to resolve conflict between the animals and humans. The park will also help promote protection of the species, other endangered creatures, plants and the rainforest.
"The venue aims to restore the Asian elephants' habitat, promote stable and healthy development of the elephant population, enhance its genetic character, and ease tensions between humans and the animals," he said.