Action taken to reduce conflict with elephants
Share - WeChat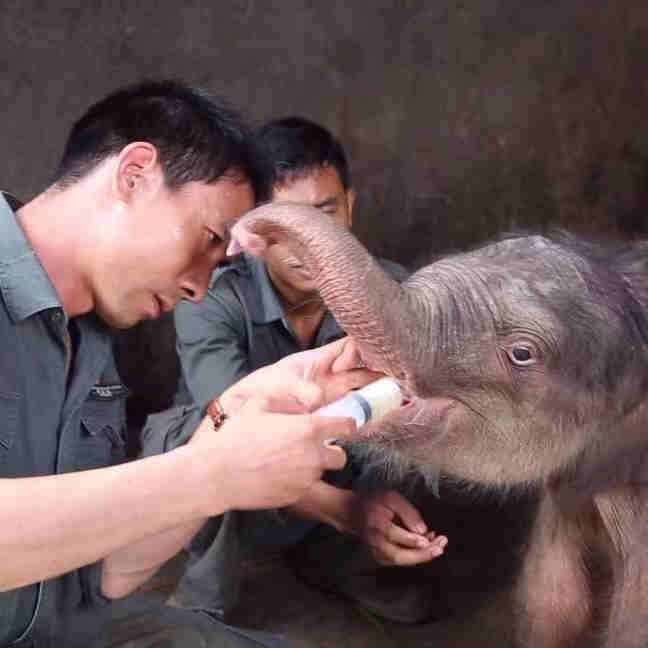 Pilot project
Xiangyanqing village, located on the perimeter of the reserve, is often visited by the elephants. Villager Duan Zhongming said, "They ate corn at our home, and we had to hide upstairs."
In 2017, one of China's first pilot projects to prevent attacks from elephants was launched in the village, where barriers were erected to keep the animals out. Now, an 800-meter guardrail surrounds the village to protect residents. Tourism is also being developed locally.
Conflict between humans and elephants is not uncommon in Asian countries such as Sri Lanka and India.
In Yunnan, a monitoring and alert system tracks elephants' movements. Infrared cameras and drones are also used for this work. To avoid coming into contact with the animals, residents receive real-time messages detailing the elephants' locations through an app, social media and radio.
On July 31, elephant observer Diao Faxing, 47, woke at 5 am to examine footage from a drone. He confirmed that every elephant herd in Dashujiao village, Jiangcheng county, Pu'er, was at a safe location. Diao then sent a voice message to the village's WeChat group, and after hearing that the elephants were in a safe location, residents set out to start farmwork.
During the day, Diao and his colleagues monitored the elephants and informed villagers of the animals' movements. They also observed the elephants' health.
Diao said the number of elephants near the village is rising, and the animals are developing closer bonds with the locals, which is causing problems.
"Elephants used to hide in the woods during the day, coming out to feed at night when villagers were at home. Now, the animals wander in the village during the day, and residents are no longer afraid of them. We have to remind them to keep a safe distance," he said.
Diao is one of 64 observers in Pu'er contributing to a 24-hour alert system. He and his colleagues follow the elephants in vehicles, bringing along drones, sleeping bags, clothing and simple stoves. They go to sleep around 1 am, sometimes in villagers' homes.
Information obtained about the elephants is uploaded to an app developed in the county.
Diao was a truck driver before becoming an observer-a job he was initially attracted to out of curiosity, but which he now feels has great significance.
An elephant herd once visited a tea plantation where an elderly man was working. The man, who had difficulty hearing, had not received a message about the elephants on WeChat. After seeing that the animals were just 10 meters from the man, Diao quickly escorted him to a safer place.