Miles of smiles
Share - WeChat Feel-good factor abounds as Hood to Coast China returns for post-Olympics edition in Zhangjiakou
Long-distance running enthusiasts were once again in their element as the BMW Hood to Coast China relay returned for another edition in Zhangjiakou, Hebei province, on Saturday.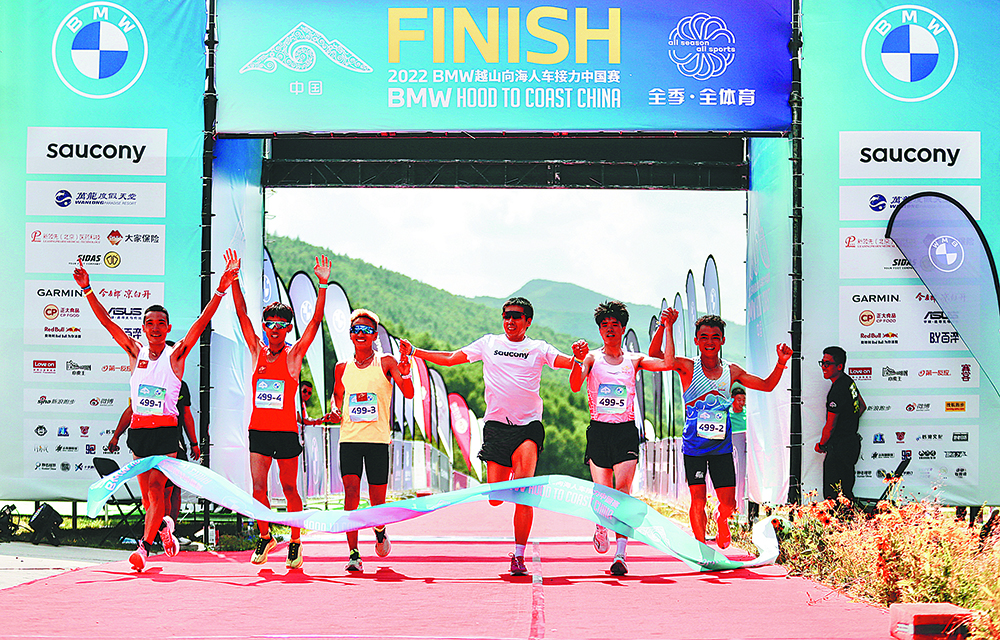 The race's rare mix of teamwork, a festival atmosphere and, of course, grueling miles has established it as a huge favorite on the Chinese running calendar.

And with National Fitness Day celebrated on Monday, this year's relay was another example of the vast range of grassroots sports events taking place nationwide.

The race, in its sixth edition, started Friday midnight, when 2,500 runners from 500 teams-the biggest field since the inaugural race in 2017-set off along the 145.6-kilometer course, which they were challenged to complete within 24 hours.

Starting from the picturesque grasslands of Senado Field, a party awaited finishers at another stunning location-the mountainous terrain of Wanlong Paradise Resort. The fastest team was Lujiazui Niubang Ehouse, who finished in 8 hours, 10 minutes and 13 seconds.

Teams of five runners and one car take on the 24-hour test on a course that is divided into 15 sections. One team member is required to complete each section while the others travel by car and interchange at the end of every leg.

"This is the fourth time I've participated in the Hood to Coast China relay, and I feel each year's atmosphere is getting better and better," said Jia'e Renjia, a member of this year's winning team.

"The competition between the top teams was actually pretty intense. I think that's the appeal of competitive sports. Last year's edition was also really impressive, as we only managed to gain a slight advantage after the 10th leg."

As well as amateur runners, the Hood to Coast China relay attracted many professionals. They included former Olympic and world champions like Wang Junxia, the 5,000m gold medalist at the 1996 Atlanta Olympics, Wang Liping, the 20km race walk gold medalist at the 2000 Sydney Games, and Yang Jiayu, who won the 20km race walk title at the 2017 world championships.

"Race walking and long-distance running are not the same, and I'm excited to have such a new experience. This relay is great fun. I was the second runner for my team. I ran in the darkness of night until the first light of morning.

What an experience!" enthused Yang.

Also gracing the field was retired Chinese sprinter Zhang Peimeng, who won a 4x100m relay silver at the 2015 worlds and now works as a lecturer at Tsinghua University.