Fed attempts to tame US inflation hurting the world
Share - WeChat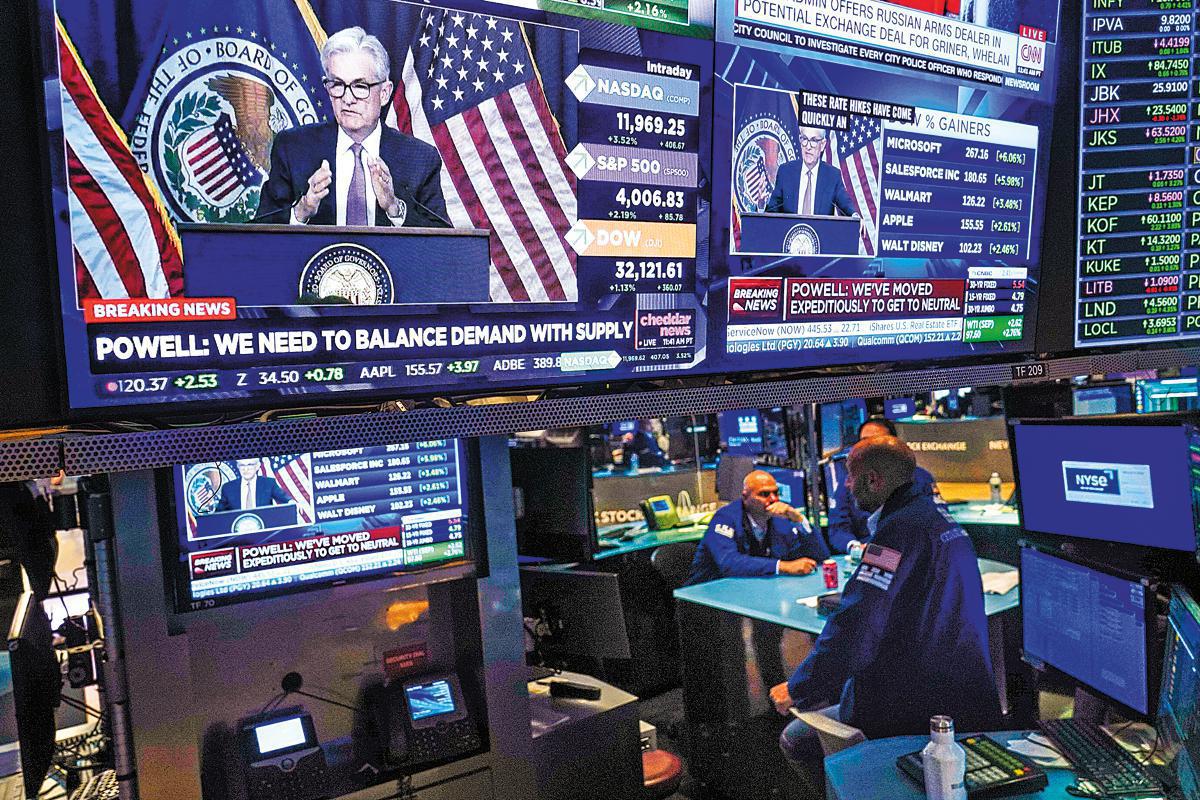 The bucks have been dear in the headlines and deer in the headlights.
The global media have kept an eagle eye on the US Federal Reserve. On July 27th, the Fed raised its benchmark interest rate once again by 75 basis points, the 4th elevation in a single year. It was as if the greenbacks were put on a roller-coaster ride, ascending to an unprecedented high vantage point and getting ready for an adrenalin-pumping fall afterwards, though it was not sure whether safe belts had been fastened.
Apparently the latest rate hike was a prescription drawn to ease the once-in-four-decade bulging inflation - consumer prices surged a stunning 9.1 percent year-on-year in June. As a congressional bill on curbing inflation drew public attention, more and more Americans had come to realize that the problem they had with price tags in supermarkets and gas stations was not a short-term one but a lasting man-made disaster.
Ever since COVID-19 hit, the US administration had relied excessively on quantitative easing to offset the pandemic's economic impact. While keeping consumption afloat, the flood of dollars sent prices up on a rocketing trajectory. The country's central bank, however, was slow to react. By the time theFed turned to interest raise for a solution, inflation has grown out of control. Repeated rate hikes seemed to suggest a real panic for an institution long in favor of orderly things, which was now acting like a deer in the headlights.
Larry Summers, former US Treasury Secretary, once joked famously that "the Federal Reserve's job is like getting the temperature right in an old hotel shower. There is a lag between turning the faucet and the water heating up, with the result that you end up freezing or scalding yourself before you find the right temperature".
The Americans are not the only people to be left with burns. The raise in policy rate makes the dollar, the international scale to weigh other currencies due to America's economic hegemony, even stronger in comparison with other currencies, thus allowing the US to swallow in large swathes of foreign capital and causing the deterioration of the economic well-being of other countries.
The US exclaimed that the dollar system provided the United States with an "exorbitant privilege" that enabled it to "freely finance itself around the world".
This was why in 1971, then US Treasury Secretary John Connally could infamously assert at a G10 meeting that "the dollar is our currency, but it's your problem".
The relative depreciation in the currencies of other countries is leaving their citizens worse off amid global inflation. Statistics show that in the UK, the average annual spending per capita is expected to increase by 454 pounds; in Germany, even some middle-class households are waiting in line for up to 7 hours for free food; in Japan, the exchange rate of yen against dollars has reached the lowest since 1998. As for countries on the verge of national bankruptcy, the heavier burden of dollar-denominated loans is crushing their hope for survival.
Recently, the exchange rate of euro against dollar has reached parity for the first time in 20 years, giving Uncle Sam a significant upper hand over its European trading partners. A stronger dollar means that the US is able to import products and energy at cheaper prices, and the EU has to spend more in importing from American businesses. Meanwhile, eurozone countries must stay vigilant against a rush to short the euro, which has been a no-brainer for speculators.
A weakened euro has also worsened the energy price crisis in Europe, so much so that ordinary citizens are deprived of the comfort of relaxing in a bathtub. Memes are going viral on social media advising Europeans to wash only four key body parts in a shower in order to save energy. But in the Federal Reserve "hotel", to borrow Larry Summers' analogy, one might get awfully scalded in its steaming shower water.
This again reminds me of Charles de Gaulle's comment in 1965 on dollar hegemony. He argued that the time had come to establish an international system on an unquestionable basis that does not bear the stamp of any one country in particular. Today, his remarks still sound painfully relevant.
The author is a commentator on international affairs, writing regularly for Global Times, China Daily etc. He can be reached at xinping604@gmail.com.
The opinions expressed here are those of the writer and do not necessarily represent the views of China Daily and China Daily website.
If you have a specific expertise, or would like to share your thought about our stories, then send us your writings at opinion@chinadaily.com.cn, and comment@chinadaily.com.cn.
Most Viewed in 24 Hours
China Views