A thread of creativity
Share - WeChat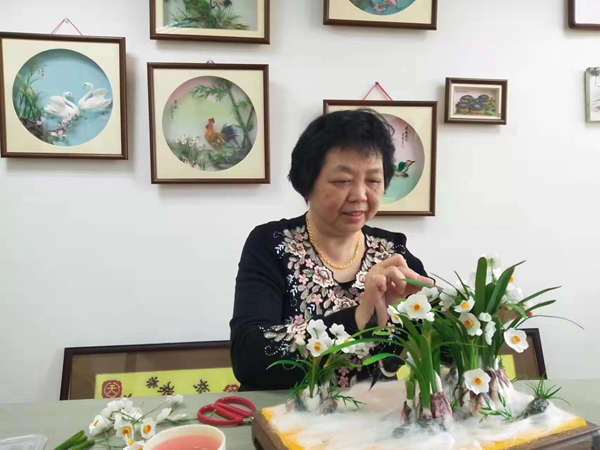 An artisan and her daughter keep the old tradition of fiber sculpture alive, report Yang Feiyue in Beijing and Hu Meidong in Fuzhou.
A big artwork demands attention when entering Guo Meiyu's workshop. The scroll features hundreds of orioles, magpies and swallows frolicking around a polychromatic phoenix among myriad lush leaves and blooming blossoms.
After coming to terms with the scale of the picture, viewers can absorb the jaw-dropping detail at close quarters. All major elements, including bird plumes and leaf veins, are either made of cotton, or look like it. The work is a feat of fiber sculpture, an art form that dates to the Qing Dynasty (1644-1911).
As time passed, it evolved, and the "cotton picture" technique in China integrated arts and crafts, such as relief and traditional Chinese painting, and delivered innovative, three-dimensional images reflecting strong folk customs.
Born in Zhangzhou, Fujian province, Guo, who is in her early 70s, applies tweezers, scissors, copper wires and glue to twist, tear, whip and paste tufts of white cotton to create such stunning works.
"It was almost done, but on the suggestion of my friends, I decided to put in more leaves'," Guo says about a new piece she's working on. "Or, even one or two wild rabbits might make the whole thing look more alive."
Guo has been dealing with cotton for more than half a century. Having created countless birds, flowers and pavilions out of the fiber, Guo has developed a finicky taste over the years. "It's not enough to just like the cotton picture, if you want to learn to make it, you have to put your heart into it."
Most Popular