Panel asks what could inspire future classics
Share - WeChat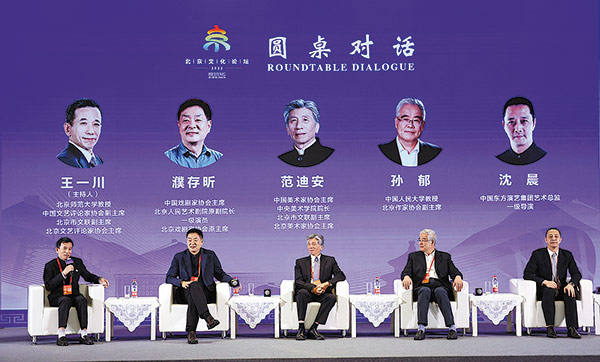 The creation of high-quality literary and artistic works requires writers and artists to concern themselves with the new era and have the passion to analyze and study developments in their times, said writer and former culture minister Wang Meng at the Beijing Culture Forum on Tuesday.
During the two-day event, a parallel subforum gathered writers, artists, critics, filmmakers, actors and other cultural industry practitioners to discuss topics related to the creation of high-quality literary and artistic works.
Wang noted that the world is undergoing a profound transformation unseen in a century, amid which China's stories of development and reforms can provide a source of inspiration for the creation of high-quality literary and artistic works.
What can be called classics are works that can be remembered by people even after centuries have passed, he said.
"To create classics, we should use our creativity and imagination to polish the stories we've dug out from real life and deliver spiritual strength," he added.
Sun Yu, vice-president of the Beijing Writers Association, who has been studying the modern history of Chinese literature, said he found high-quality literary works help to vitalize the Chinese language.
"Some great works even give our mother tongue a new lease of life by getting rid of the ways of using the language to which people have long been accustomed, as well as get readers to look into the secrets of humanity. Besides, I think good literary works are more likely to focus on these matters of common occurrence yet into which the public seldom dive deeply," he added.
Fan Di'an, president of the China Artists Association, addressing a roundtable discussion, said that China's social development has provided support for its cultural construction and forged a favorable environment for the creation of artwork.
He encouraged artists to create high-quality works on such subjects as the journey of the Communist Party of China and the development of today's China.
"The country's efforts in pushing forward poverty alleviation, building a moderately prosperous society and fighting the COVID-19 pandemic can all be reflected in our artworks," Fan said.
Pu Cunxin, an actor and the president of the China Theater Association, highlighted the important role played by arts in a city's development.
"The prosperity of a city's literature and arts should, in the end, benefit its people," said Pu. He added that theater workers should use high-quality plays to attract larger audiences.
Pu said that he believes people should enrich their spiritual life by reading books, watching movies and stage plays as well as visiting galleries and museums in their free time. He added that people's choice of cultural products could reflect the development level of the literary and artistic works in a city.
Most Popular