Enhancing China-Africa media cooperation to fight post-truth narratives
Share - WeChat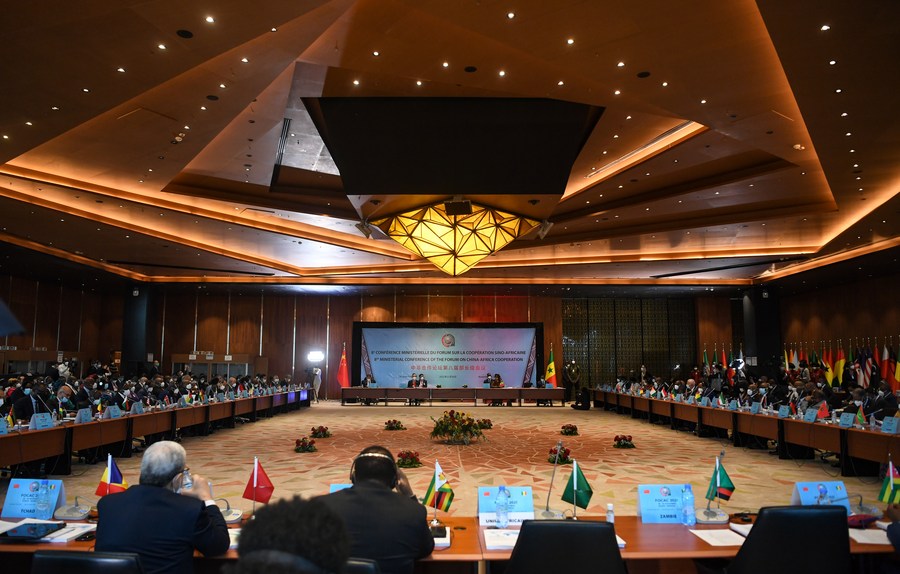 In this 21st century era, the greatest existential threat to China-Africa cooperation is the weaponization of post-truth narratives packaged as fake news, misinformation or propaganda. As a weapon of choice by 'anti-China critics' to discredit the developmental gains made within the Sino-Africa multilateral and bilateral cooperation, the post-truth narratives tend to appeal to emotions and feelings more than evidence and facts.
Over the last few years, the well-orchestrated post-truth campaigns have almost succeeded in painting monumental infrastructural projects financed by China as "debt burdens" imposed on the African citizens. Obviously, when one interrogates this malicious campaign, one will note that they are silent on the phenomenal impact of the past and current Sino-Africa investments in opening-up cross-border trade, industrialization, job markets, health diplomacy, promoting value-addition and exports, and the overall economic growth and development of the countries.
Borrowed from the cold-war era where misinformation and propaganda thrived, today "anti-China-Africa cooperation" critics have intensified the war using the various social media platforms to spread the various fake news. For instance, the 'dept-trap diplomacy narrative' has been propagated by some developed countries and pushed on social media platforms where few individuals can distinguish between facts and fiction.
These post-truth narratives allude that China is "luring some developing countries into signing unsustainable loans in pursuit of world-class infrastructure projects and, when they fail to repay key assets, are seized by Beijing as collateral". For instance, in December of 2018, a letter appearing to come from the Office of Kenya's Auditor General (AG) and leaked to the public allegedly stating that the government of Kenya had used Mombasa Port as collateral for an approximately $3.6 billion loan from China for the construction of the Mombasa-Nairobi Standard Gauge Railway (SGR). These allegations coincided with the news of the imminent transfer of Hambantota port to repay part of Sri Lanka's debt to China.
Pushing the post-truth narrative further, former US Secretary of State Rex Tillerson on March 2018 stated that "Chinese investment does have the potential to address Africa's infrastructure gap, but its approach has led to mounting debt and few, if any, jobs in most countries."
However, in debunking the fake news/propaganda on Kenya's SGR project, the China Africa Research Initiative (CARI) at the John Hopkins University School of Advanced International Studies released a report stating that "the AG mistakenly labeled Kenya Ports Authority (KPA) as a borrower, responsible for repaying the SGR loans, hence the misinformation of the alleged takeover of Mombasa Port as collateral by China." On former US Secretary of State Rex Tillerson's misinformation on China's investments in Africa are far from the truth. The fact is that the SGR from Mombasa to Nairobi has managed to integrate the transport network in East Africa and created about 46,000 jobs for locals. The SGR has facilitated Kenya's industrialization development, enhanced cultural exchanges between China and Kenya, and enabled the economic prosperity of areas along the railway line.
Leaving in an ethical twilight era, the Media stands as the antidote and a gate between fake news/propaganda/misinformation and factual and substantiated news/information. In knowing this, at the 2015 Forum on China-Africa Cooperation (FOCAC) in Johannesburg, South-Africa, President Xi initiated the China-Africa Press Exchange Centre program. The program aims to train and build capacity for African countries' news officials and reporters, promote more exchanges and mutual visits between Chinese and African journalists and press professionals, train 1,000 African media professionals each year, and support exchanges of reporters by more media organizations.
Further, under the China-Africa vision 2035, China and Africa plan to strengthen cooperation in news coverage, creation of audiovisual contents, training of media professionals and media technologies, help African media build information production and dissemination capacity, and facilitate "Smart Africa" and integrated media development.
However, more in-depth media exchanges' is needed. Therefore, within the China-Africa Institute, Beijing can develop technological tools for fact-checking on issues related to Sino-Africa relations through the creation of a "Smart fact-checkable media network". The platform should focus on debunking all the post-truth narratives on Sino-Africa Cooperation. Second, within the African Union (AU) Reforms space, a depository platform for all China-Africa signed agreements that are of public interest needs to be uploaded as a show of goodwill and transparency on issues related to loans and grants. This will help media practitioners, experts from Think-Tanks, Academia and members of the public counter the 'dept-trap diplomacy narrative' with facts.
Dennis Munene is the Executive Director of the China-Africa Center at the Africa Policy Institute.
The view does not necessarily represent that of China Daily.
Most Viewed in 24 Hours
China Views