Southwest locals look forward to game-changing 482-kilometer HSR line
Share - WeChat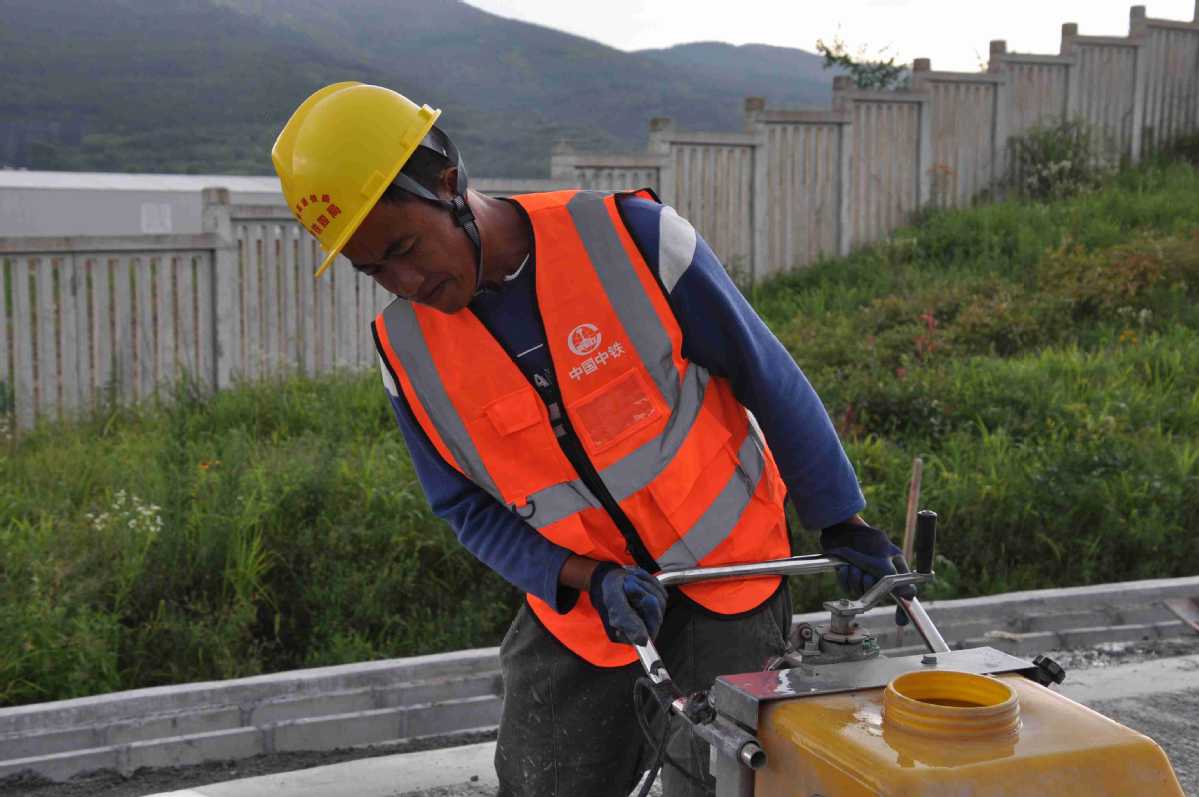 For Luo Yongxian, 48, of landlocked Guizhou province, landing a job at China Railway No 4 Engineering Group Co Ltd (CREC4) as a rebar worker three years ago has made his life much better.
Luo works for CREC4 Second Engineering, helping build a section of the 482-kilometer Guiyang-Nanning High-speed Railway, which is the first HSR in Southwest China allowing trains to run at 350 kilometers per hour.
"For many years, I have worked odd jobs in mountainous areas, always worrying when I would get paid. But here at CREC4, things are much different. My average monthly salary of 8,500 yuan ($1,259) always arrives on time," Luo said.
"I send most of the salary to my home in the mountainous Fengzhuan village in Duyun, keeping only some basic living expenses," he said, "The construction site is not very far from my home, and I can reach it within a day for any urgent call."
Luo added: "Three years into my work has made my life much richer. As for colleagues, we come from around the country, and we help each other and learn from each other. Our leisure time is easygoing, and now I have my hobby-enjoying an evening outdoors after dinner each day. But the proudest thing for me is that I am working on a national project, linking the country's north and south with a high-speed train."
Starting at Guiyang North Station in Guizhou and ending at Nanning East Station in the Guangxi Zhuang autonomous region, Guiyang-Nanning HSR is also part of the Baotou-Haikou Transport Corridor-a main artery of the "eight vertical and eight horizontal" HSR networks in the nation's medium and long-term railway designs.
Local Xu Youkun, who lives near Luo's construction site, said he is thrilled and proud to see an HSR extending right in front of his home.
"I was told the Guiyang-Nanning HSR will become operational prior to the end of 2023 and I just can't wait for the day, as it will make our travel to outside regions much easier," Xu said.
He recalled that for years, he has been yearning for a change in the landlocked situation in his hometown.
Wu Jian, a work safety supervisor at the No 2 Subdivision of CREC4 Second Engineering's Guiyang-Nanning HSR Project, said he is glad locals can benefit, as the railway will help slash travel times between Guiyang and Nanning from five hours to two hours upon completion, thus boosting the flow of passengers and goods.
He said at present, the project has begun track construction-the last stage before the actual laying of tracks. The whole job will be completed by December, and then awaits verification.
Luo and his colleagues are helping construct the No 5 Bid of the Guiyang-Nanning HSR, which extends nearly 40 km. The whole HSR line will have 13 stations.
Wang Wei, deputy general engineer of the subdivision, said once operational, the HSR will be the fastest railway line with the highest construction standards in Guizhou.
Wang added that besides obvious travel benefits, economies in areas along the line can also be greatly enhanced.
He said that with a total investment of some 420 billion yuan, the Baotou-Haikou Corridor is expected to be completed by the end of 2025.
The Baotou-Haikou Transport Corridor, starting at Baotou in the Inner Mongolia autonomous region and ending in Haikou, Hainan province, extends for some 2,550 km and is linked by 10 HSR lines with 71 stations.