Digital damsels set the fashion for the future
Share - WeChat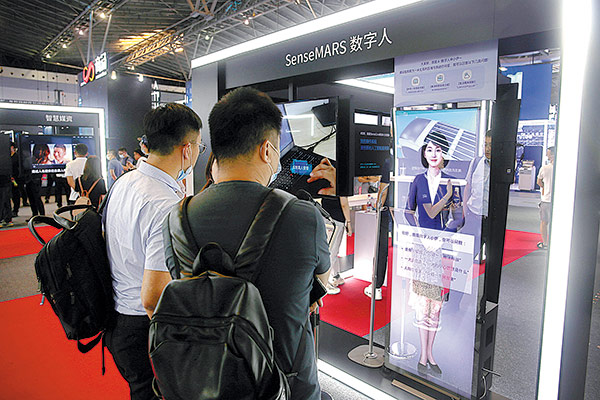 From a maiden modeled on Mogao's murals to others inspired by opera, AI avatars are being used to promote traditional culture, Deng Zhangyu reports.
Her face is angelic. Her presence enigmatic. She can be a poet's muse at daybreak and a musician's inspiration by sundown. She can dance and she can sing, and she does bring history alive like no other. Meet Tianyu, a virtual maiden on a mission to acquaint the world with Chinese heritage and culture, who has garnered millions of followers since her April debut on short video platforms Douyin and TikTok.
Modeled on the flying Apsaras (celestial singers and dancers) of Mogao Caves' murals in Dunhuang, Gansu province, Tianyu was incubated in a digital studio in a prelude to the fusion of real-world heritage and the metaverse.
She almost immediately began dominating screen time with her lifelike expressions, her nimble-footed jin dance (a unique dance style found in the Mogao murals) and her remarkable skills in playing the pipa (a four-stringed Chinese musical instrument), the latter frequently depicted in the frescoes of the Buddhist caves.
"We wanted to create a virtual human different from the fashionable digital avatars our millennials are so sold on," says Zheng Yicheng, the manager of Tianyu studio where the digital damsel was born. "Hence, Tianyu has a very traditional countenance and style. She is the beacon of Chinese culture."
Most Popular