Qinghai rolls out activity to bring mainland, Taiwan closer
Share - WeChat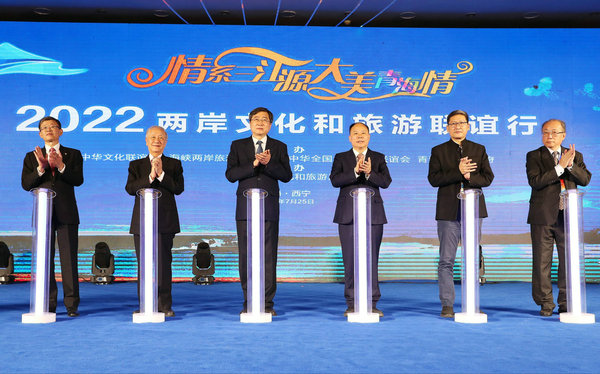 On Monday, a cultural and tourist activity to promote the friendship between the Chinese mainland and Taiwan kicked off in Xining city, Qinghai province, and Taipei at the same time.
With the theme of cultural inheritance and ecological development, the activity, organized by Chinese Culture Friendship Association, Association for Tourism Exchange Across the Taiwan Straits, All-China Federation of Taiwan Compatriots and Qinghai People's Government, invited more than 150 guests who work in the fields of culture, tourism, media and art from the Chinese mainland and Taiwan.
Guests will visit many places of Qinghai, get to know the charm of the culture and art of ethnic groups, the ecological tourist resources, and the new achievements of rural revitalization in Qinghai.
According to Zhang Xu, vice-minister of the Ministry of Culture and Tourism, people from the Chinese mainland and Taiwan share the cultural root. He hopes this activity can encourage people to explore new ways for cultural and tourist communication and cooperation between Qinghai and Taiwan.
Yok Mu-ming, former president of the New Party of Taiwan, said he has felt the cultural connotations and tourist value of Qinghai, and hopes young people from the Chinese mainland and Taiwan to visit the place and know about the magnificence of the country's scenery, jointly work to promote the great rejuvenation of the nation.