German artist shows his own version of newsworthy impressionism
Share - WeChat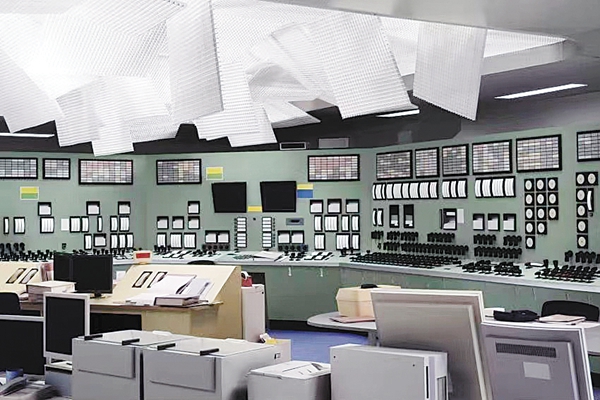 The exhibition Thomas Demand: The Stutter of History, which is taking place at UCCA Edge in Shanghai from July 8 to Sept 4, is the German conceptual artist's first retrospective exhibition in China, and it is leaving an indelible impression on visitors with, among other displays, an installation featuring cherry blossoms made of paper.
There is a catch, however. This seemingly innocent and pleasant scenario is actually a re-creation of part of the backyard of the home of 2013 Boston Marathon bomber Tamerlan Tsarnaev.
Events that have been in the news are a common thread in the work.
Using a similar creative process, Demand reproduced the control room of the Fukushima nuclear power plant where one of the world's worst nuclear accidents took place in 2011. He also represented a destroyed living room in Gaza after a missile attack in 2017, and a vault in which French police discovered more than 30 famous paintings and sculptures that were illegally obtained.
With more than 70 photographs, films and wallpaper, the 58-year-old artist, who often works with preexisting images easily found online, is known for reconstructing spaces and omitting the people in them to create vivid three-dimensional models in real life scale.
He then photographs them.
His work has been shown at major museums and galleries worldwide.
Philip Tinari, director of the UCCA Center for Contemporary Art and CEO of the UCCA Group, says that he started paying attention to Demand's creations in 2009 when the artist had a solo exhibition at the New National Gallery of Berlin.
"Demand's creations combine aesthetics, philosophy, history and ideas of conceptual art. I believe all kinds of people will enjoy the show," Tinari said at the opening of the exhibition in Shanghai early this month.
In the first section of the exhibition, visitors will see the Gangway (2001) that Pope John Paul II used during his visit to a unified Berlin, polling centers for the contentious 2000 US presidential election, and the wrecked room in Hitler's headquarters where a failed attempt to assassinate him took place in 1944.
Most Popular