Ceramic artist molds a rustic lifestyle
Share - WeChat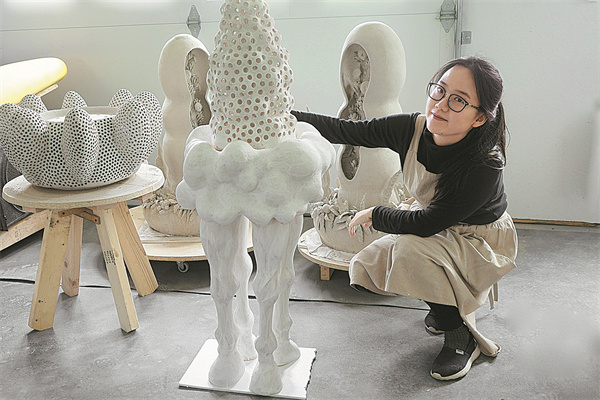 Liang Wanying's life revolves around ceramics, her two children and farming.
Her reserved personality and disinclination toward social engagement have made her predisposed to rural life and allowed her to fully concentrate on art creations true to her inner world.
The artist, from Northwest China's Shaanxi province, has stunned her audiences with a series of surreal ceramic works that have been on display at major museums in China, the United Kingdom and the United States in recent years.
She has been sharing her ceramic works via major online platforms, such as Xiaohongshu and Bilibili, and has attracted hundreds of thousands of views.
Many of her works contain elements inspired by architecture and plants and are supported by a structure resembling the legs of a horse.
"I want to show the human desire of freedom in growth through the use of plants and horse legs, and the necessity of adapting to social rules via the architectural confinement," Liang explains.
She ensures that the ultimate presentation of her works conveys a final state of balance.
"Most of them were a result of my emotions and perspectives toward the world," Liang says, adding that her Chinese roots have cast a big influence on the process.
Her recent works about personal identity at the Shanghai Pearl Art Museum shed light on her interactions between Chinese and Western culture.
Her work, Transplant, at first appears to present plants growing in a foreign environment, but it is actually about human migration and the feeling of entering an unfamiliar culture, she says.