A brush with tradition
Share - WeChat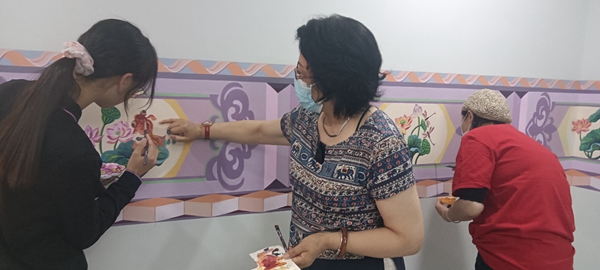 Artist is determined to protect kangweihua, a unique style of painting from her hometown in the Ningxia Hui autonomous region, Chen Nan in Beijing and Hu Dongmei in Yinchuan report.
When Tian Kun was a little girl, she loved watching her mother painting on the walls around their bed.
It's a kind of folk art that was very popular in Tian's hometown, Tongxin county, Northwest China's Ningxia Hui autonomous region, during the 1960s and '70s.
Called kangweihua in Chinese, the practice was embraced by people of all ages in the small county back then, because the colorful, vivid paintings reflected the daily lives of the local people and were considered a typical home decoration at the time. Kangweihua literally means "paintings around bed", with kang being the name of a type of heated bed in the local dialect.
From animals and flowers to scenes of people working on the farm and children playing, the paintings mirrored the unique charm and beauty of the lifestyle in the villages and surrounding countryside.