Chinese pair wins mixed doubles at WTT Star Contender in Budapest
Share - WeChat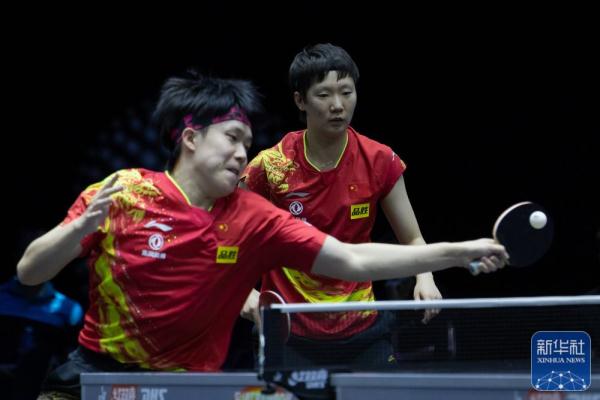 BUDAPEST -- Chinese pair Wang Chuqin/Wang Manyu came back from two games down to beat Japanese duo Harimoto Tomokazu/Hayata Hina for the mixed doubles title at the World Table Tennis (WTT) Star Contender held here on Saturday.
In the mixed doubles final, Wang Chuqin/Wang Manyu lost the first two games 11-9, 11-6 before they rallied back to win 11-7, 11-7 and 11-9.
Wang Manyu said after the victory that the final was very difficult to play as their opponents played very well. Due to her knee injury, the pressure was quite high at the beginning.
Wang Chuqin said that Wang Manyu gave him a lot of confidence and encouragement in the third game, and her performance and desire to win are quite worth learning from.
However, due to the knee injury, Wang Manyu announced later Saturday to withdrew from the women's singles competition. Nonetheless, she said she would try hard to take part in the women's doubles final.
In the women's doubles final, Wang Manyu/Sun Yingsha will face Japanese pair Mima Ito/Hina Hayata.
There are several surprises in the men's singles semifinals as top seed Ma Long lost 4-3 to Wang Chuqin and second seed Liang Jingkun lost 4-2 to Swedish Truls Moregard.
In the women's singles, China's Wang Yidi defeated Japan's Kasumi Ishikawa 4-2. The other final seat went to Sun Yingsha due to Wang Manyu's retirement.
In the men's doubles semifinals, Ma Long/Wang Chuqin lost 3-2 to South Korea's Cho Dae-seong/Lee Sang-su, while Liang Jingkun/Lin Gaoyuan defeated England's Paul Drinkhall/Liam Pitchford 3-1.
The men's and women's singles, men's and women's doubles finals will be held on Sunday.