Domestic tourism benefits from favorable policies
By ZHANG XIAOMIN in Dalian, Liaoning, CANG WEI in Nanjing,CANG WEI and MA ZHIPING in Sanya, Hainan | China Daily | Updated: 2022-07-15 09:31





Share - WeChat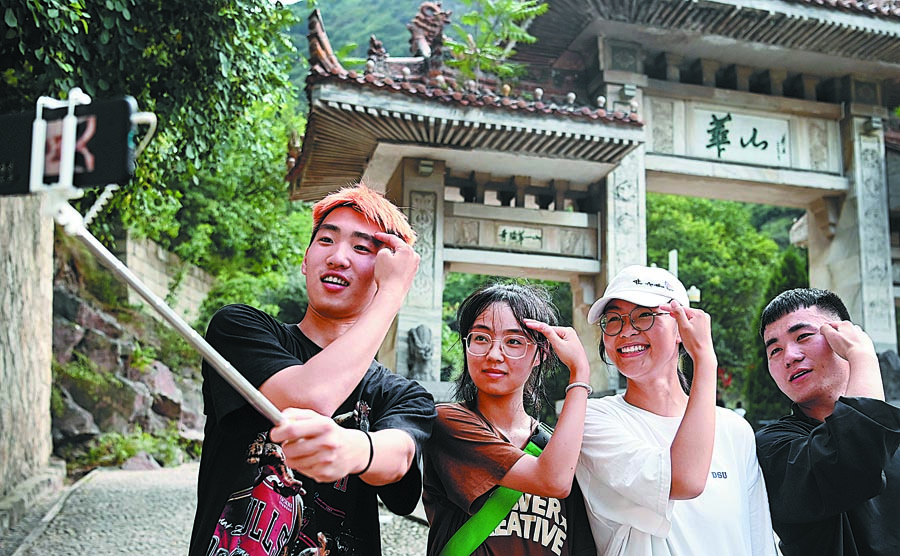 Travel encouraged
In Jiangsu province, the removal of COVID-19 risk indicators from residents' travel codes late last month has encouraged many people to venture farther afield.
Li Pei, who lives in Nanjing, the provincial capital, said the removal of the indicators helped him and his family when they travel to Xi'an, capital of Shaanxi province.
The family arrived in the ancient city on June 28 after reserving a hotel and tickets for tourist attractions in advance. However, two COVID-19 infections a day were reported in Nanjing before their departure.
Li Pei said: "I noticed that the risk indicators appeared on my family's travel codes at Lukou International Airport in Nanjing. With my wife and two children standing around me with suitcases, I couldn't help feeling anxious."
He immediately called the hotel and tourist attractions he had booked in Xi'an. Knowing that they could check in at the hotel but could not visit most of the venues, the family still decided to travel.
After arriving in Xi'an, Li Pei and his family were asked to take PCR tests before leaving the airport.
They rescheduled their plans, thinking that most local tourist attractions, including Huashan Mountain, the Terracotta Warriors and Huaqing Palace, were off limits to them.
"We wandered the downtown streets, markets and snack shops. Although they were somewhat shabby, some of the shops provided really tasty food," Li Pei said.
"It never occurred to us that the risk indicator would be removed from the travel code on June 29, the second day we were in Xi'an. Although the health code in Xi'an still indicated people with a travel history from Nanjing, we were allowed to visit tourist attractions in the city.
"We took PCR tests daily-from the day before we left Nanjing to the day we left Xi'an. We had a great time traveling, and I hope that the restrictions can be further eased."
On Sunday, with fewer restrictions enforced in Nanjing, the city welcomed its first tour group since arrivals were again allowed from other provinces. The group comprised 50 travelers.
In Nanjing's Gulou district, the director of a travel agency, surnamed Tong, said, "Bookings from outside Jiangsu have risen significantly in just one month, but they are far from returning to pre-epidemic levels.
"Many travelers still lack confidence. They prefer short trips to neighboring cities, which cost less and are easier to cancel."
Some people remain daunted by the prospect of being placed under compulsory quarantine if they travel, especially to areas with a medium or high risk of exposure to COVID-19.
Li Xiufen, 63, who lives in Jianye district, Nanjing, said she had been planning for two years to visit her aunt, who is 80 and lives in Suzhou, Jiangsu, but she had to abandon the idea.
"I don't want to be quarantined and have to take a PCR test every day. If any COVID-19 infections are reported in Suzhou when I travel there, this will cause me a lot of problems," Li Xiufen said.
She added that it is good to visit relatives for one or two days, but being quarantined with them in an apartment for one or two weeks would be a "nightmare".
"I have a friend who recently traveled to Beijing from Shaanxi, but she was put under quarantine in a hotel," she added. "She and her daughter were classified as sub-contacts of a COVID-19 infection after they visited the Universal Beijing Resort. Although they planned to go to many places of interest, they had to remain in a hotel room."