Nation's edge in new energy helps provide global solution
Share - WeChat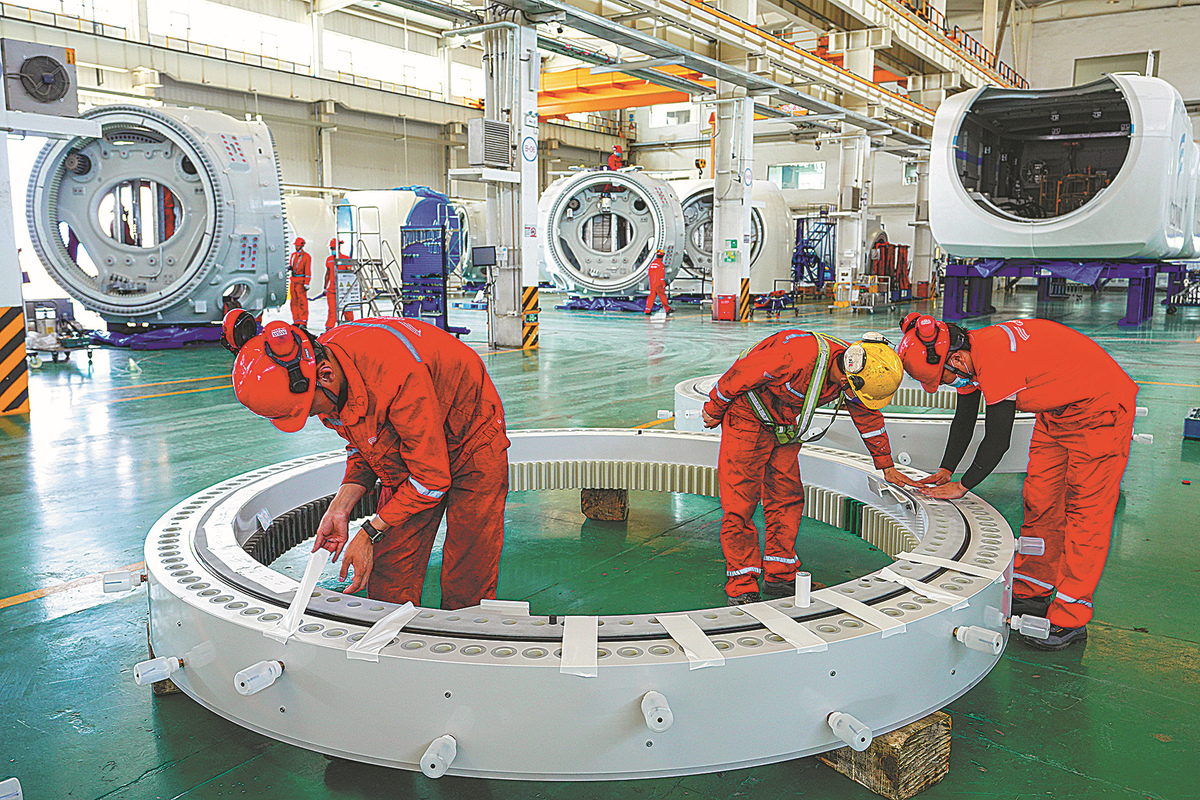 Higher oil prices worldwide expected to give boost to promotion of green power development
China's rapidly developing new energy industry may offer a solution to escalating oil prices that could possibly land countries across the world in the grip of an energy crisis.
While fossil fuels still account for a relatively large proportion of China's energy mix, the share of renewable energy has climbed steadily over the past few years, thanks to technological advances and reduced costs.
China's installed capacity of renewable energy reached 930 million kilowatts by the end of 2020, accounting for 42.4 percent of the country's total.
By 2025, the proportion is expected to exceed 50 percent, and high oil prices worldwide may further accelerate the already strong momentum, said Luo Zuoxian, head of intelligence and research at the Sinopec Economics and Development Research Institute.
Luo said that while high international oil prices might result in China, the world's largest crude oil importer, spending more on fossil fuels, they may also add more momentum to the development of renewable energy.
China has been stepping up the development of energy storage, including pumped hydro energy storage and chemical storage, to ensure more of the power generated by renewable energy can be connected to the national grid, he added.
The cost of wind and solar power has already declined after years of efforts. However, wind and solar power can only be produced when the wind is blowing or the sun is shining, so effectively using renewable energy will remain challenging until appropriate energy storage technology is developed, he added.
New energy is already developing at full tilt, and the high volatility of oil prices will give green energy a further push, because the development of new energy is closely related to the high prices of oil and gas, he said.
Luo said China' s booming renewable energy sector might provide a new solution to the world's economy while helping accelerate the global energy transition. Since high oil prices are expected to linger, the country's advantage in renewable energy development will become increasingly prominent, he said.
The National Energy Administration said China will see its installed capacity for hydropower and wind and solar power ranking at No 1 for the years to come, with these technologies rapidly developing and costs steadily decreasing.
The country realized grid parity for solar power in 2021, which means solar power will cost the same as or less than conventional energy sources such as coal, oil and natural gas. The cost of generating wind power has also been reduced.
According to the China Renewable Energy Society, the per-kilowatt-hour cost of electricity generated by onshore wind in China declined about 40 percent from 2010 to 2020. Most of the newly built wind farms have also achieved grid parity, it said.
China's offshore wind generation cost has declined about 53 percent during that period and is expected to achieve grid parity in three years, it said.
"The high oil price crisis will accelerate the energy transition," Marcel van Poecke, managing director of Carlyle International Energy Partners, was quoted by news portal Politico as saying. "People will say we don't want to be dependent on imported high-priced oil anymore."
In recent years, China has been stepping up the development of renewable energy, including solar and wind power, making tremendous achievements in the sector as the country aims to reach carbon peak by 2030 and carbon neutrality by 2060.
As part of its green energy transition, the government vows to generate 3.3 trillion kWh of electricity from renewable energy by 2025, and its total renewable energy consumption will equal 1 billion metric tons of standard coal by then.
The increase in generated renewable energy will exceed 50 percent during this period. The generation of wind and solar power will double, according to the National Development and Reform Commission, China's top economic regulator.