China's rising stars can reap rewards of revamp
Share - WeChat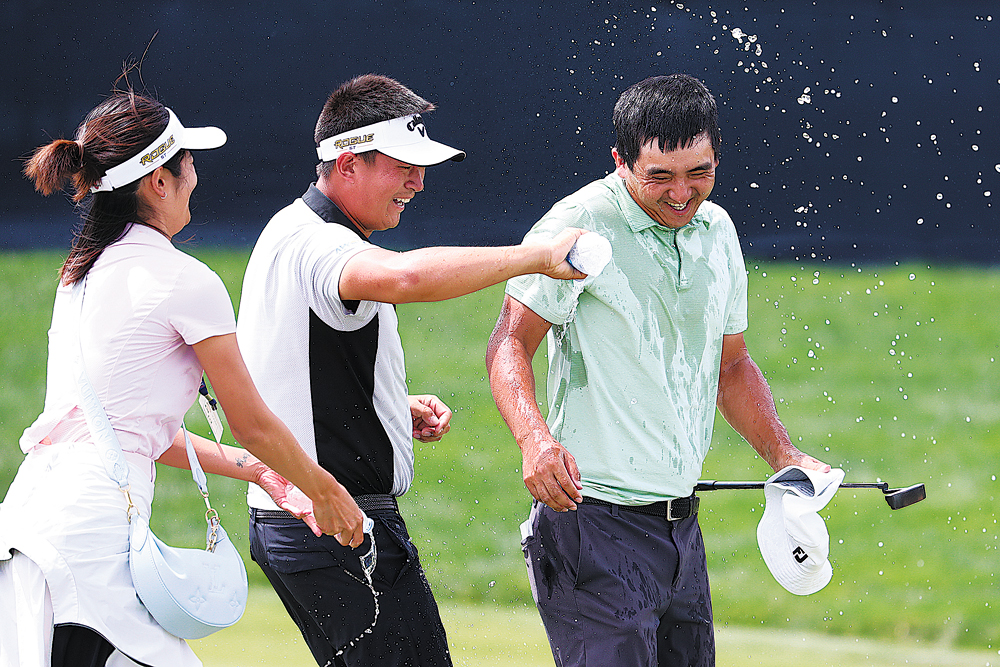 Changes to PGA Tour spell good news for likes of Yuan, Dou and Li
In golf, they say timing is everything. And the game's Asian aces, including those from China, have been in perfect synch and harmony in making the quantum leap from the Korn Ferry Tour to the ultra-competitive PGA Tour.
With the regular season coming to a close and rewarding the top 25 players with PGA Tour cards, China's dynamic duo of Carl Yuan Yechun and Marty Dou Zecheng, along with South Korea's An Byeong-hun and Kim Seonghyeong, have safely secured spots on the PGA Tour.
The talented quartet must now be gleefully rubbing their hands in anticipation of next season's PGA Tour following commissioner Jay Monahan's recent announcement of "substantial changes" to the tour in response to the rival LIV Circuit.
As part of the shake-up, eight tournaments will enjoy greatly enhanced prize purses averaging $20 million each, revised field sizes for the FedExCup Playoffs, and a reimagined fall schedule that will feature up to three no-cut, limited-field international events.
Subsequently, the PGA Tour also strengthened its strategic alliance with the DP World Tour, which will now offer further opportunities for Chinese golfers such as Li Haotong and Wu Ashun, both winners on the latter circuit, to fast-track their careers.
From 2023, the leading 10 players on the DP World Tour money list will earn PGA Tour cards.
As it stands, the established Asian stars on the PGA Tour have continued to blaze an exciting trail to etch their names into golf history. Japanese hero Hideki Matsuyama has won twice this season to equal KJ Choi's Asian record of eight PGA Tour victories. South Korea's Im Sung-jae and KH Lee, meanwhile, each won once to double their career tallies.
And there was also India's Anirban Lahiri's eye-catching runner-up finish at The Players Championship in March, when he pocketed a handsome $2.18 million for his biggest career paycheck yet.
South Korea's Kim Si-woo, a three-time PGA Tour winner, and CT Pan of Chinese Taipei have also performed admirably to all but seal their places in the FedExCup Playoffs this August.
While there will be more money than ever to shoot for next season, former world No 1 Rory McIlroy has been keen to stress that playing on the PGA Tour is very much about "legacy". The tour's decades-old tournaments, McIlroy asserts, are steeped in history, with their past champions including legendary names such as Sam Snead, Arnold Palmer, Jack Nicklaus, Tom Watson and Tiger Woods.
"It's very important to me. It means a lot, going back to history and tradition and putting your name on trophies that have the legends of the game on them," said McIlroy, a four-time major champ.
Spanish powerhouse Jon Rahm echoed those sentiments, saying: "I have always been interested in history and legacy, and right now the PGA Tour has that. There's a meaning when you win the Memorial. There's a meaning when you win Arnold Palmer's event at Bay Hill. There's a meaning when you win in LA, Torrey, some of these historic venues. That to me matters a lot."
The likes of Yuan and Dou will now have the same opportunity to chase golfing history, as well the millions of dollars on offer, although the strength in depth of the PGA Tour will ensure tough competition.
Yuan's promotion to the PGA Tour is well deserved following the huge sacrifice he made in putting country before self last year. He was in the mix for a PGA Tour card then but cut short his campaign to represent China at the Tokyo Olympics.
With grit, determination and an abundance of talent, the 25-year-old needed just seven tournaments to become the first golfer from this season's Korn Ferry Tour class to secure playing rights on the PGA Tour.
"I know I have the ability … I shouldn't be afraid to dream big," said Yuan, who has won once and has six other top-10 finishes to currently rank No 1 on the feeder circuit's money list.
"I had a pretty good year last year, a few high finishes, played some good golf and gained a lot of confidence. I had no regrets about playing in the Olympics. It meant a lot to me personally as it is every athlete's goal to be in the Olympics."
Dou, a childhood buddy of Yuan's and also 25, feels ready to take on the cream of the crop on the PGA Tour again after struggling in his debut season in 2018 when he made only four cuts in 23 starts.
"I'm definitely more prepared than that year because I've never felt as consistent as I am right now," said Dou after his victory at The Ascendant in Colorado on Sunday. "I think I can compete with them (PGA Tour players) now."
Monahan expects PGA Tour golfers to continue to entertain fans as they bid to "add their names to history books" and compete for "significant financial benefits".
He added: "Pure competition creates relevancy and context, which is what fans need and expect in order to invest their time in a sport and in a player. That's the beauty of the PGA Tour."
It can be certain Asia's flagbearers will be chasing their own slice of history as well.
The writer is senior director of marketing and communications for the PGA Tour and is based in Malaysia.