Dou PGA-bound as childhood buddies celebrate Chinese 1-2
Share - WeChat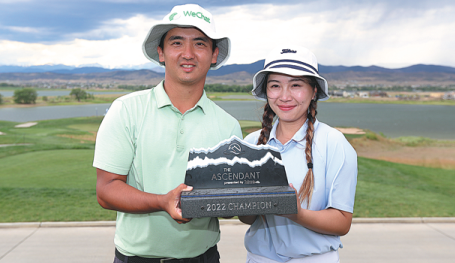 Marty Dou Zecheng is heading back to the PGA Tour after notching a well-earned victory at The Ascendant in Berthoud, Colorado, on Sunday.
Capping a perfect weekend for Dou was securing a first-ever one-two finish by Chinese mainland golfers on the Korn Ferry Tour alongside his childhood friend Carl Yuan Yechun.
After tapping home his final putt of the day, Yuan, his wife Cathy and Dou's girlfriend, Wu Muyu, ran onto the 18th green and doused Dou with water to celebrate their compatriot's victory.
Dou acknowledged their support has been pivotal and he is now looking forward to battling with Yuan for the No 1 ranking on the Korn Ferry Tour.
"It's great. All my buddies out here, like they keep me motivated. I try to do the same and keep them motivated and play good together and be somewhere at the top of the PGA Tour sometime," said Dou, who carded a final-round 67 at TPC Colorado for a 17-under total and a one-shot victory over Yuan.
"I know Carl well. We've played together since we were 7 or 8 years old in China."
The victory was Dou's third career title on the Korn Ferry Tour and saw him become the fourth Asian golfer this season-after Yuan and South Koreans Kim Seong-hyeon and An Byeong-hun-to secure a PGA Tour card for next season.
Yuan, who also fired a final-round 67, consolidated his No 1 ranking on the Korn Ferry Tour following his seventh top-10 of the campaign.
The 25-year-old Dou was delighted to be PGA Tour-bound, four years after he spent one season competing against the best in the world.
"I'm definitely more prepared than that year (2018) because I've never felt as consistent as I am right now. I think I can compete with them now," said Dou.
"My game is every bit more solid than before. Hitting it longer, irons are better. Putting today, just gave away a couple of putts, but still shot 17-under. I just feel more confident in every situation, leading or a couple behind. I know I can play good."
Tied for the overnight lead with Ryan McCormick and Dawson Armstrong, who both closed with disappointing 73s, Dou made six birdies to take a two-shot lead into the final hole, which he could afford to bogey and still triumph with his 17-under 271 total.
Dou's return to the winner's circle-he won the 2017 Digital Ally Open and the 2019 Bahamas Great Exuma Classic-was timely after missing successive cuts in his last three starts as the nerves of battling it out for a PGA Tour card began to get the better of him.
"The year started off really well and I never doubted myself until like a month and a half ago, my swing was like falling apart. But last week was a really, really important week and I had a good rest and went for some lessons and here you go," beamed Dou, who made just four cuts in his 23 starts on the PGA Tour during the 2017-18 season.
"I missed two cuts, and the third event, I was 6-under and I was still thinking about the cut line, which was 4-under, and I made three straight bogeys, and missed by one. I got really worried because on this tour, it's so tough and cut lines get into your mind so much."
Now, with a return to the PGA Tour beckoning, Dou's mind is shifting to bigger targets.
"It feels real now," he said. "The first year I got there, I kind of felt I wasn't ready. But it's been three years now from that time, and I do feel like all parts of my game are set for the big tour."
And with the big tour comes bigger paydays, with Dou admitting that he is considering rewarding himself with a new set of wheels.
"The (price of) gas is going up, so we'll see. I don't know. Like after this, I'm like, I might as well just keep calm and get a good finish on the PGA Tour and then think about something," he said.
Asked about his possible choice of new car, he added: "I'm in between right now. I was thinking about that walking up. Maybe just an electric car... but not sure yet because gas is just really expensive."
Dou sits second on the Korn Ferry Tour regular-season points list behind Yuan, with the buddies set to resume their battle for the No 1 spot this week at the Memorial Health Championship at Panther Creek Country Club in Springfield, Illinois.
"I need probably another win on the playoff final event and move up a little bit more," said Dou. "Hopefully, like Carl said, we're going after the Player of the Year and see who gets it."