Key link in the chain
Share - WeChat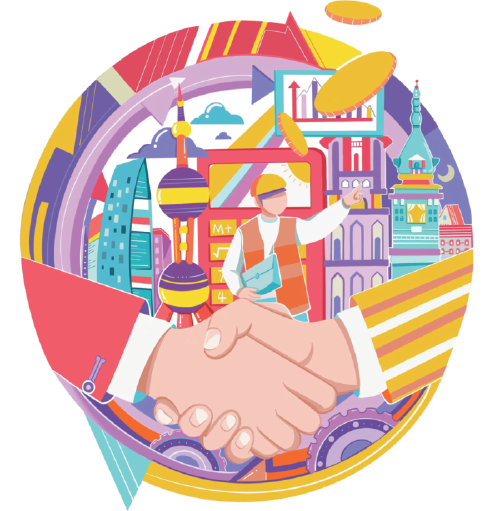 China regards Poland as an important strategic partner inside the European Union
Both China and Poland have suffered enormous hardships in the past and achieved independence and development through tenacious struggle, heroic sacrifice and people's hard work. After the drastic political changes in Eastern Europe and the disintegration of the Soviet Union, Poland embraced a "back to Europe" transition of its political system. Although China and Poland chose different paths of development and different social systems, both countries have realized fast economic growth.
From 1992 to 2019, the Polish economy maintained a high growth speed compared with other European countries. It registered a growth rate of 4.6 percent in 2017, 5.1 percent in 2018, and 4.7 percent in 2019. In 2020, Poland's economy contracted by 2.5 percent because of the COVID-19 pandemic, marking an end to a near three-decade period of continuous growth. In 2021, Poland ranked 23rd globally in terms of GDP and the country is now striving to join the ranks of developed nations. It also aims to become a member of the G20, if it can maintain stable economic growth in the coming years. China has created an "economic miracle" in the past four decades, experiencing uninterrupted growth since 1992-it even registered positive growth in 2020, when the pandemic upset the world economy.
China and Poland have had some common experiences during their economic transition. Both countries have ensured political stability in their transition and avoided major social unrest; both have adhered to their respective reform agenda, especially market-oriented economic reform, and followed the principle of balancing efficiency and fairness. The two countries have actively integrated themselves into the global economic system, absorbing nutrition from globalization while advancing globalization. In addition, being aware of the potential of digital and green economies, both countries are paying great attention to the low-carbon transition of their economy and to ecological protection as well as development of clean energy.
During its transition, Poland adopted drastic reforms such as rapidly privatizing the State-owned economy, completely transforming from a planned economy to a market economy, and democratizing its political system. Such a drastic transformation helped realize its remarkable achievements, but they also caused some side effects.
China has taken a progressive transformation path. It keeps public ownership as the mainstay of the economy while allowing diverse forms of ownership to jointly propel the development of the economy and seeks to find a balance between the role of government and market forces. The country upholds the leadership of the Communist Party of China, and regards reform, development and stability as its top priority. China is now experiencing a shift from rapid economic growth to high-quality development, and is seeking new opportunities from global digital and green technological revolutions. Meanwhile, it is promoting the "dual circulation" development paradigm in which foreign and domestic markets complement each other, and striving to build a unified domestic market. The economic transition of China and Poland have similarities as well as differences. The two countries could learn from each other through exchanges.
Poland has very important economic influence among Central Eastern European countries, and is hailed as the crossroads of Europe due to its important geographical location. The country is also a key node of the China-Europe freight train service, which is a demonstration project of the Belt and Road Initiative. As the initiator of the cooperation between China and Central and Eastern European countries, Poland plays a vital role in the China-CEEC Cooperation mechanism.
Recent years have seen frequent high-level exchanges between the two countries. In November 2011, when then Polish president Bronislaw Komorowski visited China, the two nations established a strategic partnership. In April 2012, former Chinese premier Wen Jiabao visited Poland where the two countries launched the Cooperation between China and Central and Eastern European Countries. In November 2015, Polish President Andrzej Duda visited China and attended the fourth China-CEEC leaders' meeting, setting a precedent for a state leader to attend the event. In June 2016, Chinese President Xi Jinping paid a state visit to Poland, and witnessed the establishment of a comprehensive strategic partnership between the two countries.
In May 2017, then Polish prime minister Beata Szydlo attended the Belt and Road Forum for International Cooperation held in China. During his meeting with Szydlo, President Xi proposed to build China-CEEC Cooperation into a key vehicle that helps align the Belt and Road Initiative with the European economic circle, a priority area for building four major China-EU partnerships for peace, growth, reform and civilization, as well as a new growth engine for China-EU cooperation.
In February 2021, Polish President Duda attended the China-CEEC Summit via video link, and, this year, he attended the opening ceremony of the Beijing 2022 Winter Olympics. Generally speaking, China regards Poland as an important partner in Europe, actively develops the bilateral ties and works with Poland to jointly advance the Belt and Road Initiative and China-CEEC Cooperation.
Looking to the future, the two countries should enhance bilateral cooperation and make due contributions to regional and global peace and stability. China will continue to treat Poland as an important strategic partner inside the EU.It is hoped that with their joint efforts, China and Poland will carry out deeper cooperation in reviving the European economy, and boosting connectivity in the Eurasian continent.
The author is a researcher and deputy director of the Institute of European Studies at the Chinese Academy of Social Sciences. The author contributed this article to China Watch, a think tank powered by China Daily. T
The views do not necessarily reflect those of China Daily.
Contact the editor at editor@chinawatch.cn
Most Viewed in 24 Hours
China Views