Xinjiang smear is a part of an ongoing trade war with China
Share - WeChat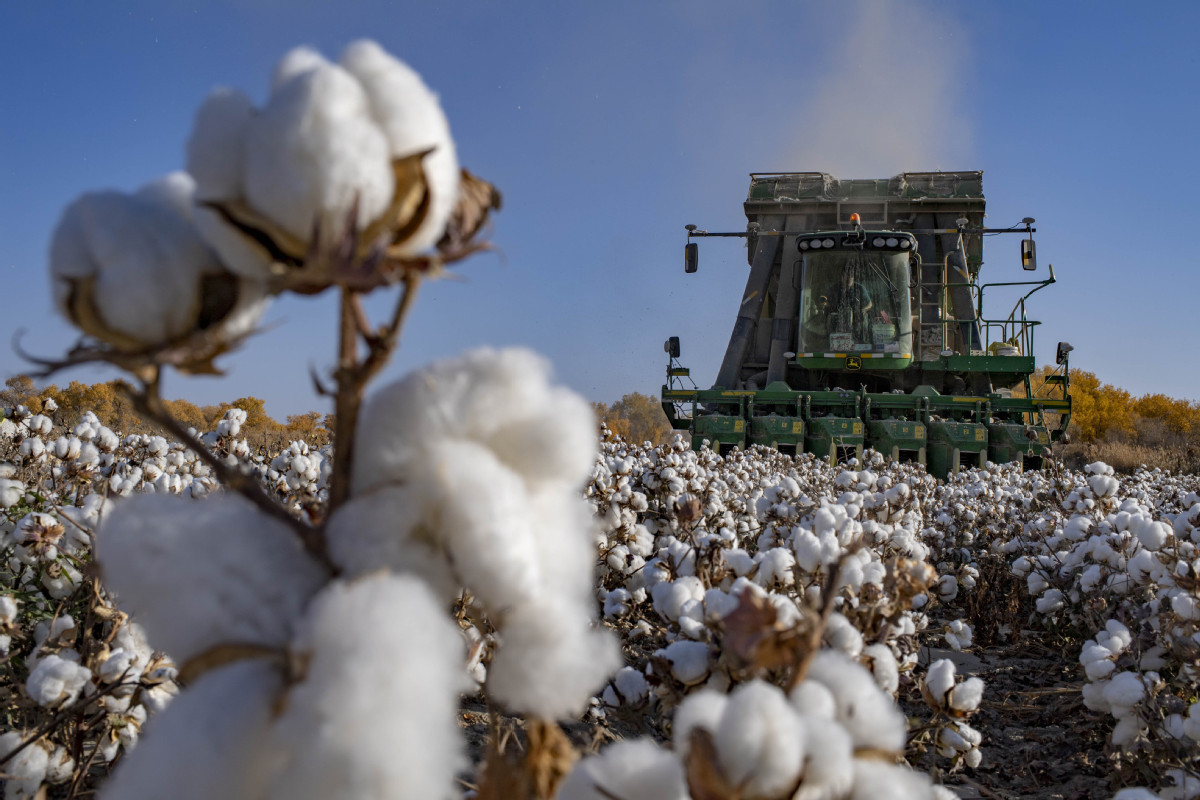 Many people initially had high hopes that the presidential win of Joe Biden would mark a decisive break from the disastrous years of Donald Trump as the US commander—in—chief. Still, it looks that retired ambassador Chas Freeman, who served as Richard Nixon's translator during his 1972 trip to Beijing, was right by arguing that Biden is nothing but a more polite version of his predecessor.
In fact, when it comes to the Biden administration's trade policy vis-à-vis China, we can see a continuation, especially when the Xinjiang smear is concerned.
As we remember, the previous administration cooked up a story about the alleged "genocide" in China's northwest region, with then-Secretary of State Mike Pompeo perfidiously tying the "forced labor" accusations to other outlandish charges like forced sterilizations and indefinite detention without trial.
Notably, the same administration announced a ban on all cotton and tomato products from Xinjiang in January 2021, which was later translated into the US Congress's move to pass the bipartisan Uyghur Forced Labor Prevention Act. This bill was signed into law by President Joe Biden in December 2021.
What is interesting, and at the same time deeply troubling, about the said legislation is that it is based on a "rebuttable presumption" that assumes all goods from Xinjiang are made in conditions of "forced labor". Consequently, the new law bares these goods from entering US territory unless "clear and compelling evidence" can be provided otherwise.
"The Uyghur Forced Labor Prevention Act" took effect on June 21, and it will have far-reaching implications not only on US-China relations but also for the US economy and consumers.
To begin with, the UFLPA significantly complicates the business activities of importers that are effectively guilty until proven innocent and have 30 days to provide sufficient evidence to be exempted from the ban and detained cargoes being freed from the US ports. Otherwise, they have an option of re-exporting prohibited products elsewhere.
While ports in New York, Chicago and Los Angeles are predicted to be impacted the most by the new law, the new procedures will bring a significant shock to American supply chains that have already been upended by the COVID-19 pandemic and the collective West's response to Russia-Ukraine conflict.
The worsening of the current supply-chain disruptions will further translate into more shortages and price hikes for the average US consumer, which is already coping with the highest inflation in 40 years. On top of that, the maximum enforcement of the law would put an even greater burden on the already weakened American economy.
What is more, as Deborah Elms, Asian Trade Centre Executive Director, warned during her recent Bloomberg Daybreak: Asia interview, "we could see forced labor laws or forced labor regulations moving to all kinds of different sectors and industries" that would cause a "significant damage to supply chains in areas that right now don't even see this coming" – going beyond the "high priority" goods, such as cotton and polysilicon used in solar-panel manufacturing.
Therefore, it is crucial not to assess the recent developments separately but to put the mentioned actions into the broader context of the US actions against Beijing.
Since Washington has been consequently adding more Chinese firms to its banned entity list to block their access to US exports, it is rather apparent that the current move suggests a clear intention to ramp up trade competition that would ultimately lead to a conflict between the two largest economies in the world.
In other words, while "forced labor" propaganda serves as a means to persuade US allies to implement similar measures on goods from China's Xinjiang Uygur autonomous region and "separate Xinjiang from the global industrial chain", the ultimate goal is to "hobble China's development" amidst the decoupling process.
Adriel Kasonta is a London-based foreign affairs analyst and commentator. He is the founder of AK Consultancy and former chairman of the International Affairs Committee at Bow Group, the oldest conservative think tank in the UK.
The opinions expressed here are those of the writer and do not necessarily represent the views of China Daily and China Daily website.
If you have a specific expertise, or would like to share your thought about our stories, then send us your writings at opinion@chinadaily.com.cn, and comment@chinadaily.com.cn.
Most Viewed in 24 Hours
China Views