Turkey gives ground to let NATO expand
Share - WeChat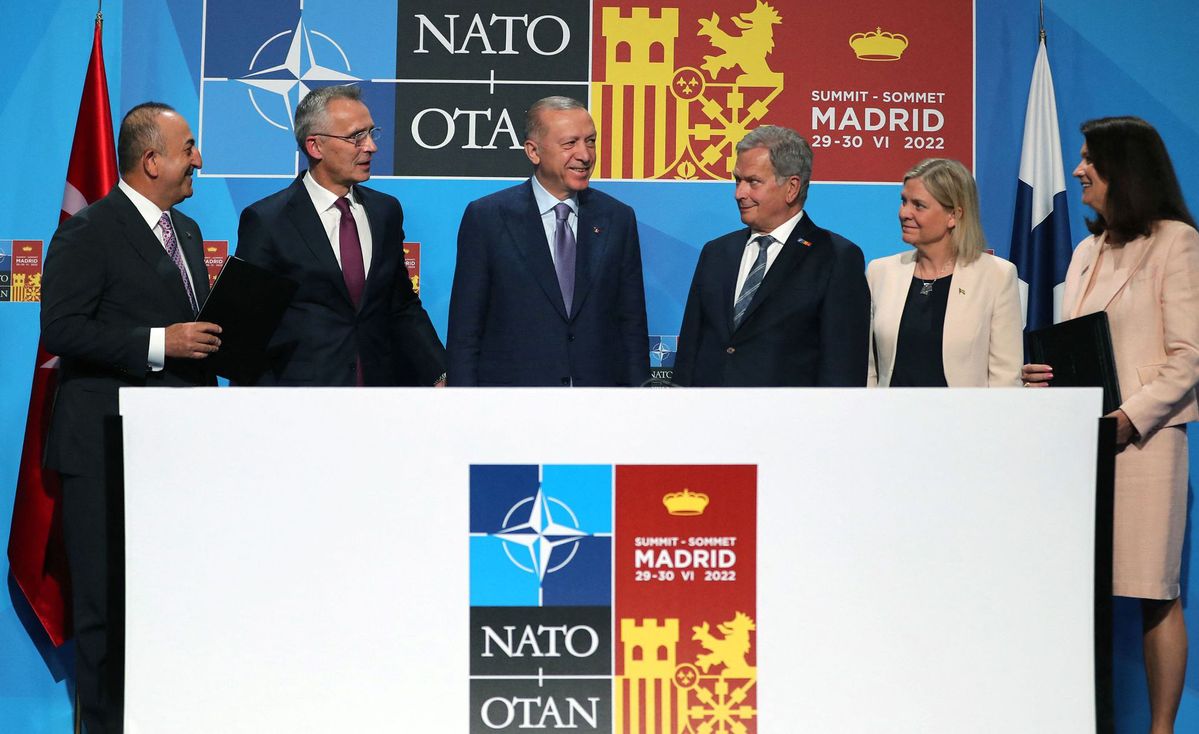 Applications by Sweden, Finland can proceed after pledges on security issues
Turkey on Tuesday dropped its objection to Finland's and Sweden's applications to join NATO, paving way for the security alliance's further expansion along Russia's borders.
The decision was announced after Turkish President Recep Tayyip Erdogan, Finnish President Sauli Niinisto and Swedish Prime Minister Magdalena Andersson held a three-hour meeting on the sidelines of a NATO summit in Madrid, Spain.
Erdogan said in a statement that he had received "full cooperation "from Finland and Sweden against the Kurdish Workers' Party, or PKK, fighters and their allies.
Turkey had raised serious concerns by accusing the two Nordic countries of supporting what it sees as terrorist organizations, including the PKK's recruitment, fundraising and propaganda activities in the two countries.
Turkey demanded that the Finnish and Swedish authorities extradite more than 30 people related to those so-called terrorist groups, including people involved in a failed 2016 coup attempt. It also urged the two countries to lift arms embargoes on Turkey.
NATO Secretary-General Jens Stoltenberg, who had been pushing for a compromise by the three parties for the past weeks, said: "We now have an agreement that paves the way for Finland and Sweden to join NATO.
"Finland and Sweden, of course, are ready to work with Turkey on the pending deportations or extradition requests of terror suspected individuals."
He added that the process would be conducted in accordance with relevant laws.
In a tweet, Niinisto described the breakthrough as "one step forward".
He said the text in a memorandum of understanding signed on Tuesday by the foreign ministers of the countries "underscores the commitment" of all three nations "to extend their full support against threats to each other's security".
Andersson hailed the document as "a very good agreement".
"Taking the next step toward a full NATO membership is of course important for Sweden and Finland. But it's also a very important step for NATO, because our countries will be security providers within NATO," she said.
Deadlock broken
With the breaking of the deadlock, NATO's 30 member states are expected to extend an official invitation during the summit, which ends on Thursday. The parliament in each member state must ratify the decision, a process that many believe could take as long as a year.
Finland and Sweden had long maintained a policy of nonalignment, but official and public opinion have shifted dramatically since the start of the Russia-Ukraine conflict in late February. The two countries began their formal process of applying to join NATO last month.
A recent survey for Finnish newspaper Helsingin Sanomat found that 79 percent of Finns are in favor of NATO membership while 10 percent are against and 11 percent are unsure.
Finland and Russia share a 1,340-kilometer border.
US President Joe Biden said on Tuesday the trilateral memorandum is a "crucial step" to strengthen the alliance.
At the summit on Wednesday morning, Biden announced a US reinforcement of NATO forces in Europe, including establishing permanent headquarters for the US 5th Army Corps in Poland and deploying two additional squadrons of F-35 fighter jets to the United Kingdom.
"NATO will be strengthened in all directions across every domain-land, air and sea," he said.
Carl Bildt, co-chair of the European Council on Foreign Relations and former Swedish prime minister, said that fighting terrorism has always been important for Sweden and Finland.
"The problem in the talks was that Turkey tried to stretch the definition of what that entails far too far, but in the end a decent compromise was achieved. Should be good for everyone," he said in a tweet.