Chinese lifestyles milking dairy industry
Share - WeChat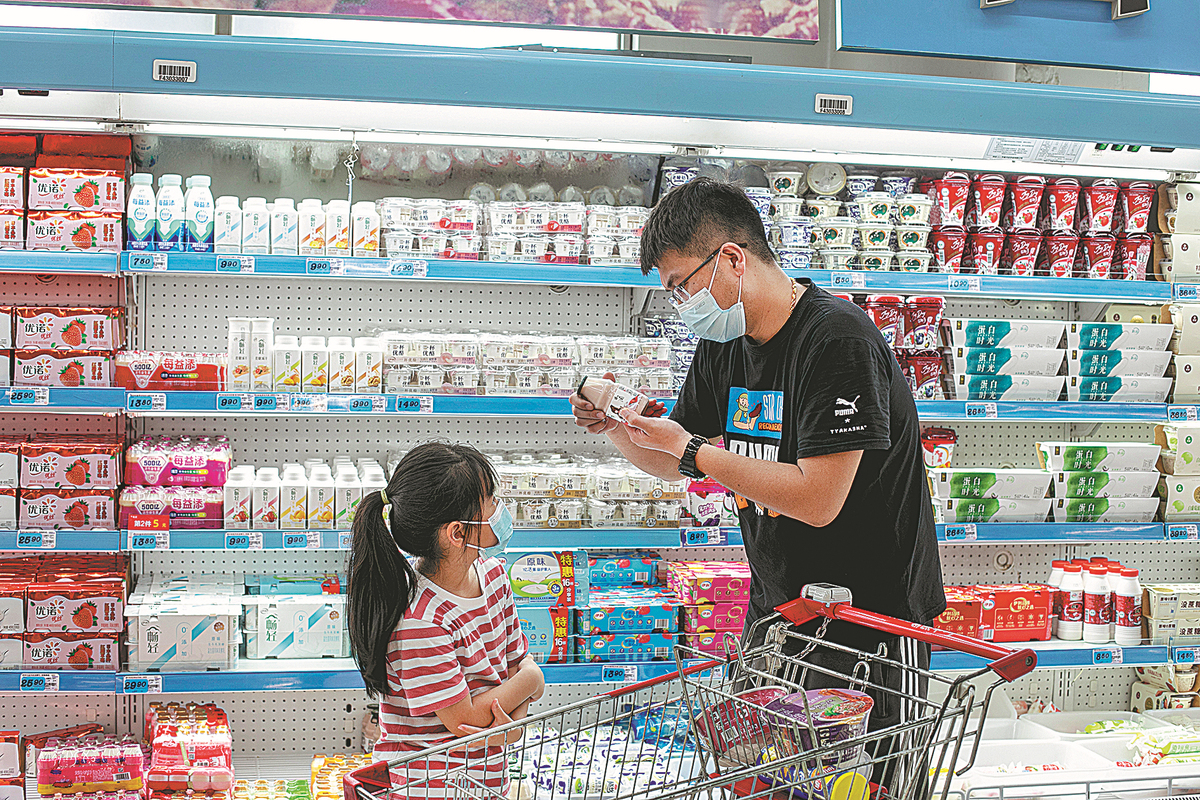 Chinese consumers are drinking milk and having other dairy products more frequently, and the consumption of dairy products through Western-style foods, baked goods and milk tea is increasingly growing, a new report said.
Since the COVID-19 pandemic, Chinese consumers are showing higher awareness about consuming more dairy products and enhancing their immunity, said a newly released survey by the China Dairy Industry Association and Royal FrieslandCampina, the largest dairy company in the Netherlands.
The report found that the milk quotient of Chinese consumers is 63.2 out of 100 points this year, the highest reading in five years since the survey started. The China Milk Quotient, an indicator system launched in 2018, is determined through industry research and expert workshops.
Out of more than 4,000 surveyed respondents in 28 cities nationwide, about 70 percent of the total surveyed consumers said they usually buy milk tea at least once a week. Besides, over half of those surveyed said they tend to buy those high-quality dairy products that carry higher price tags and have stronger nutritional functions.
"We will continue to make more efforts in popularizing dairy consumption knowledge among consumers, and contribute to the Healthy China 2030 Initiative," said Yang Guochao, senior vice-president of FrieslandCampina China.
Chinese people's consumption of dairy products such as milk is no longer limited to three meals a day, and dairy products have increasingly become part of their new lifestyles. Many young people tend to take some dairy products when they are watching TV dramas or going shopping, the report found.
"Dairy products have increasingly become an essential part of Chinese people's daily lives. They appear in more consumption scenarios, thus it has raised higher requirements on the development of the dairy sector," said Song Kungang, honorary chairman of the Chinese National Committee of International Dairy Federation.
"Dairy makers should pay more attention to product quality, and strengthen their innovation and research and development abilities," Song said.
Chinese adults are suggested to consume 300 grams to 500 grams of milk or equivalent dairy products every day, according to the latest Chinese Dietary Guidelines released in April. Earlier, the guideline suggested that Chinese adults consume 300 grams of dairy products daily. Still, Chinese people consume relatively low volumes of dairy products compared with many other countries, and there is significant room for future growth.
Compared with some major dairy-consuming countries, whose residents consume more yogurt, cheese and butter, Chinese people's consumption of dairy products has been relatively limited to having room-temperature liquid milk, the report said.
"To raise national dairy consumption volumes, the milk quotient project has surveyed the development of China's dairy industry. It has played a positive role in supporting the healthy development of the dairy sector," said Ren Fazheng, a professor at China Agricultural University.
Meanwhile, since the pandemic, more Chinese people said they have recognized that the functions of lactoferrin can help reinforce immunity, the report found.
"Lactoferrin has certain antiviral and antibacterial effects, and it can help regulate immune functions, prevent and cure diseases, promote the maturation of infants' intestinal immune system and establish immune barriers," said Chen Wei, deputy director of the clinical nutrition department at Peking Union Medical College Hospital.
From January to April, China's total dairy product output reached 9.7 million metric tons, up 0.5 percent year-on-year. China's dairy market has witnessed rapid growth, and the market concentration level has further improved, according to the National Bureau of Statistics.
Last year, Mengniu Dairy Co Ltd, a major dairy producer based in the Inner Mongolia autonomous region, achieved sales revenue of 88.1 billion yuan ($13.2 billion), up 15.9 percent year-on-year. During the period, it achieved a net profit of 5.03 billion yuan, jumping 42.57 percent year-on-year, according to its annual earnings report.