Support for West's tough response frays
Share - WeChat As pain spreads, 'Ukraine fatigue' chips away at resolve to hurt Russia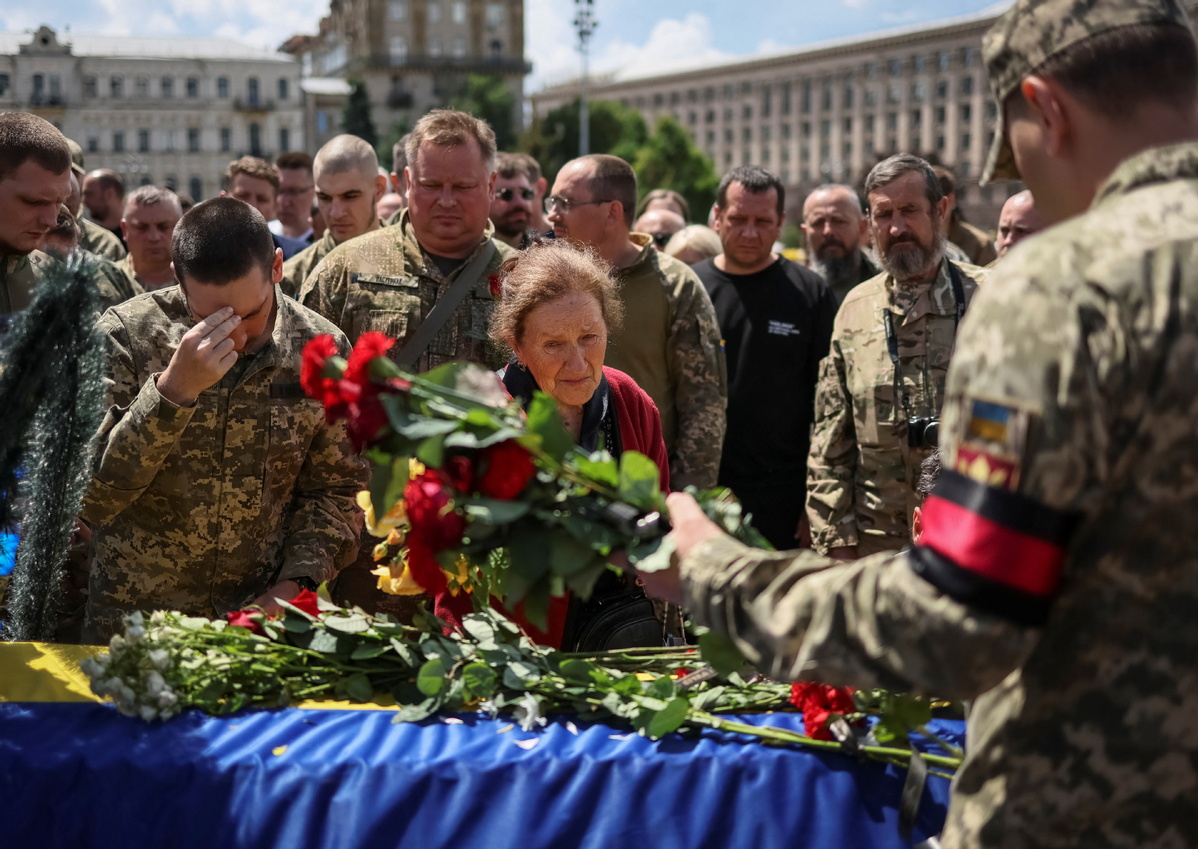 With the Russia-Ukraine conflict poised to enter its fifth month, the West is showing signs of fatigue as the price paid for its partisan role mounts, and there are more discussions about how and when to end the fighting in order to combat rising global inflation and food shortages.
Leaders of the European Union were scheduled to gather in Brussels on Thursday to discuss calls to formally grant Ukraine candidate status to join the bloc, a prize sought by Kyiv even as Russian forces slowly advance in the eastern Donbas region.
While the European Commission-backed candidacy is widely expected to be approved, some members of the bloc have been lukewarm about Ukraine's status, and any accession process is likely to take years if not decades.
British Prime Minister Boris Johnson warned of a risk of "Ukraine fatigue" as the conflict drags on, in comments that followed a visit to Kyiv on Saturday. He fears that such a mood shift could erode the West's resolve to support Ukraine.
Addressing this issue, a column in the Los Angeles Times on Sunday said "the economic pain is creating political problems for European governments that have joined the US-led campaign of sanctions against Russia: 'Ukraine fatigue'."
A 10-country poll released recently by the European Council on Foreign Relations, or ECFR, showed that while European public opinion helped to solidify Europe's political response in the first 100 days of the Russia-Ukraine conflict, diverging public preferences could now weaken this unity.
The council's research shows that, while Europeans support sanctions against Russia, they are split about the long-term goals. In all countries but Poland, the "peace" camp that wants the conflict to end as soon as possible is larger than the "justice" camp that believes the more pressing goal is to punish Russia. European citizens worry about the cost of economic sanctions and the threat of nuclear escalation. Unless something dramatically changes, they will oppose a protracted conflict.
ECFR Director Mark Leonard told The Washington Post that there are potential divisions over the cost of living, refugees, and nuclear escalation, but the big divide is between those who want to end the conflict as quickly as possible and those who want Russia to be punished.
"If badly handled the gap between the 'peace camp' and the 'justice camp' over Ukraine could be as damaging as that between creditors and debtors during the euro crisis," Leonard said.
A poll by the College of Behavioral and Social Sciences at the University of Maryland showed that there are "signs of American public fatigue" over the conflict. In May only 59 percent of those surveyed said they were prepared to see higher energy prices because of the conflict, down from 73 percent who said the same in March.
Increased inflation
The proportion of people in the US who said they were prepared to see an increase in inflation (52 percent in May and 65 percent in March) and potentially lose US troops (27 percent in May to 32 percent in March) likewise shrank.
Ding Chun, director of the Center for European Studies at Fudan University, said the emergence of signs of fatigue among people in Europe is understandable. The conflict is still dragging on and the gap between Russian and Ukrainian expectations for how to end the conflict is still wide, making it difficult to have a quick end to the fighting.
But the conflict has already imposed strains on Europe, including those caused by a shortage of energy supplies that has pushed up fuel prices and further inflated food prices. The conflict has also brought millions of people to Europe in the largest influx of refugees since World War II, putting to the test some European countries' ability to take them in.
"Europe is thus stuck in a dilemma," Ding said. "There are also divisions among European countries, as some people want to continue support to Ukraine, and some are more concerned about its domestic problems."
He Yun, an associate professor in the School of Public Administration at Hunan University in Changsha, said many people in Europe and the US are experiencing "Ukraine fatigue". The conflict is emotionally draining to those following it on news outlets or in social media, especially after four months of fighting.
"In addition, sanctions led by the US and Europe against Russia are hurting their own people. In America for instance, the gas price has risen over 60 percent compared to a year ago," she said. "Combined with the high inflation rate and rising utility bills, ordinary people are finding it harder to make ends meet," He said.
"So people ask, why do I have to suffer for this conflict? Why can't it just end? And this is precisely why there needs to be a peaceful solution to the Ukraine-Russia conflict soon."