Ministry pushes NEV growth as consumer demand soars
Share - WeChat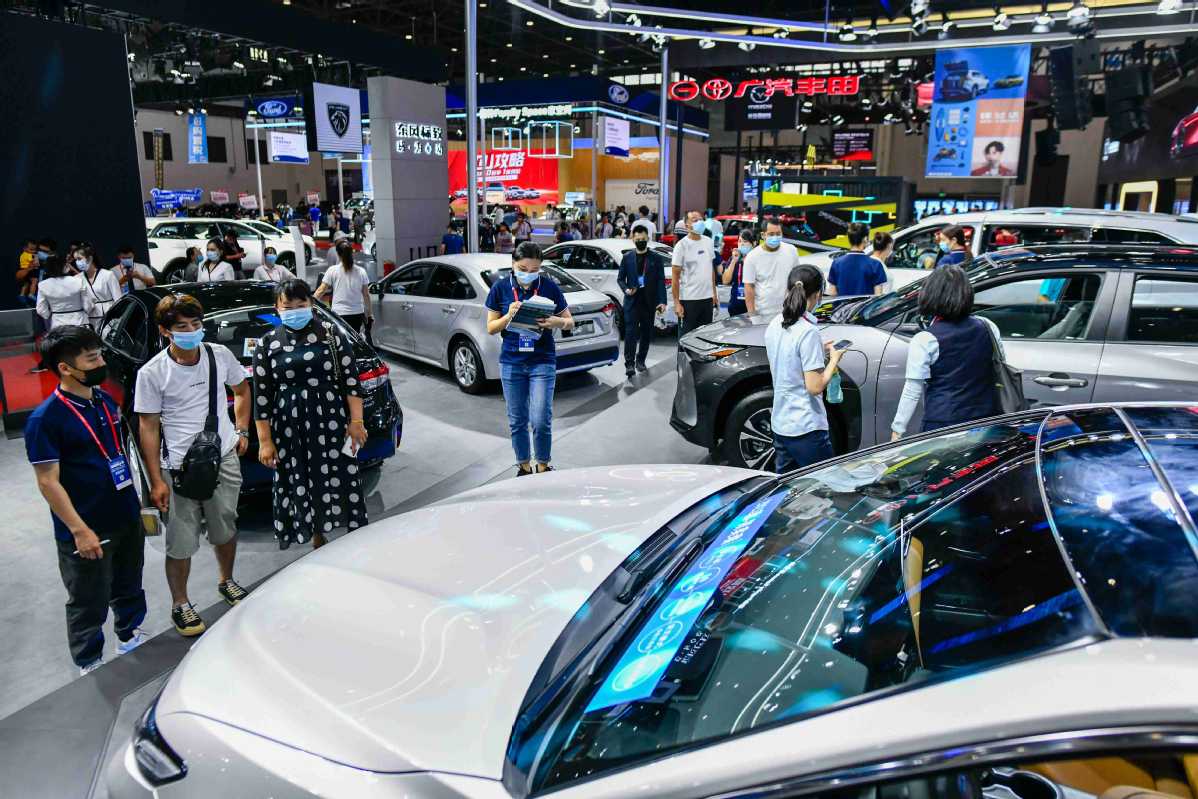 Official says China now has over 11 million such vehicles on roads across the country
The Ministry of Industry and Information Technology is urging Chinese companies in the new energy vehicle industry to explore breakthroughs in core technologies to consolidate the sector's growth momentum.
The world's second-largest economy has been the largest market for electric vehicles and plug-in hybrids since 2015, said Xin Guobin, vice-minister of industry and information technology, at a news conference last week.
He said there were 11.08 million such vehicles on the country's roads by the end of May, up from 2 million in 2012.
"Yet we must be aware that there are still shortcomings that we need to solve in terms of core technologies," Xin said.
He said efforts are needed to make breakthroughs in batteries and onboard operating systems among other improvements.
Xin added that Chinese companies have made progress over the past few years and have spearheaded many technologies in the sector.
Citing the example of power batteries, he said the energy density is now 1.3 times the figure in 2012 but the price is 80 percent cheaper.
In March 2020, BYD came up with its blade batteries, named after their thinner structure.
The products belong to the lithium iron phosphate (LFP) battery family. However, unlike the traditional LFP battery, they have structural advantages that give them features such as a longer life and a higher mileage.
EV batteries come in three categories-LFP battery, ternary lithium battery and nickel-cadmium battery.
The first two categories are mainstream products. Normal LFP batteries are safe and have relatively low endurance, while ternary lithium batteries have an extended long life despite low thermostability.
"The blade battery's unique structure differentiates it from conventional LFP batteries due to its high energy density," said Shi Jinman, an automobile analyst at Guotai Jun'an Securities. "In addition, it also has several other safety advantages."
Last week, China's largest carmaker SAIC Motor unveiled its first electric model, developed "with global markets in mind".
The model, called Mulan under its MG marque, is the result of its British and Chinese teams for customers in China and abroad, said MG CEO Zhang Liang.
The Mulan is built on SAIC's new Xingyun, or Nebula, platform designed solely for all-electric cars and sports the carmaker's One Pack battery in which energy density reaches 180 watt-hours per kilogram.
Also, the Mulan features a "zero thermal runaway" system to prevent it from catching fire or an incident of excessive heat.
MG said the model was developed in accordance with the European New Car Assessment Program, one of the strictest of its kind in the world.
Xin also called for efforts to be made in terms of onboard operating systems.
Beginning with Tesla, electric and gasoline-powered automakers across the world have made large touch screens an essential feature in their models.
Via Bluetooth and 5G, the vehicles' onboard operating systems now allow drivers and passengers to do on the dashboard displays whatever they can do on their smartphones, from watching videos and navigating to making phone calls and enjoying music.
"The major trend in the coming future is to create user ecosystems across borders and provide users with a more convenient, smarter and seamlessly connected multiscreen experience," said Geely Chairman Li Shufu.
Besides technologies, the Ministry of Industry and Information Technology said it is mulling over favorable policies in the NEV sector.
Over the past few years, the central and local governments have rolled out over 600 policies, Xin said, adding that the ministry is considering whether to extend the expiring zero-purchase tax policy for NEVs.
NEVs have become a serious choice for car buyers in China with a wide range of models available in the market.
Carmakers sold 447,000 electric cars and plug-in hybrids in May, up 105.2 percent year-on-year and 49.6 percent month-on-month, according to statistics from the China Association of Automobile Manufacturers.
The solid sales performance in May has prompted the CAAM to retain its full-year sales estimate of 5 million units, which would mark a nearly 43 percent rise year-on-year.
Deliveries from January to May topped 2 million units, up 111.2 percent year-on-year.