Talented trio thrive on European stage
Share - WeChat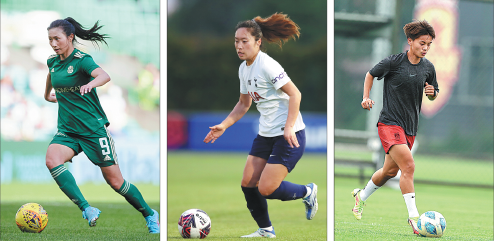 China's female stars impress in foreign leagues to raise hopes for national team
A group of young Chinese women have been shining in European soccer leagues in recent years, with their experience at the top level ultimately feeding back into the domestic game and national team.
Shen Mengyu is one such starlet, whose goals and impressive performances for Celtic Women's FC have lit up the Scottish league.
Signed by the famous Glasgow club last summer, Shen netted six times and contributed 10 assists across all competitions for Celtic in her debut European season, while her all-round play throughout the 2021-22 campaign also caught the eye.
Last month, the 20-year-old helped Celtic lift its first Scottish Women's Cup by scoring the first goal of the final in a 3-2 extra-time victory over local rival Glasgow City.
"Before that game in training, a lot of my teammates just said to me, 'You must get a goal in the cup final!' And I just said, 'OK, I'll believe in that," Shen told celticfc.com.
"It was just amazing to make history and I did that with my teammates, like Liv Chance. Lifting that trophy together felt so good."
Shen admitted that adapting to life in the UK was difficult at first, having arrived in Glasgow when she was just 19.
She credits teammates for showing her "a lot of patience" to boost her confidence and help her conquer those early jitters.
"When you are alone in a foreign country, you miss home a lot. Due to the time difference, I had to carefully schedule video chats with my family. For a while, I was pretty sad," Shen told Chinanews.com.
"I was confused when I first got here. After all, I had left my comfort zone. So I felt my mentality was not right at that time, which translated to poor form on the pitch. When I made mistakes, I felt awful.
"Now, looking back at that period, I feel I was over-thinking things, which didn't do me any good. My teammates encouraged me and I communicated more with my coach. They all told me I was doing fine and not to doubt myself. So, from there, I have really grown."
Meanwhile, forward Tang Jiali has also done China proud in the British game, with London club Tottenham Hotspur.
Tang joined Tottenham in July last year, on loan from Shanghai Shengli FC for the 2021-22 season. The 27-year-old China international returned to her parent club after scoring once in 13 appearances.
"When I was a kid, I always thought about playing abroad. Years before, there were agents asking me if I wanted to play abroad. I was a teenager at that time, and I was hesitant," Tang told Tottenham's official website last month.
"I thought I was too young and I was afraid I wouldn't be able to handle any problems that might occur. My English was not good and I didn't know how to take care of myself. Like, I could not cook.
"But I learned many things from my idol Lionel Messi. It's well-documented that many doubted him when he was young, but he reached such a high level through his own hard work and dedication. Such spirit inspired me. Even when there are many questions, we can still overcome them."
The most famous of China's women's soccer exports remains Wang Shuang, who signed a two-year contract with French giant Paris Saint-Germain in 2018. She found the net seven times in the French top flight, and became the first Chinese to score in the UEFA Women's Champions League.
Wang, who goes by the nickname 'Lady Messi', cut short her PSG stay in 2019 as she struggled to adapt to life in France and balance club and country commitments.
But now it seems a return to Europe is in the offing.
"I want to play in the English Super League, and we have already made contact. I think it will happen in July or August," Wang said in a recent interview.
"Team China head coach Shui Qingxia is always advising us to play in foreign leagues. She knows the level of women's soccer in Europe is higher than at home.
"She supports the national team's young players getting the chance to develop in the best leagues. By developing abroad, we can return and contribute more to the Chinese national team."
In March, Wang was named 2021 Chinese Women's Footballer of the Year, with Tang and Shen coming second and third respectively. Now fans are hopeful more young Chinese talent can follow in the footsteps of the trio and shine in elite-level foreign leagues.
"As long as they have the quality and willingness to play in Europe, I hope they can all go there to experience a different soccer culture and environment," said Team China head coach Shui.
"Take Tang Jiali, for instance. Her understanding of the game and physical conditioning is now much better following her time in Europe. She has made great progress and developed into an outstanding player for Team China."
shifutian@chinadaily.com.cn