Sanxingdui site a seemingly limitless archaeological treasure trove
Share - WeChat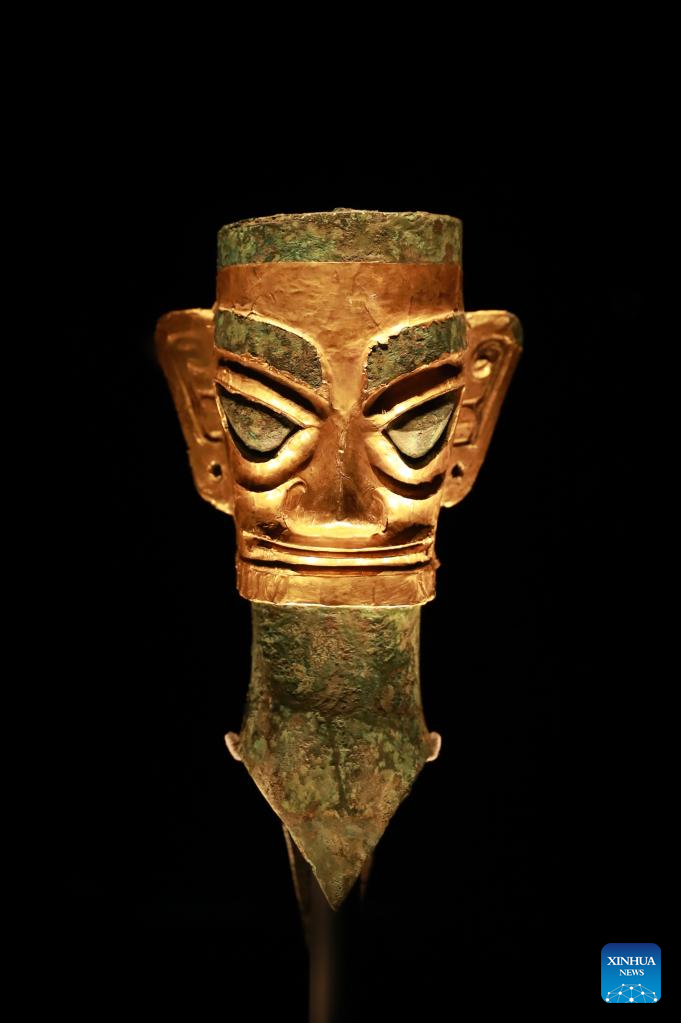 Myriad millennia-old cultural relics shedding light on a mysterious yet key part of ancient Chinese civilization have been found during an ongoing archaeological excavation on Sanxingdui site in Sichuan province.
According to Ran Honglin, a leading archaeologist for the project, 3,155 cultural relics in complete structure, including 1,238 pieces of bronzeware, 543 gold artifacts and 565 jade artifacts have been recovered from six pits on the site. The tally was announced during a news conference on Monday at the Sanxingdui Museum in Guanghan.
Including other broken parts and fragments, more than 13,000 cultural relics have been discovered, offering many new clues to decode the ancient Shu civilization.
The ancient state of Shu was said to dominate today's Sichuan region, but its documentation was scant. The Sanxingdui site, first found in 1929, has been key to uncover a brilliance buried by history.
In 1986, two pits full of bronzewares, most noticeable for bizarre-looking bronze masks and human figurines, were accidentally discovered and won the site worldwide attention. They are now generally thought by archaeologists to have been used for sacrificial ceremonies. In a new round of excavation starting in 2020, another six "sacrificial" pits were found next to the original two.
Ran, from the Sichuan Provincial Cultural Relics and Archaeology Research Institute, said new carbon-dating results on about 200 relics in the pits ranged from 1131 to 1012 BC, meaning most of these pits were from 3,200 to 3,000 years ago during the late Shang Dynasty (c.16th to 11th century BC), while the No 5 and No 6 pits might be from more recent periods.
"The question of its age, which had been bothering us over the past 30 years, has been solved," Ran said.
More bronze masks covered with gold and figurines in various shapes have continued to be unearthed this year, while an exquisite bronze altar and other ceremonial artifacts made of bronze and jade may have further insight into the ancient people's religious rites.
Even with the volume of discoveries, Sanxingdui still has more surprises to offer.
In a combined artifact, a bronze net-like grid covers an oval jade which looks like a tortoise shell. A human figurine with a serpentine body carries a ritual vessel known as zun on its head, and a bronze dragon-shape artifact bears a "pig's nose".
"We had never seen something like these, and we even don't know how to describe their patterns or shapes in short words," Ran said. "It's also confusing for us to speculate how they were used before further studies.
"But these artifacts feature a mixture of typical local styles of cultural relics as well as those from the Central China Plains at that time," he explained. "It demonstrates through close communications, the ancient Shu culture became a key part in early Chinese civilization."
What amazed the archaeologists most was not any one artifact. In the northwest excavation area, an architectural foundation covering about 80 square meters was also newly uncovered. It was surrounded by more small pits.
These pits were left untouched after the tips of artifacts were exposed, but their complicated structure led Ran to speculate they may comprise a large sacrificial area with the eight other pits, though it is still too early to conclude the architecture was a shrine.
Ran said this round of excavation will last no later than Spring Festival next year, but more effort and longer time will be spent in labs.
"So many bronzewares were found, and we've fully cleaned about 70 of them so far," said Xie Zhenbin, a leading conservator at the Sichuan institute. "The number seemed small, but we need patience and a rigid attitude to collect as much historical information as we can and conserve the relics in the best way."
Through conservation of around 600 ivory tusks moved from the pits, Xie said a breakthrough was made to take care of these fragile items through new technologies.
These new research and conservation methods continue to produce new findings.
For example, no physical evidence of silk from 3,000 to 4,000 years ago was previously found in Southwest China. But about 20 artifacts in the ongoing excavation in Sanxingdui were found to once be covered by silk, filling a gap in historical studies.
Research into plant and animal remains among burned ashes in pits could also help people better know the natural environment of Sanxingdui's time, Xie added.
"We welcome conservators from across the world to join our work on Sanxingdui," Xie said. "Interdisciplinary research can help us better explain the value of the relics and thus reconstruct a picture of early Chinese civilization."
Most Popular