US grapples with long history of racial trauma
Share - WeChat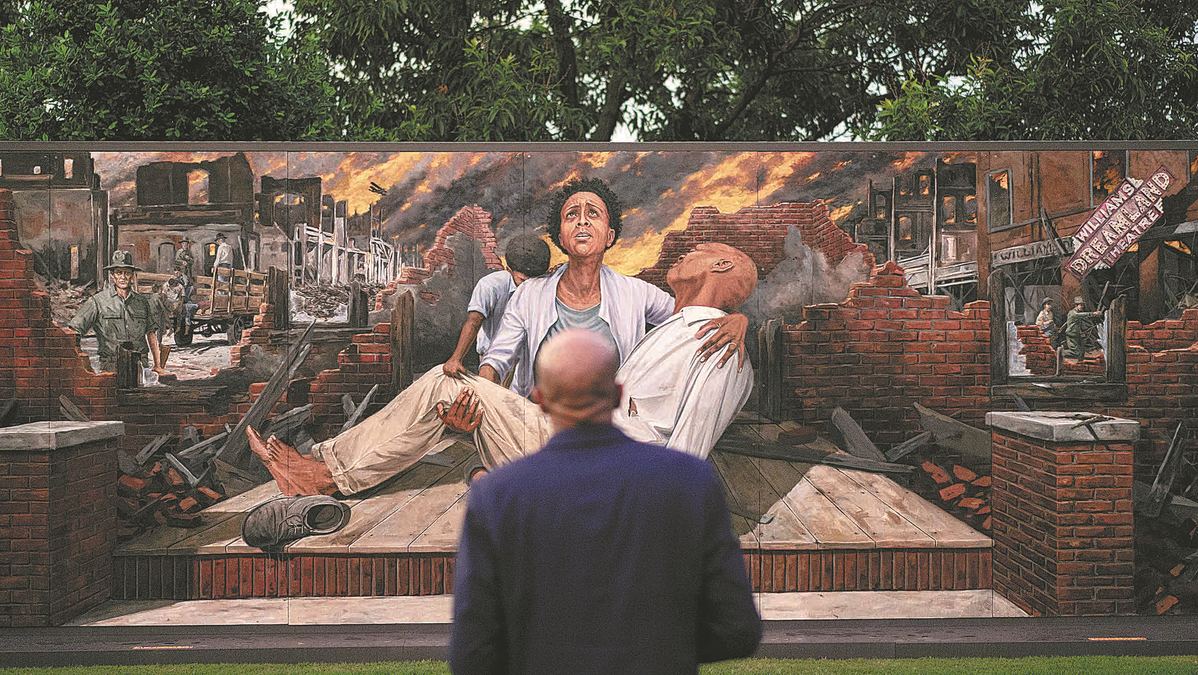 'Get intentional'
"When I was young I got emotional at the sight of injustice," he said. "Now I get intentional. That's why I became a senator in Oklahoma, the only state in America where not a single county voted for our first black president in eight years. Racism cannot keep us from getting a job when we own the business. And that's what the Greenwood district had been known as-an economic mecca."
The state senator said he was stopped by police only last month for driving a luxury car. Another time, police handcuffed one of his cousins after he had parked in front of Matthew's driveway because "they said that they thought he had a gun when he had a cellphone".
"We are always seen as a threat," Matthews said, echoing Olorunnipa, who described the criminal system as being tailored to target people like George Floyd.
Between 1997 and 2005 Floyd served eight jail terms on various charges including possessing drugs, theft and trespass. In one of those cases, Floyd was convicted of possessing less than half a gram of crack cocaine based on the sole testimony of police officer Gerald Goines, who was later investigated for a pattern of falsifying evidence.
"There was a profit motive for some of the for-profit prisons that benefited from the mass incarceration system," Olorunnipa said. "And it goes back to the history of convict leasing. It goes back to the history of slavery." It is widely acknowledged that US courts often give black defendants prison sentences three, or four times longer than those for whites who commit similar offenses.
Income gap
In 2014 George Floyd moved to Minneapolis for drug rehabilitation on a pastor's advice. Two years after his death, the Minneapolis-Saint Paul area still has one of the widest black-white income gaps in the US. A recent report by the National Urban League, a civil rights organization, found that black mothers in the region are nearly three times as likely to die during or after pregnancy than white mothers.
Olorunnipa said one of the biggest tragedies of Floyd's life was the fact that the police officers who killed him saw him as "this big, intimidating force" measuring nearly 2 meters tall and weighing 101 kilograms. Yet he was a "gentle giant", to quote his brother, Philonise Floyd.
"I was reminded of that when I watched the video of his murder," Philonise Floyd told a House Judiciary Committee hearing in Washington after the killing. "He called all the officers 'sir' … as he begged for his life."
There have been many other video recordings of black people being unjustifiably killed by police, but still no accountability, Matthews said. "The trial and conviction of Chauvin certainly would not have happened without a video, or without it being shown over and over," he said. In April last year, Chauvin was convicted on murder charges and a manslaughter charge and was sentenced to 22 and a half years in prison.
"The fact we have a pandemic and had to watch with our children, who were at home, this black man being unnecessarily killed, also played into this. No one could justify this to the children."
As an 8-year-old, George Floyd told his teacher that he wanted to be a Supreme Court justice. Despite the cards being stacked against him, he never grew bitter, Samuels and Olorunnipa say. Before moving to Minneapolis, he was involved in efforts to break the cycle of violence in his community.
In a recorded message aimed at young people, he said: "I want to speak to you all real quick. I just want to say, man, that I got my shortcomings and my flaws, but the shooting that's going on, I don't care what hood you're from, or where you're at, I love you, and God loves you, man."