Ice cream heats up with cross-branding, innovation
Share - WeChat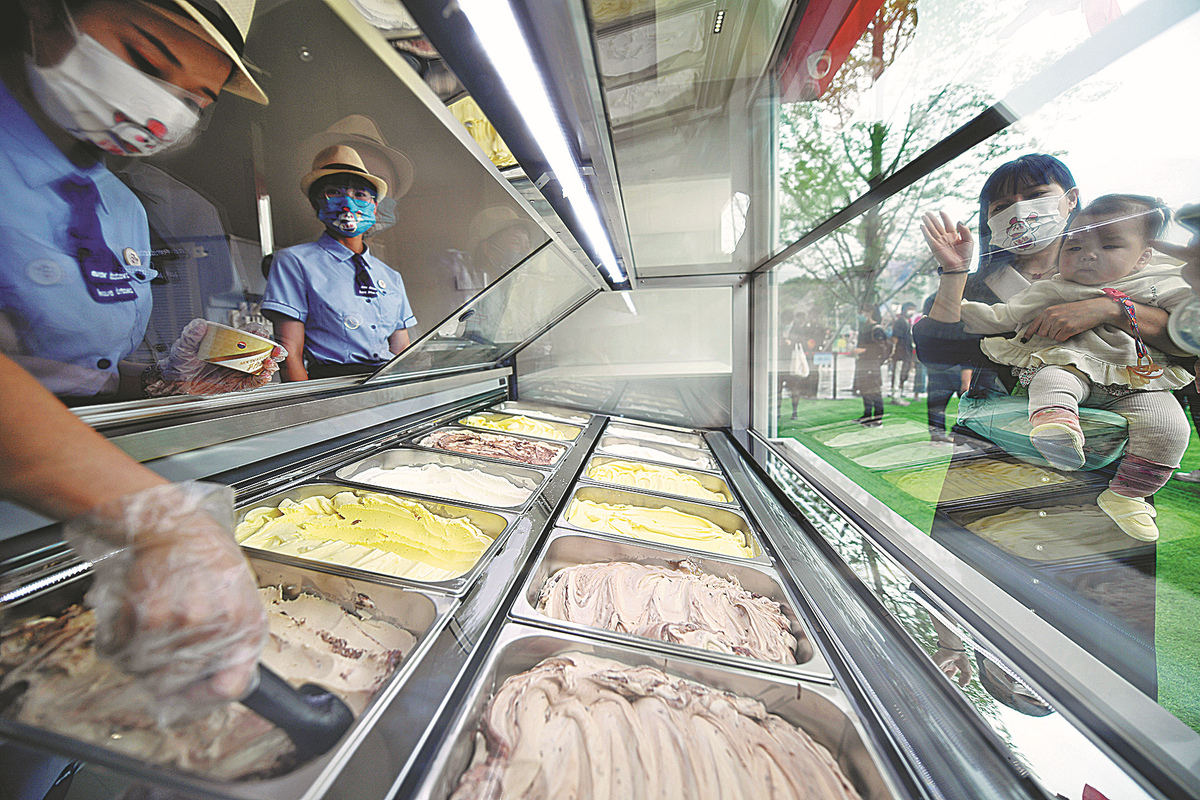 The newly launched Moutai ice cream developed by Chinese high-end spirits maker Kweichow Moutai Co Ltd and dairy producer Mengniu Dairy Co Ltd has gone viral among consumers, and industry observers are bullish on the business growth opportunities brought by transboundary cooperation between ice cream retailers and companies of other sectors.
In the past few years, Chinese and foreign ice cream retailers have frequently cooperated with players in other sectors, which include alcoholic beverages, coffee and tea retailers, as well as sightseeing spots, universities and museums, and a large number of transboundary innovative ice cream flavors have been introduced.
For instance, an ice cream brand of Chinese dairy producer Yili Group cooperated with Costa Coffee. Luzhou Laojiao Group, a leading Chinese liquor producer from Sichuan province, cooperated with local ice cream brand Chicecream and launched products that integrated spirits and milk.
Wall's, an ice cream brand of British-Dutch consumer goods company Unilever PLC, cooperated with Chinese leading milk tea maker Nayuki. Haagen-Dazs, a US ice cream brand of General Mills Inc, has cooperated with Chinese collectible toymaker Pop Mart and the Louvre Museum.
"Ice cream shows a remarkable room for further growth, and it has attracted investments from different companies. Compared with other food categories, ice cream naturally has the attribute of showing emotional connections with consumers, and it is easier for retailers to market the products," said Zhu Baowei, an ice cream industry analyst.
The market size of the ice cream industry in China, an industry that sprung up in the 1990s, has surpassed that of the United States. From 2015 to 2021, sales of ice cream in China grew from less than 90 billion yuan ($13.55 billion) to 160 billion yuan, up 90 percent cumulatively over the period, according to a report by Shenzhen, Guangdong province-based Qianzhan Industry Research Institute.
While consumption per person is still far less than that of many other countries, China's ice cream market indicates significant growth potential. In 2021, China's per capita ice cream consumption volume is likely to have reached 2.9 kilograms, which doubled the level seen in 2011, according to GlobalData, a London-based data analytics and consulting company.
Last year, the average per capita ice cream consumption volume in the Asia-Pacific region was 2.1 kg, and the average per capita figure globally was 4.5 kg, according to GlobalData.
Thanks to continuous innovation and transboundary cooperation with other sectors, in 2021, Inner Mongolia-based Mengniu Dairy saw its ice cream business achieve sales of 4.24 billion yuan, up 61 percent year-on-year. The sales revenues, net profit and profit margin of the ice cream category all hit new highs, according to its annual earnings report.
Mengniu Dairy and Universal Studios Beijing Resort together introduced a Minion ice cream, and it has become a hit at the resort. Last year, the dairy producer also cooperated with domestic tea retailer Xiaoguan Tea and launched tea-flavored ice cream products.
"Ice cream is one of the favorite categories of young consumers, and it has seen positive growth in the past few years. For many companies, they would like to forge a more influential brand and attract more young consumers, and thus expand their businesses in ice cream," said Zhu Danpeng, a food and beverage industry analyst.
The top three reasons for Chinese consumers to buy ice cream are trying new tastes, rewarding themselves and after-dinner desserts, according to an earlier survey by market research firms KuRunData and Mintel.
Currently, China has more than 40,000 registered ice cream retailers, and more than 90 percent of the total are individual business retailers. Over 4,000 companies are located in Guangdong province, the highest among all regions. In 2017, more than 8,200 ice cream companies registered in China, and the number hit a five-year high, according to Tianyancha, a corporate information provider.