For Russians, financial pain bites hard
Share - WeChat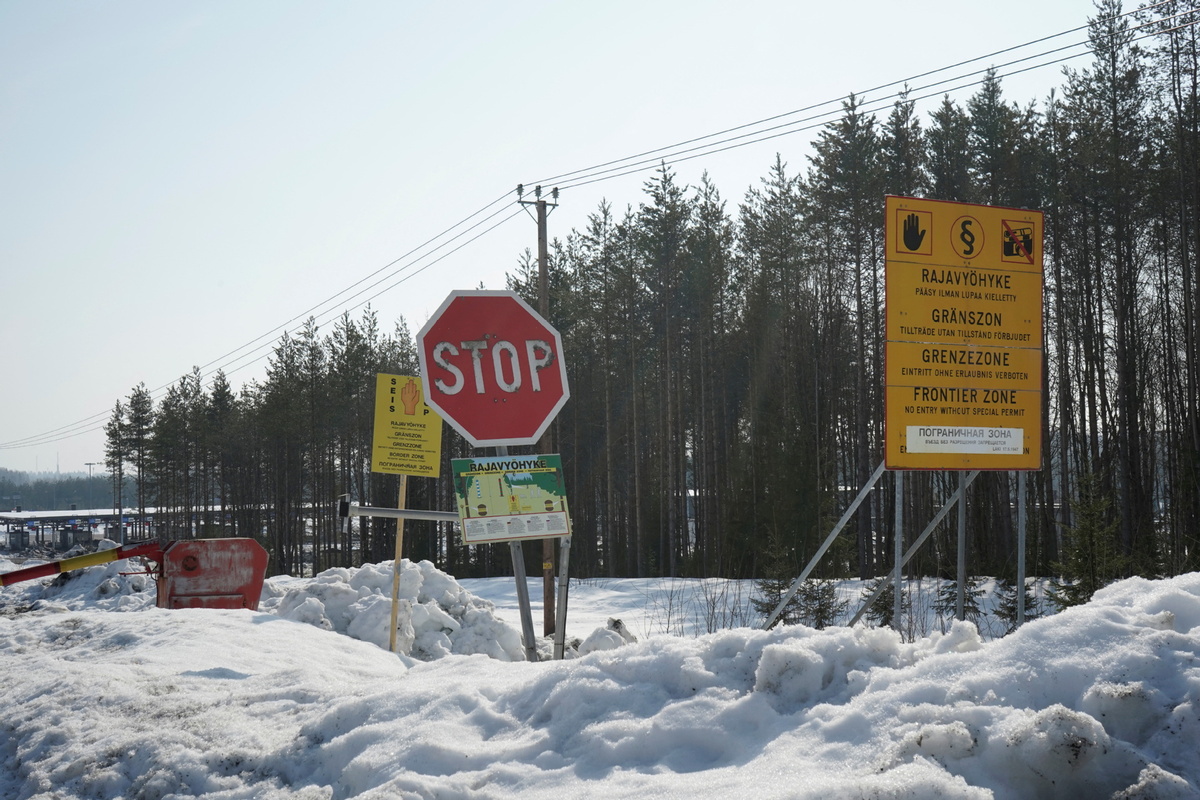 Russians are feeling the financial pinch after Western countries imposed draconian sanctions over what Moscow has called a special military operation in Ukraine. Hundreds of international companies have also pulled out of the country.
The United States, the European Union and several other countries and entities have continued to expand their economic sanctions since Feb 24, the day Russian forces entered Ukraine.
That move prompted the West to widen its economic crackdown on Russia by targeting President Vladimir Putin's relatives, his top allies, the country's banking system and its access to crucial technology.
Some Asian countries-Japan, Singapore and South Korea-also imposed sanctions on Russia, including freezing assets of several of the country's oligarchs with ties to Putin, blocking certain Russian banks and banning the export of some strategic materials to Russia.
These sanctions have affected Russians in their daily lives.
Consumer prices rose 2.2 percent in the first week after Feb 24, with food among the biggest rises.
From late February until late March some shops were restricting the sale of staples, after reports of hoarding.
Although the sale of medicines is not subject to sanctions, some big medicine companies suspended services amid fears of supply shortages.
The rouble plummeted from 74 roubles to 150 roubles against the US dollar in the first two weeks after the conflict began, leading many retailers to raise their prices.
The currency returned to the pre-conflict levels, soaring as high as 61 roubles against the dollar on May 23, owing to an oversupply of dollars in the market.
Russians have sold 80 percent of their foreign exchange earnings, yet within the country physical dollars cannot be bought.
Should limitations be lifted and imports resumed later this year, the exchange rate would stabilize at 90-100 roubles, experts said.
"The current rate is the outcome of a currency overstock relative to collapsed demand, which faded due to natural causes and regulatory efforts," said Mikhail Shulgin, head of the global research department at Otkritie Investments.
Exporters have been forced to sell nearly all their foreign exchange revenues, and nonresidents are barred from selling Russian assets or withdrawing foreign currency, he said.
A 12 percent charge levied on the purchase of dollars, euros and pounds sterling relieved pressure on the rouble, and this money can mostly be converted to cash in roubles.
In the medium term, the dollar will rise as imports recover and limitations are relaxed, and the investment company Freedom Finance of Kazakhstan gives a conservative forecast of 80-100 roubles.
Even though the rouble has rebounded and is now stronger than before the conflict, most retailers have not reduced their prices to reflect this.
Costlier groceries
Anecdotal evidence suggests that a basket of groceries that would have cost 5,500 roubles in Moscow on Feb 20 would now cost 8,000 roubles.
Daria Annatova, who lives in central Moscow, said she has yet to see empty shelves. "Food won't disappear but will become more expensive. How much more expensive, I can't imagine, and I'm scared even to think about it."
In February the prices of sugar and cereal were already about 20 percent higher than a year earlier. The Russian state news agency Tass said some retailers had agreed to limit price rises on some staples to 5 percent. Others are restricting the supply of basics such as flour, sugar and oil that individual customers can buy.
Apart from daily necessities, prices for other products have risen drastically. The cost of smartphones and televisions has risen more than 10 percent, and the cost of an average-priced holiday in Turkey, one of the most popular holiday destinations for Russians, has risen nearly 30 percent.
Annatova said she had considered buying new laptops for her family when she saw prices steadily rising because well-known brands such as Apple, Ikea and Nike no longer sell their products in Russia.
However, she opted not to buy it.
"At the beginning of February, they cost about 70,000 roubles but by the end of the month they had gone up to 100,000 roubles … They then went up to 150,000 before they all sold out in Moscow."
Apple said on March 2 that it would halt all direct product sales in Russia.
"We probably should have gone ahead and bought," Annatova said. "There's a joke now that we all have the last iPhone in Russia."
The prices of new cars and motor vehicle parts and repairs and maintenance have also risen.
"We bought filters and oil for the car for when it needs a service," Annatova said. "We managed to buy them at old prices before they almost doubled before our eyes."
McDonald's said it would close all its 847 restaurants in the country, something whose significance has not been lost on Russians, given that it was among the first Western firms to set up shop in the Soviet Union 30 years ago.
"Nuggets and pies bought just before the restaurant chain closed down," Annatova said. "Your last chance to taste foreign bliss."
Russian media reported that McDonald's may resume operations in Russia under a different brand, and the UK-Dutch oil and gas multinational Shell will soon change its signs to Russia's energy giant Lukoil, while Ikea of Sweden continues to pay salaries to its staff until the end of the summer.
Limited services
For those who own companies or work in the financial industry, the impact of sanctions may be more obvious and severe, because Russian banks were removed from the SWIFT international payment system, and Visa, Mastercard, American Express, Apple Pay and Google Pay have limited their services in Russia.
Russia's central bank has said the sanctions could lead the country's economy to shrink by up to 8 percent, and Ekaterina Lebedeva, who runs a number of language schools, agreed.
"We have teachers in other countries we can't pay because all the transfer networks are frozen. We also have students in the US, Germany and Latvia who can't pay their fees into our accounts. We've found ways around it but at the moment every working day begins with firefighting a new crisis."
In the Ukrainian capital, Kyiv, many people who had fled the city have returned and are trying to find a renewed sense of normalcy.
In the early days of the conflict, the sound of artillery fire echoed through the streets, and countless sandbag checkpoints went up. And looming over the city was the prospect of street fighting and a drawn-out siege.
During April many more residents who had fled the city returned, but the mayor has recommended that people refrain from returning for now.
Sidewalk cafes have popped up throughout the city and some restaurants are packed again. At the Tin Tin Food Spot, a restaurant near the city's bicycle racing track, a lunchtime crowd filled every seat on a recent Sunday afternoon.
In a park beside the sky-blue cathedral of St. Michael's Golden-Domed Monastery, in central Kyiv, a few young children clambered over a jungle gym and rocked on a seesaw.
Mothers stood idly by, chatting. The scene captured the mood of Kyiv these days, as the tension slowly lifts from a city that for weeks had been gripped by fear.
Ukraine's President Volodymyr Zelensky said on May 27 that he "is not eager" to engage in talks with Putin but conceded that these are likely to be needed to end the conflict. "We have to face the realities of what we are living through," Zelensky said.
The following day Putin told his French counterpart Emmanuel Macron and the German Chancellor Olaf Scholz that Moscow was ready to continue peace talks with Kyiv.
Putin talked of the danger of flooding Ukraine with Western weapons, but said Russia is open to dialogue and will continue communicating with Europe.