Calls increase for ending conflict as Russia-Ukraine crisis hits 100th day
Share - WeChat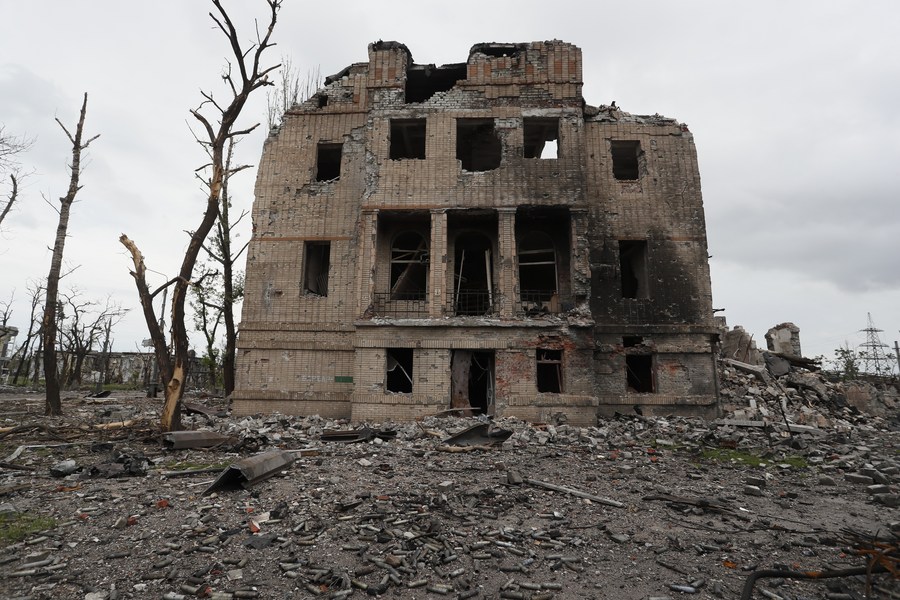 As the Russia-Ukraine conflict reached its 100th day on Friday, world leaders and experts called for an end to the crisis, which has triggered growing concerns about refugees, food shortages and possible escalation into a wider conflict.
Jeffrey Sachs, a professor at Columbia University who served as an adviser to three United Nations secretaries-general, said that "it is in Ukraine's interest to return to the negotiating table, which it has refused to do since late March".
"I believe that the US should recognize that it acted irresponsibly in pushing for NATO enlargement into Ukraine and Georgia," he told China Daily.
His remarks came as Russian forces advanced in eastern Ukraine.
Sachs warned of two enormous risks of allowing the conflict to continue: a dangerous spiral into a war between Russia and NATO members, and more Ukrainian territory being lost to Russia.
"It is time to reject escalation, press both sides for compromise, and work toward a negotiated settlement based on Ukrainian neutrality and the US acceptance that NATO will not enlarge into Ukraine and Georgia," said Sachs, adding that Russian troops should withdraw from Ukraine as an outcome of a negotiated settlement.
Erik Solheim, a Norwegian politician and former UN undersecretary-general, said that the West should reach out to lead developing nations like China, India, Brazil and South Africa to find a common platform to urge a ceasefire and bring peace.
"Such a platform will have to include support for the national sovereignty of Ukraine and understanding of legitimate Russian security concerns. Unified global efforts are much more likely to bring a negotiated peace," he told China Daily.
French President Emmanuel Macron and German Chancellor Olaf Scholz, in a phone call with Russian President Vladimir Putin on May 28, called for a cease-fire and urged Putin to hold direct talks with Ukrainian President Volodymyr Zelensky. Putin, in turn, emphasized Moscow's willingness to continue negotiations with Kyiv.
Zelensky said recently that the conflict could only come to a conclusive halt "at the negotiating table". However, he said Ukraine will not cede land to Russia, but added that it was not possible to regain all lost territory by military means.
Zelensky criticized the suggestions by former United States secretary of state Henry Kissinger and an editorial in The New York Times that Ukraine should give up part of its territory as a concession to end the conflict.
Kissinger told the World Economic Forum in Davos, Switzerland, on May 23 that "negotiations need to begin in the next two months before (the conflict) creates upheavals and tensions that will not be easily overcome".
A May 19 editorial in The New York Times said negotiated peace might require Kyiv to make some hard decisions.
"A decisive military victory for Ukraine over Russia, in which Ukraine regains all the territory Russia has seized since 2014, is not a realistic goal," it said.
The editorial urged US President Joe Biden to make clear to Zelensky and the people of Ukraine that there is a limit to how far the US and NATO will go to confront Russia.
At a seminar on Tuesday held by the New York-based Council on Foreign Relations, several senior US foreign policy experts lamented the lack of diplomacy and agreed that there is little chance for Ukraine to defeat Russia militarily.
Many European Union leaders, while showing solidarity with Ukraine, have become increasingly worried about the heavy blow to their economies caused by the conflict.
Ding Chun, director of the Center for European Studies at Fudan University, said the continuing conflict will have a negative impact on the EU in terms of economy, people's livelihood and integration.
"I hope both sides of the conflict will adopt a voluntary and realistic approach to achieve a balanced outcome through negotiations," he said.