Sectors' digital shift garnering attention from investors
Share - WeChat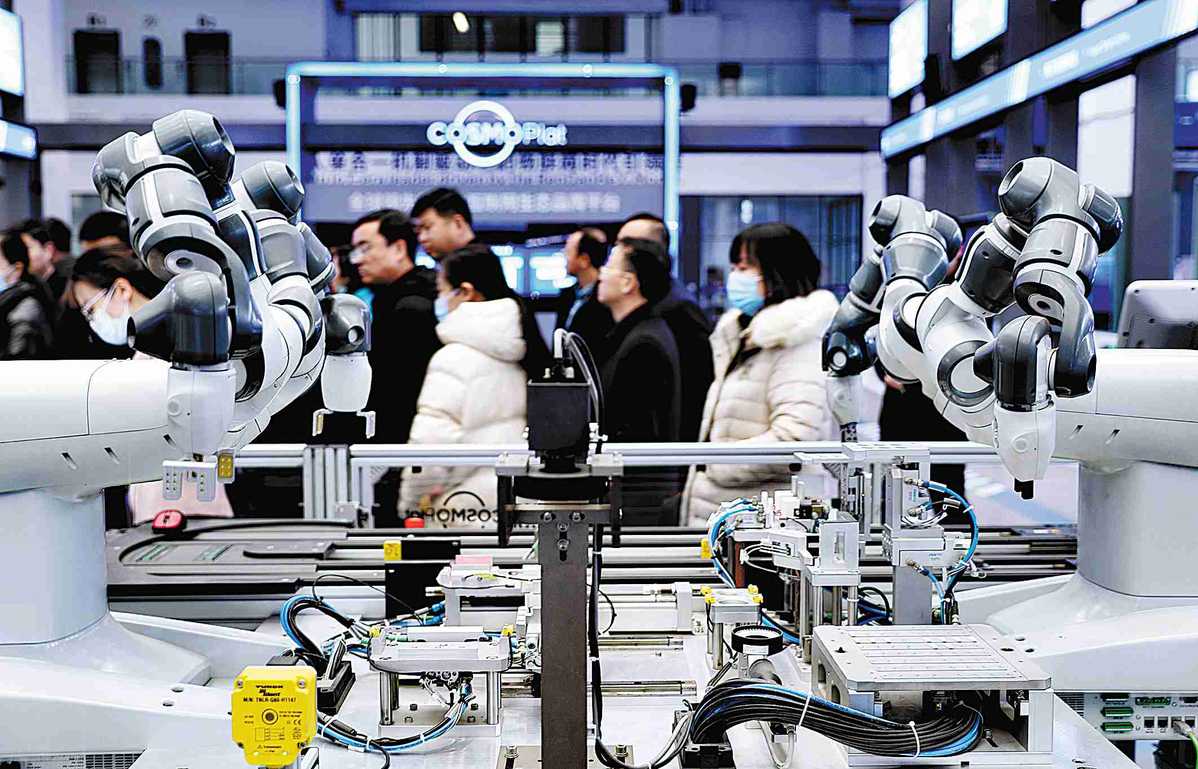 The industrial internet is becoming the new darling among investors as more capital eyes the sector to back its development and favorable policies are unveiled to support competitive industrial internet companies to go public, experts said.
The comments came after the Ministry of Industry and Information Technology, the nation's top industry regulator, said last month that it will promote the application of superfast 5G wireless technology in the industrial internet and support initial public offerings of eligible industrial internet companies.
Last year, industrial internet companies in China completed 346 deals involving investment and financing (excluding IPOs), and the total disclosed amount exceeded 68 billion yuan ($10.7 billion), a substantial increase of 85.9 percent year-on-year, said the China Industrial Control Systems Cyber Emergency Response Team.
Meanwhile, 19 industrial internet-related companies went public last year in China, raising a total of 14.5 billion yuan.
Liu Xiangdong, a researcher with the China Center for International Economic Exchanges, said supportive measures such as helping with the listing of eligible industrial internet enterprises will lead to expansion of financing channels for these enterprises and expedite development of the industrial internet.
"The application of digital technologies has been expanded from the consumption to the production field. The industrial internet is taking shape, which has become a new engine driving the growth of the digital economy, and has showcased remarkable development potential," said Liu.
The MIIT said in its 2022 work plan for the industrial internet that more efforts will be made to expand the sources of funds to support the industrial internet from three aspects: increasing fiscal and tax policy support, improving financial service levels and innovating industry-integration cooperation models.
Specific measures include supporting eligible industrial internet companies to list shares, issuing corporate credit bonds and asset-backed securities for financing, as well as expanding bond financing channels for manufacturing enterprises and industrial internet companies.
Meanwhile, industrial internet firms are encouraged to raise funds through pledging intellectual property assets, and efforts will be made to guide venture capital companies and private equities to increase investment in industrial internet startups.
Wu Qi, an independent digital economy expert, said industrial internet companies are typically high-tech enterprises that feature large initial investments and high growth potential. China's industrial internet platforms are still in a critical development phase, and it is difficult to meet their financial needs simply by relying on indirect financing such as banks.
Plans to support their listings are conducive to broadening financing channels for companies and alleviating practical problems they face. Meanwhile, investors will find more high-quality investment targets, and promote the healthy development and interaction between technology and capital markets, Wu said.
Xiao Gang, former chairman of the China Securities Regulatory Commission, said as digital and real economies become increasingly intertwined, finance should play a better role in supporting the development of the real economy by better leveraging digital technologies to serve industrial and supply chains.
When all elements of the industrial chains are digitalized, there will be a large amount of data, which will enable financial companies to serve not just one enterprise but offer a package service plan for the entire industrial chain. Such efforts will also help small and medium-sized enterprises better access funding, Xiao said.
Li Yizhong, former minister of industry and information technology, said the industrial internet is a typical application of the marriage between real and digital economies. During the process, internet companies and industrial companies should work together more closely. The former should learn more about the real economy, especially manufacturing, and the latter should become familiar with information technologies as soon as possible.
Zhou Yunjie, president of Haier Group, said the industrial internet mainly uses the advantage of leading internet technologies to reshape all elements of the industrial sector, and can improve "the 'whole process' and 'all elements'".
"The term 'whole process' means that clients or users can be involved in every step, including product design, research and development, production, manufacturing, sales and marketing," he said, "'All elements' refers to connecting people, equipment, data and technologies."
For example, COSMOPlat, Haier's industrial internet platform, is a large-scale customization platform that allows users to engage in the industrial process across 15 vertical industries, including manufacturing, agriculture, clothing, culture and tourism. Vertical industry refers to a group of companies focusing on a shared niche or specialized market spanning a number of industries.