Greening the BRI priority for Chinese firms
Share - WeChat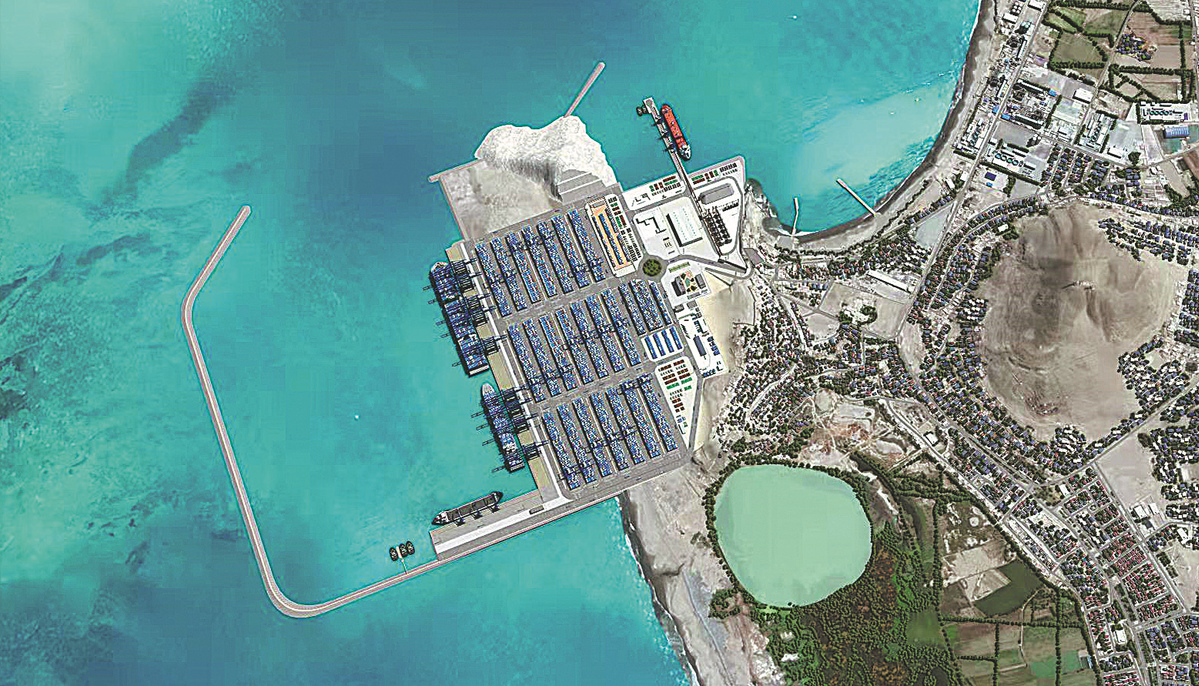 Low-carbon development seen as key to projects in nations involved in initiative
For safety worker Guo Xupei, protecting marine life off the coast of Peru has been a key part of his job since a tsunami struck the South American country in January.
He and his colleagues were working on a project at Chancay Port when high waves, caused by undersea volcanic activity a day earlier near Tonga in the South Pacific, hit just as an oil tanker was unloading at a nearby refinery terminal, causing an oil spill.
Guo is the environmental health and safety director for a construction project at Chancay Port undertaken by China Harbor and CCCC Fourth Harbor Engineering, subsidiaries of the China Communications Construction Company, or CCCC.He said the oil slick quickly contaminated the seawater around the project site, posing a serious threat to the local marine life. "We carried out an inch-by-inch search around the site and found a Peruvian penguin, a vulnerable protected species, near the secondary breakwater. The penguin was covered in oil and struggling in the sea," he said.
Guo contacted the local animal protection agency in Peru and helped send the penguin to a rescue center. Since then, he and his team have saved many more seabirds and rare penguins from contaminated waters.
Guo's team also provided boats and other equipment to the local maritime authority to assist in transporting relief materials and installing oil containment booms, to prevent the oil from spreading to the surrounding public beaches and causing an even greater hazard.
"CCCC builders adhere to green development concepts through concrete actions. It turns out that Chinese people come here not only to make money, but also they are willing to do a lot to protect the beautiful Chancay area," said Buleje Castaneda Gustavo Alonso, director of the local maritime authority.
He Yun, an associate professor in the School of Public Administration at Hunan University, Changsha, said that as the global environmental and climate crisis deepens, the concept of green and low-carbon development has gradually gained popular support. More Chinese companies see green development and environmental protection as key factors in pushing forward business development in countries involved in the Belt and Road Initiative.
Underpinning principle
"China regards green as being the underpinning principle of Belt and Road cooperation," she said. "The country draws on universally supported rules and standards to formulate green and low-carbon investment principles, and it has made great achievements."
China has signed more than 200 cooperation documents with 149 countries and 32 international organizations involved in the Belt and Road Initiative. Last year, the trade volume of goods between China and the countries involved in the initiative hit an eight-year high of 11.6 trillion yuan ($1.71 trillion), up by 23.6 percent year-on-year and accounting for 29.7 percent of China's total foreign trade, according to official figures.
Four Chinese ministries published a key policy document in March on the further greening of the Belt and Road, titled Guidelines on the Joint Implementation of Green Development in the Belt and Road Initiative. Greening the initiative means reducing climate emissions, reducing pollution and protecting biodiversity while providing improved economic opportunities for the countries involved.
Tian Jufang, general manager of CCCC's culture department, said the company places a priority on ecological civilization and green development when conducting projects, and insists on overall development by bringing economic, ecological and environmental benefits.
She added that CCCC has combined the upgrading of traditional industries with the development of green industries, strictly follows high-standard requirements for environmental protection and low energy consumption, and actively promotes green and low-carbon emerging industries.
"CCCC insists on integrating its production with the harmonious development between humans and nature. During construction and operation of its projects, CCCC actively participates in local biodiversity protection and makes positive contributions to the building of a harmonious Earth for all," Tian said.
As a major contractor, CCCC's business covers 157 countries and regions around the world. Its more than 60 subsidiaries have built over 13,000 kilometers of highways, 180 bridges, 121 deep-water berths and 17 airports in countries involved in the Belt and Road. The company is also engaged in more than 900 infrastructural, industrial and sports projects in these countries. Of its 100,000 employees overseas, 70,000 are local hires.
China Road and Bridge, a subsidiary of CCCC, began construction on the Peljesac Bridge, a 4-km crossing to connect Croatia's mainland with the Peljesac Peninsula, in 2018. Protecting the local ecological environment has been an integral part of the project. Once complete, the bridge will shorten the travel time from three hours to just three minutes.
Environmentally sensitive
One section of the bridge is in the peninsula's Mali Ston, which is surrounded by sea on three sides. Oysters and many other marine species live in these waters. "As oysters are extremely sensitive to water quality, before this bridge was built, many of us were worried that construction would affect water quality," said Burovic Zlatan, a local fisherman.
When China Road and Bridge began construction, it set an overall plan and a goal to strictly follow the highest European Union environmental standards for seawater, air and soil. During more than three years of construction, the team has achieved good results through technological innovation, increased environmental protection investment and improved environmental control training, and passed several environmental indicator tests by professional organizations.
"We were impressed with the China Road and Bridge construction team that came all the way here, and as in previous years, the water remained clear, proving that our concerns were unwarranted," said Peric Ivan, a local oyster farmer in Ston, who added that he saw an increase in oyster production in 2021 compared with previous years. He is planning to process and package more oysters for export, and optimize his sales channels to increase his income.
Zhang Jianping, director-general of the Beijing-based China Center for Regional Economic Cooperation, said that concepts such as the green BRI, healthy BRI and digital BRI are helping construct a high-quality BRI. Meanwhile, China has been committed to working with its Belt and Road partners to advance toward the United Nations' sustainable development goals through innovative, green, low-carbon and collaborative approaches.
"In the post-pandemic era, establishing these requirements is even more urgent," he said.
Moreover, many countries involved in the Belt and Road strongly hope to conduct in-depth cooperation with China on environmental protection, health and digital economy, in line with global development trends, Zhang said.