Ugly sympathy with suicide bomber: China Daily editorial
Share - WeChat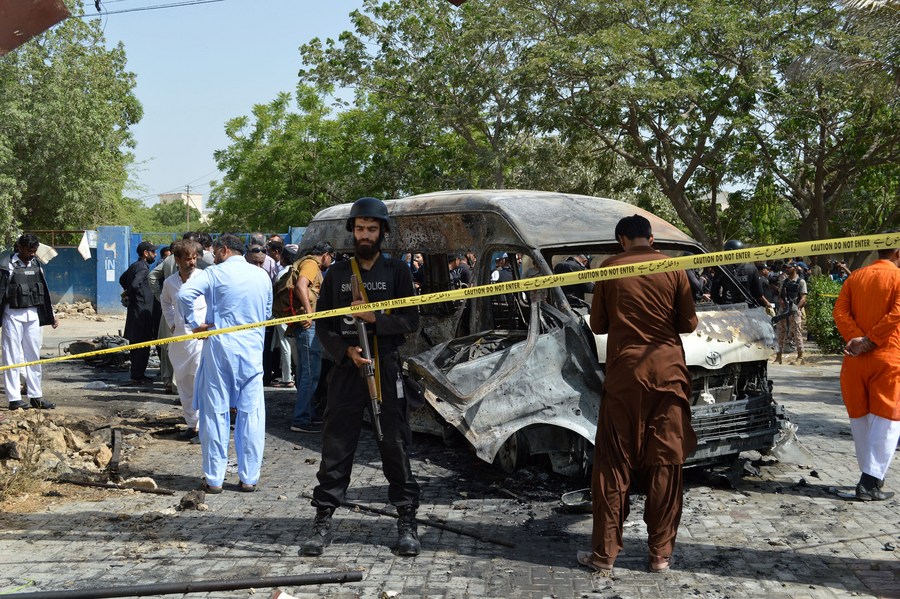 While almost the entire world has condemned the suicide bomber, whose attack killed three Chinese language teachers and their Pakistani driver on April 26 in Karachi, the BBC Urdu Service dedicated two stories to the suicide bomber, detailing her family background, ideology, mission and vision.
What has made people even more puzzled about the BBC reports and the motivation for them is the fact that one of the stories described the attacker as an "educated and well-groomed woman".
The BBC has tried to whitewash the suicide bomber, describing her as having the respect of her relatives and friends.
But what if the three teachers killed had been British, American, or people from other European countries? Would the BBC still have been expressing sympathy for the suicide bomber.
We think not.
It is ideological prejudice against countries with different political systems that engenders such a double standard in the West on many issues, even on the question of terrorism.
This is particularly true when it comes to China's Xinjiang Uygur autonomous region, where terrorism organized and perpetrated by the East Turkestan Islamic Movement was rampant before 2016. Much of the Western media, including BBC, chose to view the attacks on innocent people there through the prism of ideological bias, and so never described the attacks as terrorist ones, no matter how heinous they were.
And when China cracked down on extremism in Xinjiang to prevent such attacks, these biased media outlets decried it as being suppression of Uygurs.
They continue to turn a blind eye to what China has achieved in its fight against terrorism, separatism and extremism in Xinjiang, choosing instead to perpetuate the lies of those behind the terrorism in Xinjiang.
They did the same when riots broke out in Hong Kong, portraying the rioters as fighters for democracy even when the rioters attacked innocent residents and vandalized public facilities, which they would never tolerate if it was happening in their own countries.
In the suicide attack in Karachi, it is the three Chinese teachers who taught at the Confucius Institute of Karachi University who should definitely have the sympathy of the world. The two stories about the suicide bomber by the BBC once again show how entrenched the West's double standard is on the question of terrorism.
They kept their mouths shut when maltreatment of those "prisoners" kept in Guantanamo Bay Navy Base was exposed and when Iraq War prisoners were abused by US troops in Iraq.
They are never as objective as they boast. And their twisting of facts and double standards on issues that the world should have a unified understanding on is an obstacle to world peace and global development.
Most Viewed in 24 Hours
China Views