Little giant shows enormous passion for quality devices
Share - WeChat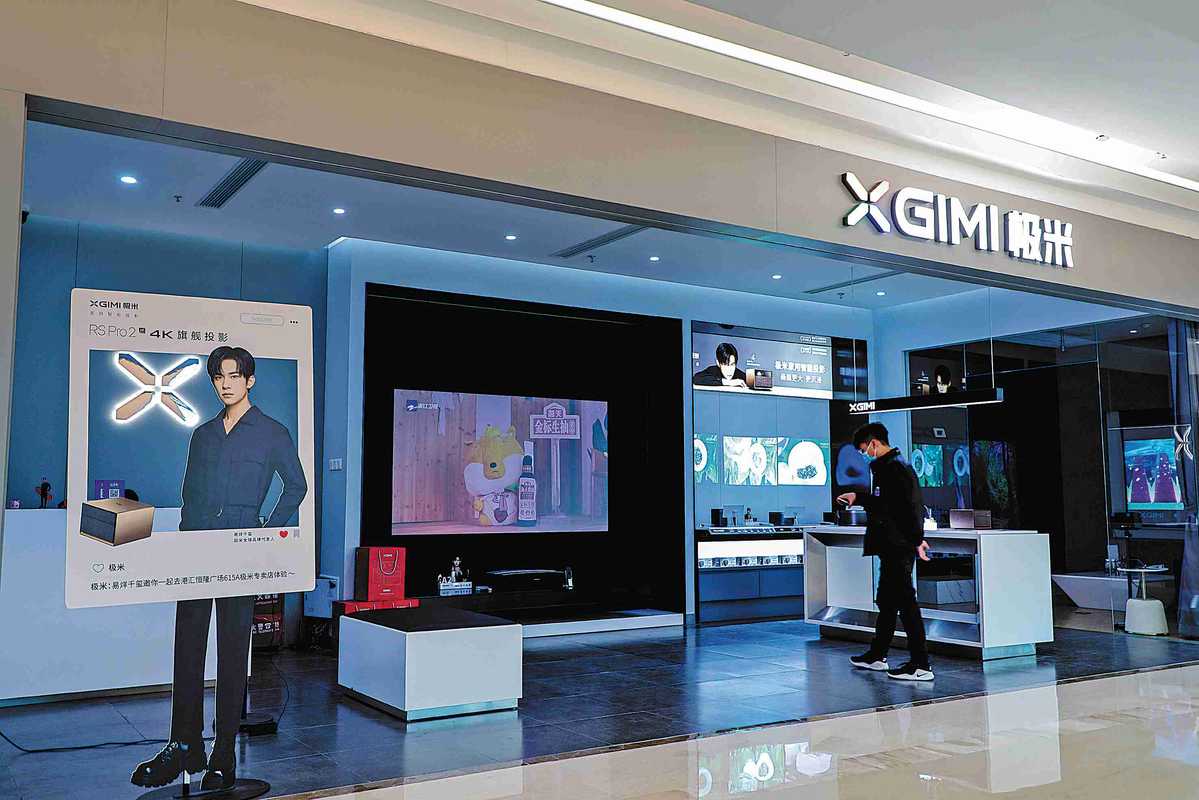 Chengdu-based intelligent projector-maker XGIMI aims to be a leader globally
Editor's note: China aims to nurture 10,000 "little giants" from 2021 to 2025 amid an ambitious plan to trigger the vitality of small and medium-sized enterprises in its sprawling industrial economy. "Little giants" typically specialize in niche sectors, command high market shares and boast strong innovative capacity. To be termed a "little giant", a Chinese firm must see a minimum 5 percent year-on-year average growth rate of its main business income or net profit in the past two years. More importantly, it must have two valid invention patents or other similar proof of its innovation capabilities, and at least 3 percent of its top line must be dedicated to R&D, among other financial and operational criteria. China Daily explores how they help the world's second largest economy stabilize its industrial and supply chains, navigate headwinds from the COVID-19 pandemic and achieve breakthroughs in technology bottlenecks.
Chinese manufacturers have made rapid progress in making modern projectors that beam images of much higher quality than previously possible onto a large screen or wall-in part because of unrelenting dedication to producing high-quality devices that deliver good value to consumers, industry experts said.
"I have smashed at least 50 brand-new projector prototypes in the past few years," said Zhong Bo, chairman of XGIMI, an intelligent projector manufacturer from Chengdu, Sichuan province.
Any projector model will be scrapped if deficiencies are found, even if the prototype has gone through testing, the company said.
This practice has been an unwritten rule since XGIMI's founding in 2013, helping propel the small tech startup to become the country's largest intelligent projector maker in 2018, according to market consultancy International Data Corp.
Projectors, manufactured using different technologies for decades, have been revived by high-tech modifications, making them popular for uses including home television and gaming. Intelligent, or smart, projectors can work with voice-activated controls and allow pairing from other devices.
China's rapid progress in the field has ended 15 years of dominance in the country's projector market by foreign brands, including Japan's Epson and Sony.
The IDC report showed that in the first half of 2018, of the top five intelligent projector firms by shipments in China, three were foreign brands.
Last year, the top five brands in China's projector market in terms of shipments were XGIMI, Epson, Nuts, Fengmi and Dangbei. Of the five, only one, Epson, is not a Chinese company.
XGIMI accounted for a market share of 21.2 percent, which is nearly the sum of the remaining top four brands combined. The company also registered good performance in the high-end projector market, the report showed.
XGIMI is in many ways representative of China's "little giant" companies, or innovative small and medium-sized enterprises that specialize in niche sectors, command a high market share, boast strong innovation capacity and core technologies and, more importantly, are likely to become future champions in bottleneck sectors.
As of March, the country has 4,762 national-level "little giant "companies and over 40,000 provincial-level "little giant" firms, according to the Ministry of Industry and Information Technology. More than 350 "little giant" firms like XGIMI were listed on Chinese bourses by January.
Zhong attributed XGIMI's success to continuous innovations. "Globally, few companies have led the world in original innovations, like Apple and DJI. XGIMI is working hard to promote made-in-China products to the outside world," he said. DJI is the acronym for drone-maker DaJiang Innovations.
"In the early stage of entrepreneurship, there are two paths in front of us. One is to be a follower, which obviously has low risks, and the other is to overturn all the established rules, create a new product form, and be an innovator."
To innovate in its core technologies, XGIMI established an optical laboratory. In 2019, it realized the research and development of optomechanical technology, applied the technology and put machines using it into mass production. This technology involves integrating optics like lenses into mechanical devices to create optical instruments.
Its latest product, XGIMI RS Pro 2, features a 4K HDR, or high dynamic range, image with 2,200 ANSI lumens of brightness, which is 47 percent higher than its previous generation of projectors and enables users to enjoy content with sharper images and a deeper color range.
"For Chinese tech startups, innovation should be engraved into their DNA. Technological and business model innovations can directly drive the progress of enterprises and the entire industry," he said.
In the first three quarters of 2021, XGIMI invested 175 million yuan ($27.48 million) in research and development, which marked a year-on-year increase of nearly 100 percent. The company has 440 patents and released more than 30 products.
Zhu Yuanyuan, a consumer electronics researcher at smart home data provider All View Cloud, said the intelligent projector segment is heating up, boosted by China's consumer upgrades as more and more people seek a higher quality of life.
"Facing fierce competition both at home and abroad, smart projector manufacturers should seek to improve brightness and sharpness of images, and develop more innovative products," Zhu said.
According to the IDC report released at the end of March, the total shipments of China's projector market reached 4.7 million units last year, soaring 12.6 percent year-on-year despite the COVID-19 epidemic.
The market consultancy expected the Chinese projector market to sell more than 5.6 million units this year, an increase of nearly 20 percent year-on-year.
"For XGIMI, being the largest intelligent projector-maker in China is not the end. The ultimate goal of the company is to lead the global market," Zhong said.
The company has achieved great momentum in foreign markets, industry experts said. To date, it has sold its products to more than 100 markets including Europe, Japan, the United States and Singapore.
In 2020, the company's overseas revenue increased more than 330 percent year-on-year, according to its financial report.
"Through beefing up global efforts, we aim to become the largest intelligent projector firm in the world," Zhong said.
In Japan, a market that boasts many world-famous tech brands, including gaming leader Nintendo Switch, an XGIMI-made innovative lamp device which was sold out as soon as it was launched.
The product, named PopIn Aladdin, is a ceiling light with a built-in projector and embedded Bluetooth speaker, which was one of the world's first "three-in-one" smart projection lamps.
The product serves as both an illuminating device and a voice control projector with high-resolution images that the company said are comparable to content in a movie theater or e-book reader, whether it is acting as a still image viewer or music player.
"In Japan, we tailor our products according to different characteristics in different countries to make them really localized," Zhong said.
"It is not difficult to develop a good product, yet it is difficult to make something that not only meets basic demands but also creates surprises" and helps consumers, said Zhong, adding it is one of the reasons why PopIn Aladdin has been so popular in Japan.
The company also upgraded the projector to its second generation, which is 14 percent thinner. It can project a 100-inch screen at a distance of 1.78 meters, which means that users can enjoy a very large screen in a small bedroom.
XGIMI has established a domestic R&D team for the localization of overseas products, and also set up a new overseas team in Shenzhen, Guangdong province, to further expand the company's business in those markets.
When increasing its presence abroad, the company chose to start in developed countries like the US and then expanded into markets such as Southeast Asia and India, Zhong said.
"If our products find consumer acceptance and become a hit in markets that are strong in technologies, it would mean we need not worry about entering other markets across the world."
Zhong said that in the future, the company will continue to increase its investment in R&D and enable products to better meet local needs in offshore markets.