Young German man studies TCM in China
Share - WeChat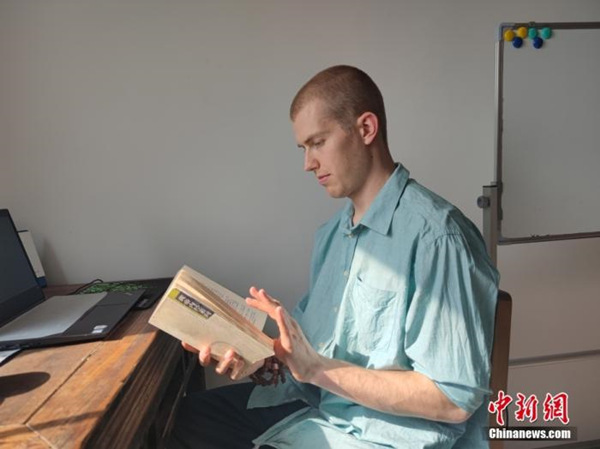 According to report from Chinanews.com, Wu Ming (cultural transplantation name) is a young German born after 1995. Wu is a big fan of Chinese culture, such as the Shaolin kung fu, a traditional Chinese martial art.
He has been learning traditional Chinese medicine since 2016, almost seven years. Now he is studying for his master degree at Henan University of Chinese Medicine.
As he thought some diseases can't be treated thoroughly with Western medicine, he decided to dig into TCM. Wu came to Central China's Henan province in 2015, where a profound TCM culture can be enjoyed because Henan province it is the hometown of Zhang Zhongjing, the medical sage of ancient China. After one-year of learning the Chinese language, he started to learn Chinese medicine. "TCM is one of the best-preserved aspects of Chinese culture", said Wu. He hopes to solve problems and understand Chinese culture intimately by learning TCM.
In the early stages, Wu always tasted some Chinese herbal medicine by himself, just like Shen Nong, a character in Chinese legend, who tasted most of the herbal medicine himself to know their properties and therapeutic effects. He also conquered the language barrier by learning and practicing Chinese, especially the Henan dialect, as his teachers, schoolmates, and even some patients speak with the Henan dialect in their daily conversations. Although sometimes he still has trouble distinguishing between Mandarin and the dialect, he can use the Henan dialect to communicate with others.
Without a language barrier, Wu read some of the ancient Chinese medical classics, such as Huangdi Neijing (Inner Canon of the Yellow Emperor). He believes different aspects of traditional Chinese culture interact with each other. Taking Huangdi Neijing as an example, it is closely intertwined with culture from Yi Jing (The Book of Changes) and Taoism, one of the ancient Chinese philosophies.
Most Popular