US struggles to sway India on Ukraine conflict in 'candid' exchange at summit
Share - WeChat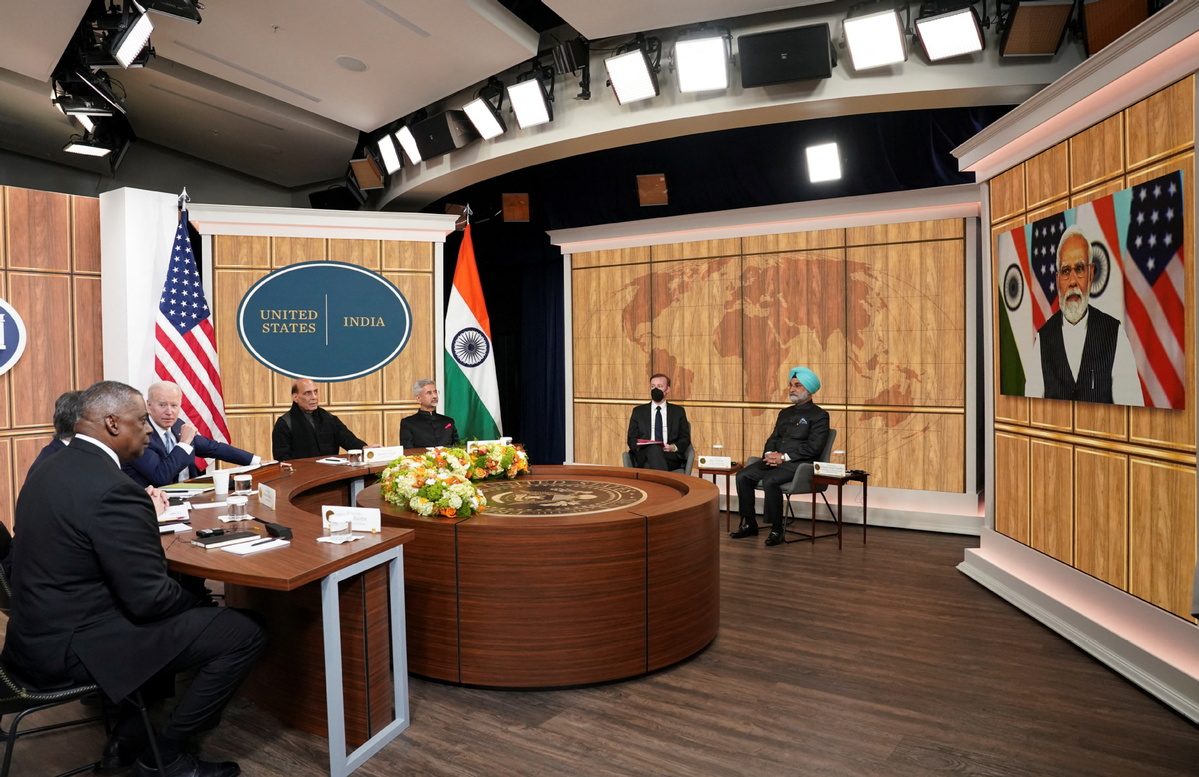 WASHINGTON-US President Joe Biden and Indian Prime Minister Narendra Modi had a "candid exchange of views" on the Ukraine crisis at a virtual summit on Monday, but the United States appeared to have made little progress in wooing India away from its neutral stance on Russia, according to media reports.
Biden made no major demands of India, and there was no indication of significant progress toward a unified posture on the Ukraine conflict.
But White House spokeswoman Jen Psaki said Biden "made clear that he does not believe it's in India's interest to accelerate or increase imports of Russian energy and other commodities".
Meanwhile, India reiterated its support to Russia, as its Defense Minister Rajnath Singh called the two countries "natural allies".
When asked whether India was considering further diversification of its defense procurement after the start of Russia's operation in Ukraine, Singh said in an interview with the Hindustan Times, "Wait and see".
Modi has tried to walk a tightrope between maintaining relations with the West, but has raised concerns in Washington by continuing to buy Russian oil.
India has reportedly bought at least 13 million barrels of crude oil from Russia since Feb 24, compared with nearly 16 million barrels in all of 2021, given the huge discounts offered by Moscow.
At a State Department news conference with Secretary of State Antony Blinken, Indian Foreign Minister Subrahmanyam Jaishankar pointedly suggested that Europe, not India, be the focus of Washington's concern about energy purchases from Russia.
"I suspect, looking at the figures, probably our total purchases for the month would be less than what Europe does in an afternoon," he said.
Soaring prices
Crude prices are soaring in the international market with the conflict unfolding. New Delhi has called for an immediate cease-fire in Ukraine, but abstained from voting on multiple United Nations resolutions on the military operation despite growing pressure from Washington and its allies.
Last year, Russia only accounted for around 2 percent of India's total oil imports. Following the West's imposition of sanctions on Russia, Moscow has been seeking new markets for its oil exports by offering discounts. Indian companies took advantage of the opportunity to increase imports from Russia and placed orders.
However, in the wake of sanctions on Russian banks, these companies are facing challenges on how to finance these discounted purchases.
In a recently concluded Parliament session, Rameswar Teli, minister of state at the Ministry of Petroleum and Natural Gas in India, said there was currently no contract or proposal under consideration of oil undertakings in the public sector with Russia or any other country to buy crude oil in Indian rupees.
Insiders say New Delhi and Moscow have been looking to establish a rupee-ruble trade system and discussions between financial officials from the two countries are ongoing. Other options for all possible payment mechanisms are also being explored.
Agencies - Xinhua