UIBE joins WTO Chairs program
Share - WeChat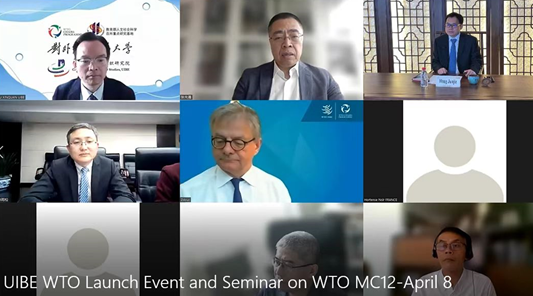 The University of International Business and Economics in Beijing formally launched the World Trade Organization Chair, making it the second institute in China to join the WTO Chairs program.
The WTO Chairs program was initiated by WTO Secretariat in 2010, aiming to enhance knowledge and understanding of the trading system among academics and policy makers in developing countries.
UIBE was among the newly selected batch of 17 institutions worldwide to join the network. Tu Xinquan, dean of the China Institute for WTO Studies of UIBE, becomes the WTO chair holder at the university.
The university announced the news on Friday while holding an online seminar on the 12th Ministerial Conference of the WTO.
Hong Junjie, vice-president of UIBE, said at the event that winning the second WTO chair in China is not only a great recognition of China's efforts to maintain and advocate the multilateral trading system, but also provides a great opportunity for UIBE to strengthen and deepen cooperation with WTO from the research, teaching and outreach perspectives.
Through supporting WTO-related studies, the university hopes to make greater contributions to China's participation in WTO affairs and various undertakings of WTO, he said.
Jointly organized by UIBE and the Shanghai University of International Business and Economics, the first institute in China joining the WTO Chairs program, the event on Friday attracted hundreds of participants worldwide, including WTO Deputy Director General Zhang Xiangchen, Werner Zdouc, director of the division of the WTO Chairs Program at WTO, and permanent representatives of countries such as France, Singapore, Chile, and Columbia.
Yi Xiaozhun, WTO's former deputy director-general and chief adviser of the Network for International Trade and Investment System, also participated in the online event.