Partners of positivity
Share - WeChat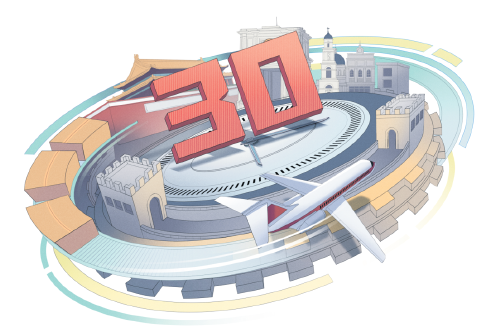 This year marks the 30th anniversary of the establishment of Moldova-China diplomatic relations.
The Moldova-China partnership has generated tangible benefits for the citizens of both countries, such as development opportunities, new markets, increased export capacities and investment volumes.
Moldova and China have mutually supported the principles of sovereignty and territorial integrity, and bilateral relations are characterized by their upward dynamic and efficient exchange of visits, economic cooperation that has achieved new progress, and fruitful dialogue in the fields of cultural and academic cooperation. In the context of the pandemic, China has provided assistance to help Moldova fight the COVID-19.
Today, Moldova-China cooperation is supported by 60 sectorial agreements, which facilitate the pragmatic development of their business cooperation and people-to-people exchanges. Moldova is a member of the Belt and Road Initiative, and China is the fourth-largest trading partner of Moldova and the largest market in Asia for Moldovan wine. They have an increasing exchange of students, tourists and experts. The Photovoltaic Park in Criuleni region with a capacity of 2.8 megawatts, co-built by Moldova and China, represents the largest project in the field of green energy in Moldova. All these achievements, as well as others, have laid a solid foundation for strengthening the mutual understanding and friendship between Moldova and China, and with the control of the pandemic, the dynamics of bilateral relations will be marked by a new qualitative leap.
In the difficult conditions that mark the global economy today, China continues to maintain its position as the world's second-largest economy, second-largest investor, and largest trader of goods. Moldova is interested in capitalizing on the opportunities offered by the unprecedented development of China and the immense possibilities of the Chinese market. They will initiate investment and cooperation projects in new areas, insufficiently explored so far.
Moldova has things to offer to China and the rest of the world-excellent incentives for investments, academic curricula at international standards, unique tourist routes and high quality agricultural products. Having a strategic geographic position, free trade agreements with Europe and Central European Free Trade Agreement countries, competitive Free Economic Zones, industrial and IT parks, Moldova can help Chinese investors achieve their business goals.
The situation in the world continues to be tense. Moldova has faced a flow of refugees from Ukraine since the beginning of the Russia-Ukraine crisis. Moldova has managed a flow of almost 388,000 refugees, of whom 353,000 are citizens of Ukraine.
Moldova also provided help to evacuate 3,500 citizens of China from Ukraine. Chinese citizens were provided with accommodation and all necessary assistance. Moldova was the basic corridor for the evacuation of Chinese citizens from Ukraine. At a news conference, Chinese State Councilor and Foreign Minister Wang Yi thanked the countries, including Moldova, that helped China in this process. This gesture of solidarity and friendship has contributed enormously to strengthening bilateral relations.
Thanks to the assistance from partner countries, including China, Moldova can overcome the present difficulties. Since the refugee crisis began, China provided $100,000 and 5 million yuan ($785,500) in goods. This is a great demonstration of support. The Moldova embassy in China also launched a fundraising campaign, and it received $25,000 in total, from Chinese companies and people. The two countries' friendship has proven itself once again during a difficult time.
Moldova wants to become a factor of stability and a promoter of dialogue and peace. It will work with China to advance their bilateral relations to a qualitatively new level.
The author is the Moldovan ambassador to China. The author contributed this article to China Watch, a think tank powered by China Daily.
The views do not necessarily reflect those of China Daily. Contact the editor at editor@chinawatch.cn
Most Viewed in 24 Hours
China Views