China-Africa partnership elaborated at conference
Share - WeChat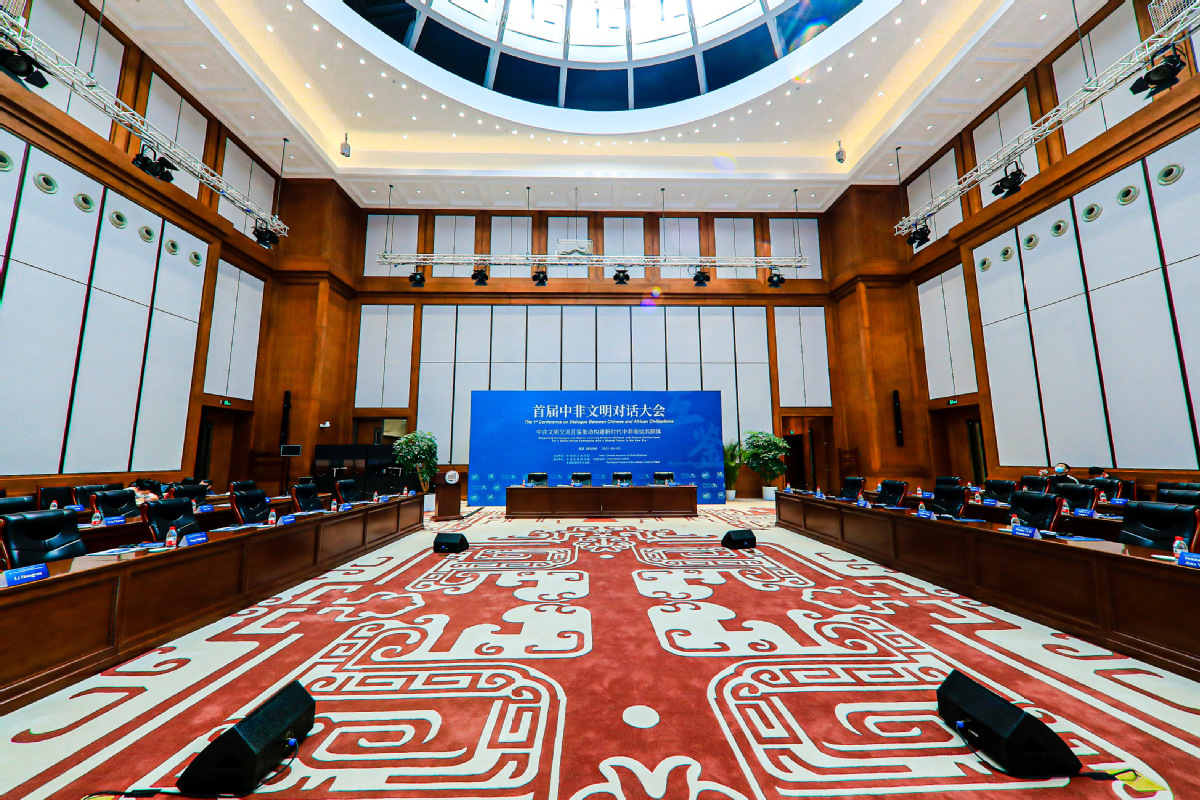 Exchanges and mutual learning between China and Africa contribute to the development of bilateral relations and help build a community with a shared future for mankind, officials and experts said.
They made the remarks at the first conference between Chinese and African civilizations, which was held by the Chinese Academy of Social Sciences on Saturday.
Rahmat Allah Mohamed Osman, permanent representative of the African Union Representative Office in China, said exchanges between China and Africa at all levels play a significant role in promoting bilateral cooperation and respective development and mutual learning between Chinese and African civilizations is conducive to the development of mankind and the world at large.
He recalled he attended the ninth Africa Ambassador Lecture and delivered a keynote speech titled "Xinjiang in the Eyes of African Ambassadors to China".
"I believe the prosperity and stability of Xinjiang is inseparable from the targeted poverty alleviation policy of the Chinese government," Osman said. African countries could benefit greatly from China's poverty alleviation experience, as they are facing challenges in development and poverty reduction, he added.
African and Chinese civilizations have contributed to the world the vital concept of "harmonious coexistence, equality and mutual respect", which is particularly precious in the current complex and challenging international environment, he added.
"Africa and China rejected the idea of a 'Clash of Civilizations'. Instead, they embraced the trinity of 'mutual co-operation', equal 'partnership', and 'solidarity' to define relations between the two civilizations in pursuit of a common future and shared prosperity in the new era," said Peter Kagwanja, president and chief executive of the Africa Policy Institute in Kenya.
President Xi Jinping announced in November at the Forum on China-Africa Cooperation that China would provide another one billion doses of vaccines to Africa. In addition, China would undertake 10 medical and health projects for African countries and send 1,500 medical personnel and public health experts to Africa.
"This inter-civilizational assistance will help the African Union achieve its goal of vaccinating 60 percent of the African population by the end of 2022," Kagwanja said, adding the pandemic has deepened solidarity and cooperation between China and Africa.
He hailed the Global Development Initiative proposed by Xi for assisting the global community and United Nations to achieve the 2030 Sustainable Development Goals. "The initiative will help reverse the devastating impacts of COVID-19 on development, especially in developing countries," he added.
Algerian Ambassador to China Hassane Rabehi said the Belt and Road Initiative provides a new platform for China and Africa to learn from each other.
At present, 52 African countries and the AU Commission have signed BRI cooperation documents with China.
"By joining hands in the BRI, the exchanges, integration and cooperation of civilizations will help the Chinese and African people to understand more each other and to achieve common development and mutual benefit," he said.
Rabehi appreciated China does not interfere with African's internal affairs or impose its will on Africa, and does not attach any political strings to assistance to Africa.
"China believes no race or civilization is superior to others and understands Africa's needs and aspirations better, and knows how to support Africa in a method acceptable to Africa," he said.
Cooperation between China and Africa would encourage the international community to pay greater attention to Africa and enhance the collective standing of developing countries in the international political and economic architecture, he said, adding it also contributes to the effort of building a harmonious world of durable peace and common prosperity.
Sun Shuzhong, former Chinese ambassador to Rwanda and Morocco, said exchange and mutual learning as well as friendly cooperation between China and Africa helped to build a China-Africa community with a shared future.
Sun added it was important to strengthen mutual understanding and trust between China and Africa, and more cultural cooperation platforms and channels should be built to enhance mutual understanding between the Chinese and African people.