Memory of a Tomb Sweeping Day
Share - WeChat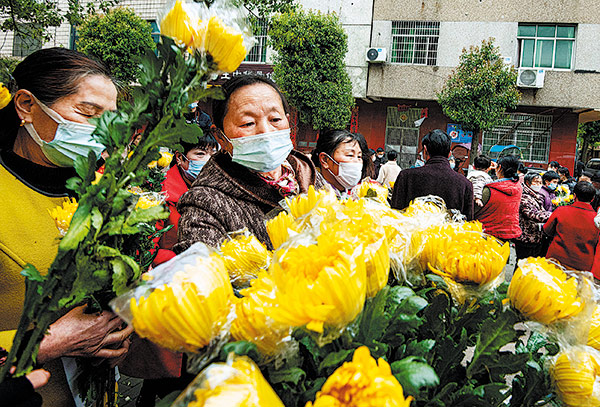 As bleak and macabre as the translation "tomb-sweeping day" might sound, what tends to be neglected, even among Chinese people, is that its original name qingming literally means "pure brightness". It was when I first visited my grandfather's grave years ago that the true message of the day became clear to me.
It was usually my father's mission to go, on every Tomb Sweeping Day, to visit my grandfather's grave that lies in a distant city where the ancestral home used to be. That year, though, I decided to go with him for a change.
We boarded the only bus that goes to the cemetery, concealed within the pale hills on the horizon of the bustling city. When the drowsy and dreary one-hour bus ride finally finished, what was presented to me was the typical images of the traditional festival crystallized into a silent, isolated mountain scene.
It was a breezy early spring day, the sky overcast with nebulous clouds, and the hills, covered by conifers, on the yearly turn from dark green to a more vibrant spring emerald.
On the long walk leading up to the cemetery gate, I spotted a curious establishment-an old-age nursing home. "That's convenient," I said.
After laughing at my inappropriate joke, my father replied, "The environment here is very nice. There's a Taoist temple just nearby. Good feng shui, apparently."
My grandfather didn't believe in any sort of those things. He was a head-on atheist who found joy in tangible knowledge. His only demerit, I would say, was a love for alcohol and meat, which probably caused him to have a stroke, the quick exacerbation of his condition, and the hastening of the inevitable end.
I remember getting a call from my mother and rushing home for the funeral, and was immersed in an unbearable noise compounded by blasting music played by a folk band and the chattering of guests engaging themselves at lunch. In the empty living room, incense was burning on the counter and my grandfather lay peacefully on a makeshift bed.
The level of hubbub felt disrespectful to me, so I complained to my parents that grandfather would have preferred a simple, quiet ceremony. But they told me that in his last days, perhaps realizing his imminent mortality, he specifically asked for a traditional Chinese funeral, with joss paper money and everything. The teenage me thought he was being a coward for that.
Most Popular