Zhejiang folk artist creates huge colored stone inlay work
Share - WeChat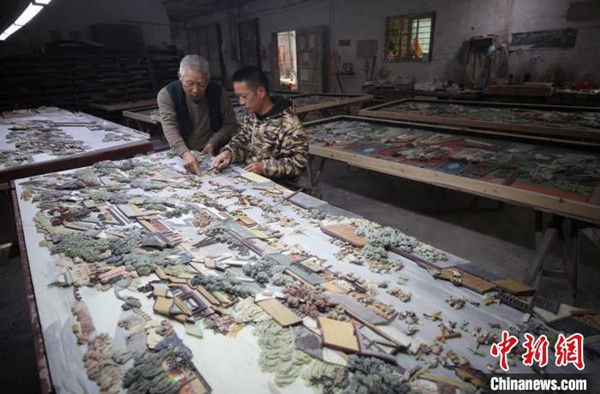 Colored stone inlay technique combines skills of stone carving, embossment and wood carving.
In Wenzhou of East China's Zhejiang province, this traditional technique, which was included in the second batch of national intangible cultural heritage list in 2008, boasts a history of hundreds of years. Li Chengzhe, a 51-year-old folk artist, started to learn colored stone inlay technique from his father in his teens, and has dedicated himself to this craft for more than 30 years. He said the colored stone inlay technique is on the verge of extinction in Rui'an city of Wenzhou, and fewer than 10 people are still working in this business in Taoshan town of Rui'an.
Li and his team have spent three years in creating this huge colored stone inlay piece based on the Chinese ancient painting Riverside Scene at Qingming Festival, which is 20 meters wide and one meter high, containing over 3,000 figures. The stones used in the work are from across the country, including Qingtian stone, chicken-blood stone and Shoushan stone. The complete work is made up of six pieces, among which five have been finished so far.
"It is very difficult to create this colored stone inlay artwork, especially the part of processing details of the figures' faces. Making over 3,000 figures seem vivid is challenging." Li said sometimes they even need a magnifying glass to engrave on the rice grain-sized figures, which is really demanding for artists.
Most Popular