Olympic legacy will be accessibility for all
Share - WeChat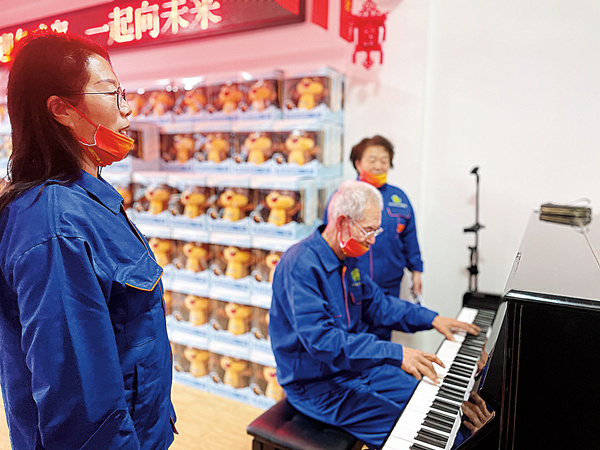 The 2022 Winter Games help host city create more opportunities for its disabled residents in work and play, Xing Wen reports in Zhangjiakou, Hebei.
An array of stuffed chipmunks, snowflake-shaped handmade soaps, embroidered ornaments and other cultural and creative products populate the shelves of Chen Suqin's workshop.
Next to the shelves are some physically impaired men and women who are occupied in packing the stuffed toys into boxes.
Chen, the workshop's founder, is a 58-year-old local woman with visual handicap.
She used to run a studio which produced and sold handmade shoe pads, embroidered slippers and straw-braided coasters in Chongli district of Zhangjiakou, Hebei province.
Since 2015, when Beijing won its bid to host the 2022 Winter Olympics, Zhangjiakou, as a co-host city, has attracted a growing number of tourists, who flock to its ski resorts and historical sites.
"The tourists who came to my studio told me that they wanted to buy handicrafts with local cultural characteristics," she recalls. "That inspired me to gather a group of people with disabilities and establish a workshop where they could make cultural and creative products based on the uniqueness of Chongli."
In April 2018, Chongli district released its mascot named Chong Chong, which is inspired by the chipmunk-a vibrant, nimble member of the squirrel family.
Supported by Chongli district's disabled persons' federation, Chen's workshop won the chance to produce plush toys of the new mascot. More than 40 local people with disabilities make up the workforce, and sew the outer fabrics, fill the toys with cotton and other stuffing materials, and then package them.
"As some of the Winter Games venues clustered in Chongli, the district drew global attention. The sales of the chipmunk mascot have been rapidly rising in recent weeks," says Chen.
Most Popular