Insiders highlight green data centers' role in achieving net zero goals
Share - WeChat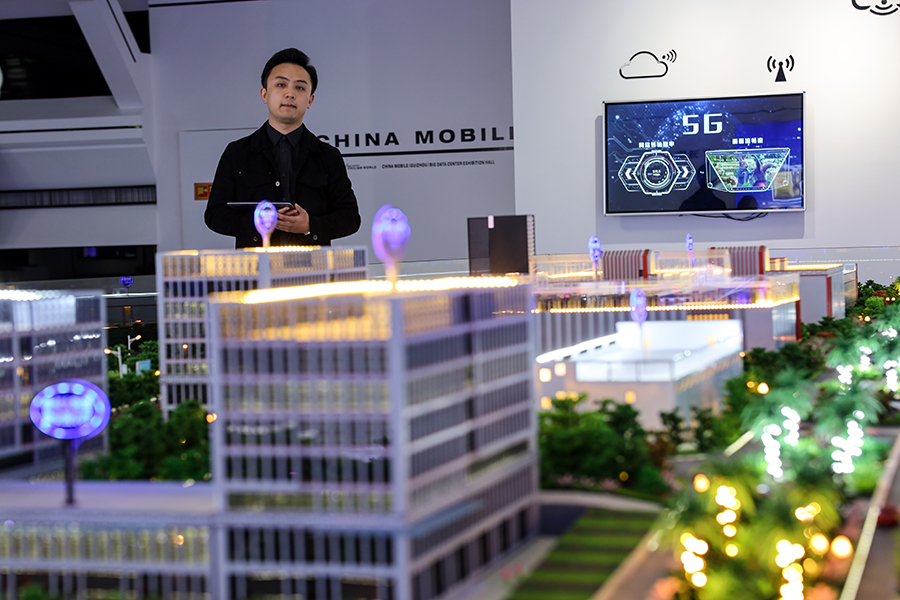 More efforts should be made to establish green and low-carbon data centers with higher computing efficiency and less power consumption, a move which industry insiders said aligns with China's pledge to peak the country's carbon dioxide emissions by 2030 and achieve carbon neutrality by 2060.
Their comments came as this year's Government Work Report stated China will continue to improve the environment, promote green and low-carbon development, and take steps to achieve the dual carbon goals. The country will also boost the research, development and application of green and low-carbon technology.
With surging demand for computing capacity as the country rides the digitalization wave, data centers operate with a high intensity of electricity and have become the main source of carbon emissions by technology enterprises, the experts said.
Noting data centers are a relatively large source of energy consumption, Robin Li, co-founder and CEO of Chinese tech giant Baidu Inc, said developing green computing power by leveraging clean energy is conducive to reducing power consumption, improving energy efficiency, and will cut carbon emissions by data centers.
Li said accelerating the development of "green artificial intelligence" and promoting the low-carbon development of computing capacities and algorithms, which could be applied to industry, energy, construction and finance to help achieve carbon peak and neutrality goals.
He called for greater efforts to establish measurement standards regarding green algorithms, which take into account computing performance and energy consumption, and improve the statistics and calculation system related to carbon emissions.
Baidu will continue to reduce energy consumption per unit of computing power based on the 2020 average power usage effectiveness, or PUE, of 1.14 per year through technological innovation, enhanced software and hardware integration, and AI applications, the company said.
PUE is a measurement of how efficiently a computer data center uses its power. The lower the PUE, the greener the data center is.
China recently approved a project to build eight national computing hubs and plans to build 10 national data center clusters, an indication of its strategy to channel more computing resources from the country's eastern regions to its less-developed yet resource-rich western regions.
The implementation of the project is conducive to promoting green development and utilizing green energy in the western regions and continuously optimizing the energy efficiency of data centers, said the National Development and Reform Commission.
Yang Yuanqing, chairman and CEO of Lenovo Group Ltd, said computing power is a core productive force of the digital economy and an indispensable digital foundation for the transformation and upgrade of the real economy.
The green and low-carbon technologies used in data centers, combined with artificial intelligence, cloud computing and big data services, will not only help enterprises in eastern regions upgrade and transfer computing capacities, but also empower the economic development of the western regions, Yang said.
A report from China's State Grid Energy Research Institute said electricity consumption of data centers in China will exceed 400 billion kilowatt-hours by 2030, accounting for 3.7 percent of the country's total electricity consumption.
Other leading tech companies have also made efforts to reduce their carbon footprint. For instance, Tencent Holdings Ltd announced its plan to achieve carbon neutrality in its operations and supply chains by no later than 2030 by committing to using green power for 100 percent of all the electricity it consumes by the end of the decade.
Its plan also includes reducing carbon emissions from power consumption in data centers and improving energy efficiency by making full use of innovative energy-saving technologies and renewable energy, as well as actively participating in green power trading.
Data centers should increase computing efficiency, save computing energy consumption and truly meet the needs of future smart computing, said Wang Endong, an academician with the Chinese Academy of Engineering and principal scientist at Inspur Group, a Chinese provider of big data services.