Expats unite in ice stock contest
Share - WeChat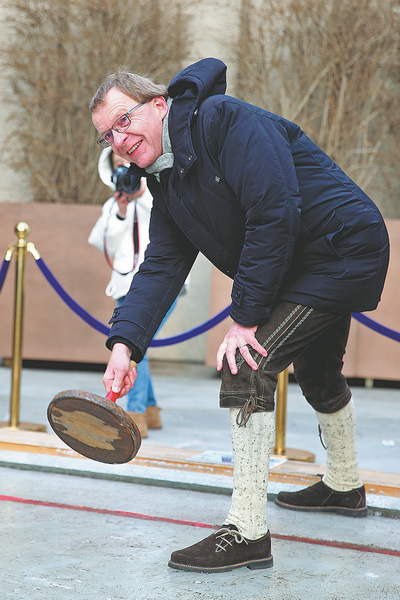 The 60-year-old Austrian Erich Kaiserseder's hands trembled when he opened a wooden box that has flown over the Pacific and Atlantic Ocean.
Inside was an ice stock, which has a gliding surface and a 30-centimeter stick attached to the top. After waiting for it all this time, his long-cherished plan to hold an ice stock competition in Shenyang could finally be launched.
Ice stock is a winter sport that originated in the 16th century around the European Alps. Also known as Bavarian Curling, it has a long history and formal organization.
Kaiserseder, general manager of Conrad Shenyang, first set foot in China 30 years ago. He now identifies himself as a "new Shenyang resident" and "the ambassador of Shenyang folk culture". The capital of Liaoning province in Northeast China has a long tradition in winter sports.
"Sports are the best way for intercultural communication, just like the Olympic Games," Kaiserseder said. He hoped to hold an ice stock competition for expats in Shenyang to "better communicate with each other and give winter sports a try".
However, he also knew that the ice stock sport was not popular in China, even among expats.
As expected, when he mentioned the idea of holding an ice stock competition with his friends, they were skeptical, as they had never heard of the sport before. However, Kaiserseder did not give up the idea. Instead, he invited them to try it out on the fifth-floor roof of the Conrad.
The results were surprisingly good. "My friends were excited as soon as they took up this sport. They quickly mastered the skills and became competitive," Kaiserseder said.
With the help of his friends, Kaiserseder organized 24 teams, with more than 100 participants from 14 different countries to compete. He even invited diplomats from the consulates of Germany, Russia and Japan to participate.
The competition was a success. "It was amazing! I got to fully enjoy myself playing the ice stock. I also got to know a lot of new friends," said Anna Van, a Russian student from Liaoning University.
The ice stock competition lasted a whole day with frequent cheers and cries from the teams throughout. The winners and runners-up were presented with prizes at an awards ceremony. Laughter lingered in the air and expats were united by their new friendships formed on the ice.
Qian Yizhu contributed to this story.
WU YONG in Shenyang