Partnerships turn on tap as demand for foreign dairy products increases
Share - WeChat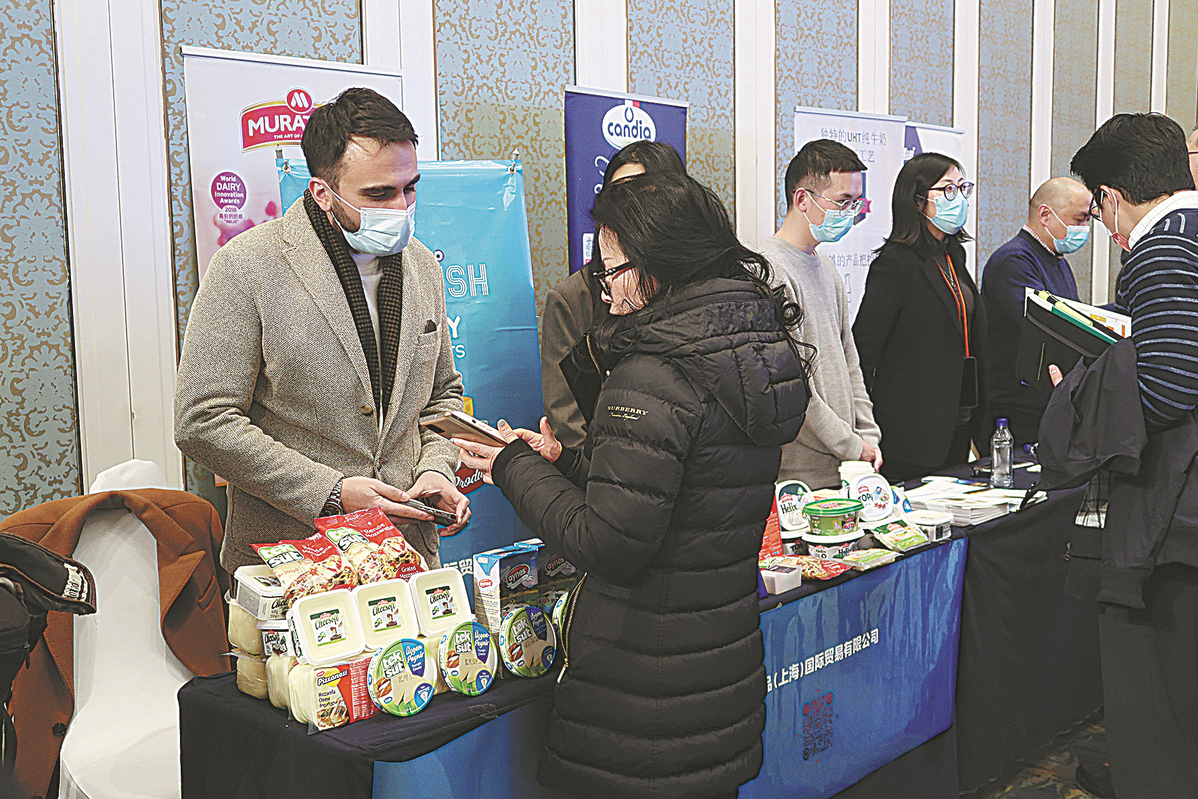 With the improvement of living standards, demand for a wider variety of dairy products has grown among Chinese consumers. This is creating an important market opportunity for foreign brands, industry insiders said during a specialized business matchmaking session in Shanghai on Feb 22.
Twenty-five foreign dairy companies, including New Zealand's Fonterra and France's Sodiaal, talked with domestic distributors and buyers, such as JD and Bright Dairy, about possible agreements that could be finalized during the fifth China International Import Expo, which will be held in November.
China imported $14.1 billion worth of dairy products in 2021, up 13.8 percent from 2020, said Ma Haihua, director of the public service department of the China Chamber of Commerce for Import and Export of Foodstuffs, Native Produce and Animal By-products.
"The continued increase in imports of dairy products in China has been encouraged by the country's opening-up policy, which has been lowering the Customs duties and relaxing market access for more than 50 countries and regions," Ma said during the session.
"But the per capita consumption of dairy products in China is lower than the world's average, so there's still a lot of potential for growth," he added.
Positive market expectations were also reflected in companies' planned participation in the CIIE this year. Nearly 10,000 square meters of exhibition area have already been booked by the dairy companies, according to the CIIE Bureau.
Han Li, vice-president of Fonterra China, said around 12 leading companies that have participated in the CIIE formed a dairy products committee to organize forums and panels for exhibitors on China's import policies.
"We have been promoting more sustainable and green development of dairy products along with our partners and suppliers," Han said. "We saw CIIE as a wonderful way to showcase quality dairy products from New Zealand that meet the demand of Chinese consumers for an upgrade in product offerings."
Li Xin, marketing manager of Sodiaal Dairy Trading (Shanghai) Co, said their parent company is the largest dairy corporation in France and has a range of different products and brands.
"We saw rapid growth in China in the past five years," Li said. "With the increase in Chinese household incomes, our high-end milk, butter and cheese gained more recognition and double-digit growth."
Small brands also are seeking their niche in China's huge market.
Xu Huanhuan, deputy director of marketing for Shanghai Maui Dairy Products Co, said the company is focusing on importing sheep's milk from New Zealand and has participated in all past editions of the CIIE.
"Sheep's milk has a limited production in New Zealand and is not so well known among Chinese consumers, so we really need a big event like the CIIE to gain exposure," Xu said. "The effect has been notable-we have seen growth of more than 15 percent in sales in the past five years."
Tnuva, Israel's largest food producer, was among the participants who set up booths at the matchmaking session. It displayed some of its products, such as its brands of enriched protein drinks and Edam cheese, which have not yet entered the market in China, in hopes of acquiring new local partners.
Liu Yanhui, deputy general manager of Marco Polo Cross Border E-commerce, also attended the matchmaking session and talked to all other representatives at the exhibition booths.
"I am very pleased to meet the CIIE exhibitors today, as they are all potential clients for us," Liu said. The company, which Liu said provides comprehensive e-commerce services, has a 4,000-square-meter warehouse in the China (Shanghai) Pilot Free Trade Zone.
"We have exchanged materials and contact information, and I'm really looking forward to possibly signing deals with them at the upcoming CIIE."